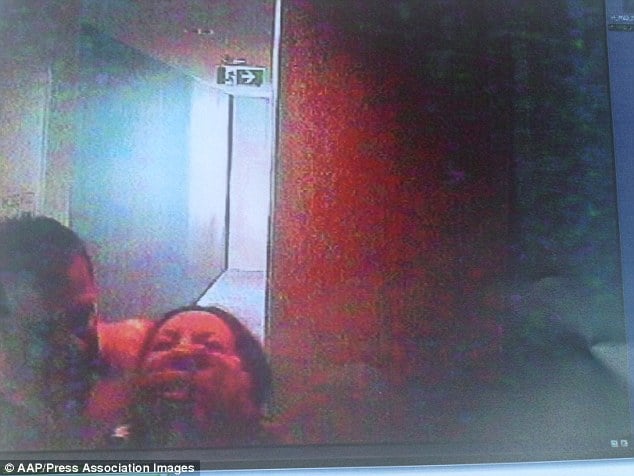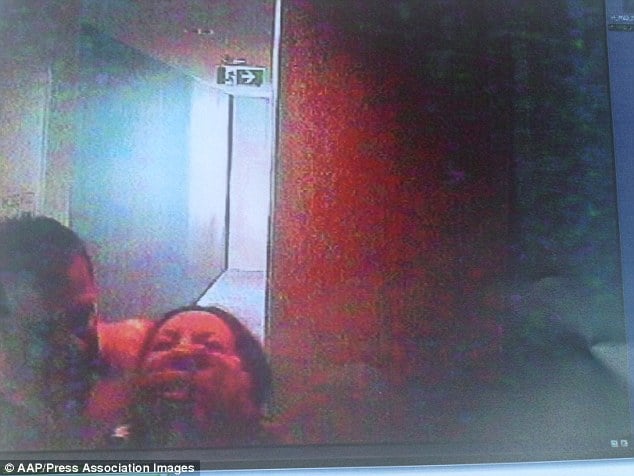 Simon Gittany guilty. 'Calculating and enraged and deceitful' tells judge.
Simony Gittany trial. Prosecutor tells evidence inherently incredulous.
Simon Gittany bail revoked. Closing remarks due.
Lisa Harnum threw herself off balcony because of eating disorder struggle.
Simon Gittany texted Lisa Harnum: 'Your eyes should gaze one me, the one.'
Laughing Simon Gittany denies murdering Lisa Harnum.
A Sydney, Australia court room is in the midst of deliberations as it hears new evidence pertaining to the death of Lisa Harnum, a ballerina thrown off a 15th story balcony after threatening to leave her fiance, Simon Gittany.
New revelations in the shocking death of Canadian ballerina include a neighbor, Susan Glanville telling how she heard the following desperate screams on the evening of July 30th, 2011 before sudden silence: "Please help. Help me. God help me."
Went on to add Glanville who lived in an adjacent apartment at the luxury Sydney towers: 'It was a real loud scream, like [an] "I'm afraid" scream,' 
'As I heard the banging I went around the corridor, around the corner [of the apartment] and I could see the door shaking,'
'I heard a man's raised voice, yelling… as I walked towards the door [there was] silence.'
The woman went on to tell the court that she didn't open her door to see what was happening outside. Minutes later, she heard a 'piercing scream' that seemed to be coming from outside and soon there were sirens everywhere.
Prosecutors to date are alleging a furious fight had erupted after the 30 year old ballerina threatened to leave her fiance leading to Simon Gittany dragging his 30 year old fiance back into their apartment.
Other witnesses have gone on to tell that Simon Gittany was a controlling and abusive partner, who discouraged Lisa Harnum from working and secretly monitored her phone calls, her text messages and emails.
A secret phone recording of a conversation between the couple, made seven weeks before the death plunge – and which was played to the court begins with them laughing and joking, before Lisa Harnum begins to question his social life.
He tells her that he wants to spend one day a week with his male friends.
'Simon, you do that a lot,' she is heard to say. 'You're out with the boys every night.'
'What are you talking about – are you serious?' he asks.
'You do it anyway… it's already like that.'
Lisa Harnum is then heard to tell him that he acts as if she never gives him space even though she always does.
Becoming emotional, she says everything she does is for him.
'I don't go anywhere… I wait at home for you… I don't do anything other than what it is you tell me to do,'
'I don't have anything here except for you.'
When she's not with him, she says, 'I don't talk, I don't speak,' adding that she misses her mother.
Gittany then says: 'I said once a week baby, don't take it to the extremes… I love you. Bubba, we hang out all the time.'
In countering the prosecutor's case, the defense has argued that instead Simon Gittany had a complicated but loving relationship and had merely attempted to save his fiance as she climbed onto the balcony during their altercation.
The newest testimony comes after the court was last week played CCTV footage which went on to show Gittany in a state of disarray minutes after his fiance plunged to her death from their 15th foot story apartment.
Dressed in pyjama bottoms, Gittany is seen hurrying in and out of the apartment before getting into the lift to ride to the ground floor, slapping his hands onto the top of his head before crouching over, hands on his knees as he descends.
The tape came to be shown after prosecutors went on to tell a torn-up note was found in Lisa Harnum's jeans' pocket after her death plunge, which stated: 'There are surveillance cameras inside and outside the house.'
Interestingly despite cameras being inside the apartment, authorities did not find any recording of the of the 69 seconds between Gittany being seen to drag his fiance back into the apartment and her death plunge.
The trial in which Gittany has pleaded not guilty to murder is continuing before Justice Lucy McCallum.
Simon Gittany is expected to take the stand when his barrister Philip Strickland, SC, begins the defense case.
To date Simon Gittany maintains the former ballerina "lost her footing" after heading to the balcony during an argument about breaking off their engagement. This despite the fact that cops went on to find a packed bag with the ballerina's possession suggesting she was on the way out rather than merely just breaking off the engagement.
Interestingly Gittany's new girlfriend, Rachelle Louise, has attended court with him each day.