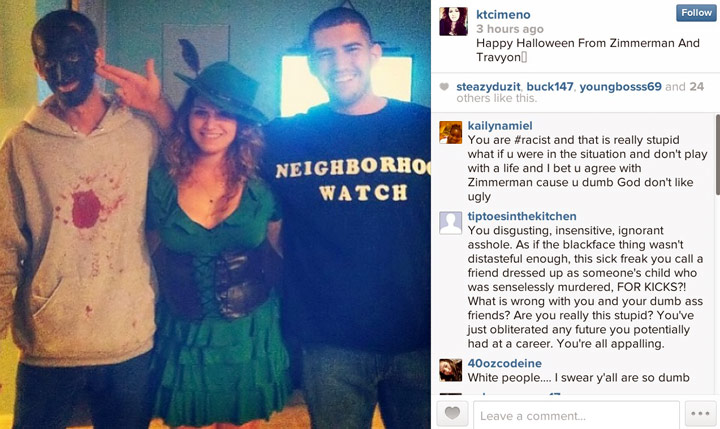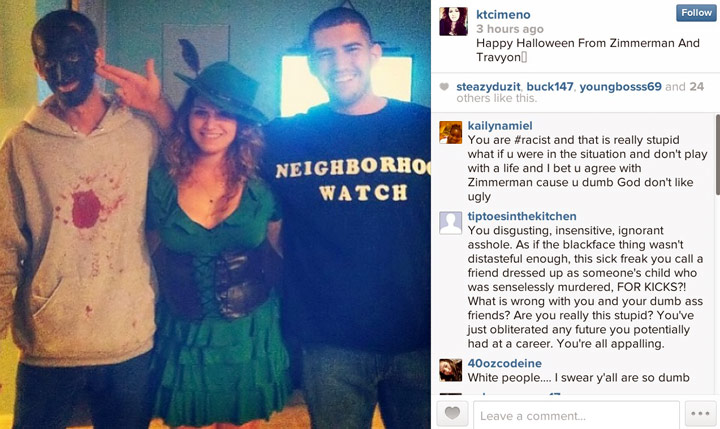 Julianne Hough blackface is a disaster for Halloween party.
Tempering discourse is the visage of Halloween 'white' revelers dressed as Trayvon Martin and his murderer George Zimmerman.
The image of a black faced Trayvon Martin (in a hood no doubt) and that of his purported murderer,  George Zimmerman with his fingers clutched as a gun against the 'reveler's' head has hardly gone down too well on social media.
For those who don't recall, which would be next to impossible given America's rampant fascination with the case, Trayvon Martin was the teenager who was shot and killed in Florida by neighborhood watch member George Zimmerman. During the trial, Zimmerman went on to be found not guilty of murder and second degree this past July, leading many to call foul play and egregious handling by Florida authorities.
Needless to say the image has gone on to inspire raucous debate and general all round disgust although one has to wonder if the angst and debate has more to say about commentators own latent feelings of racism?
Goes on to tell the dailydot: The girl in the photos has changed her Instagram name and made her account private, but her brother, who dressed as Zimmerman, remains active on Facebook despite a campaign to report him for abuse. 
Although they're at the center of the controversy, these three weren't the only ones who dressed as Martin and Zimmerman for Halloween 2013. In fact, dressing in blackface as a dead teenager looks disturbingly like a trend.
Interestingly none of the three pictured above have gone on to publicly respond to the fracas. Can anyone guess why?
The fracas comes off the back of actress Julianne Hough's rendition of dressing up in blackface and being scorched by social media who went on to heavily downvote the actress.
Cause it's never polite to mirror the latent racist feeling society has towards itself, winks aside…or stupidity as it may seem for our three collective heroes.