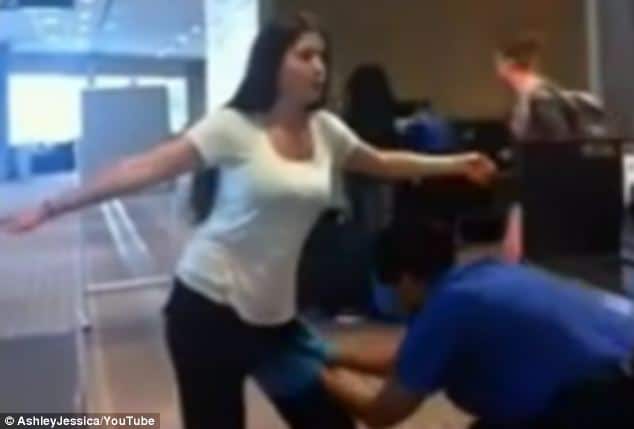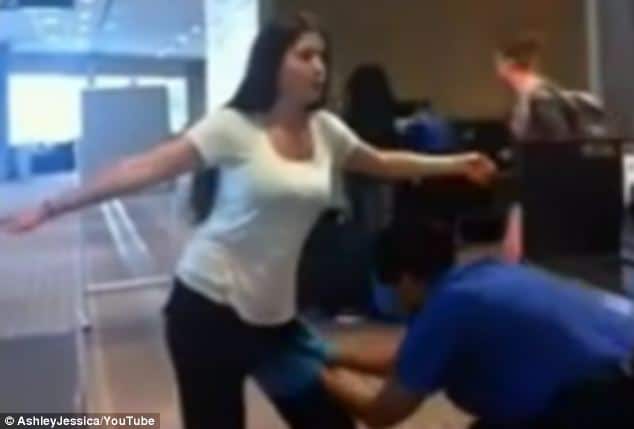 Ashley Jessica, a Phd student and researcher from Toronto, Canada has gone on and posted a video in which she goes on to argue shows that she was violated at the hands of a TSA agent during a body check.
The clip, which lasts just over 3 minutes was taken on the 23rd of May in which Ashley Jessica argues she was unnecessarily touching by a female agent.
The clip came about after Jessica and her mother insisted on a full body scan in which they both took turns filming their respective pat downs. Jessica an activist who fronted a national TSA opt out campaign last year in all likelihood sought to document what she perceived to be indiscreet behavior at the hands of TSA agents.
During the pat down Jessica and her mother are told by the agent that they would receive an extensive pat down which would involve going all the way up the leg.
At the time both Jessica and her mother had asked that the TSA agent not touch her vagina or breasts.
In the clip the TSA screener first places her hand on Jessica's breasts, prompting the following response from Jessica: 'Sorry, you just touched my boob.'
After Jessica tells the TSA agent that she does not want her breasts touched, the TSA agent threatens to stop the screening process, effectively prohibiting Jessica from flying.
Acquiescing Jessica allows the pat down to continue only to flinch when the agent feels high up on the inner part of her leg.
Declares Jessica as she finally steps away from the agent:
'She just touched my vagina, seriously, that was not my upper thigh.'
Posted Jessica on her twitter feed the day after the incident:
'Was violated pretty badly by TSA at San Diego International Airport yesterday. Video will be on my YouTube channel.'
Since having gone on to post the video, several users have gone on to write that the TSA agent was acting within guidelines which only elicited the following response from Jessica:
'To all those people saying that I'm "overreacting" – if you went up to someone on the street and touched them like that you'd probably be arrested. It's really sad that so many people have habituated to this type of treatment.'
An assertion that may indeed have merit but perhaps fails to acknowledge the real world complexities of flying in today's environment of post terrorism and security concerns, nonetheless one senses that Ashley Jessica's assertion that government may have over reached its boundaries in the name of freedom and liberty may not be a far fetched one after all as citizens come to accept that behavior or protocol that may have once been unthinkable have now become the norm.
via InfoWars.com
Jonah Falcon, man with world's largest penis gets the attention of TSA.
Video: Pissed off woman gropes TSA agent; 'See how it feels!'
4 year old nearly shuts down airport as TSA agents demand they frisk the crying toddler because she hugged her grandmother.
TSA agent leaves rapper a nice note after busting him with weed.
85 year old grandmother receives apology from TSA after she was strip searched and injured.
The TSA now want to tell you about the loaded .38 caliber gun that made it on a flight.
Woman with afro is subjected to pat down search by the TSA because her hair might contain explosives.
Protester who had fourth amendment written on his chest is set to challenge the TSA in court. Defining liberty in a post terrorist world.
TSA forces 95 year old cancer patient to take off her diaper.
6 year old girl is given full TSA pat down then a drug test.
The Delicious drama of the Transportation Securities Administration (TSA) has finally arrived onto your knickers.