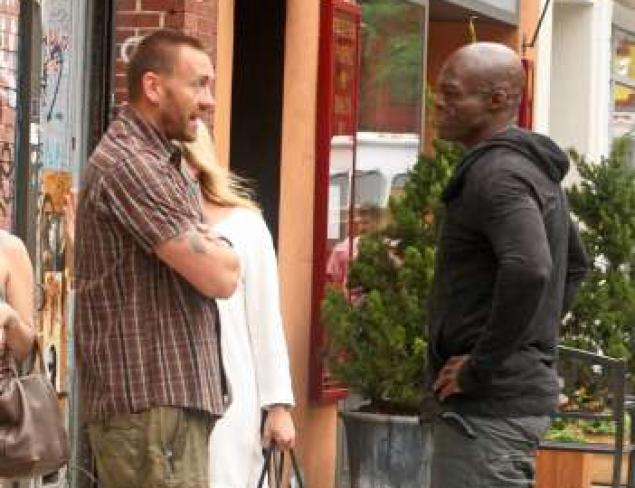 Heidi Klum tells Katie Couric she never looked at another man whilst married to Seal.
If looks could kill….
Want any proof of the animosity between Seal and Heidi Klum's bodyguard then cast your eyes on the above image which pretty much tells you how these two men feel about each other. Yes, they don't like each other at all. Not one bit. Yikes.
The photo taken outside of Heidi Klum's Manhattan apartment earlier this summer, July 19 (it is not clear how this picture came about or who released it, except the nydailynews somehow managed to get a copy of it) shows the two men in a tense stand off, presumably over the fact that Seal isn't too happy with Heidi dating the 'hired' help.
nydailynews: The confrontation took place before Seal revealed the depths of his anger in a jarring TMZ.com interview when he complained that Klum should have "at least waited until we separated first before deciding to fornicate with the help."
Staring daggers at each other, Seal and Kristen exchanged what appeared to be angry words when they eyeballed each other July 19 on a Manhattan sidewalk — in front of Klum's digs.
The stare-down ended when the disgusted-looking singer stalked off in his sandals.
Kristen remained planted in front of his reputed mistress' address like a Doberman in black high-top gym shoes.
Of course if it wasn't real the picture itself would be absurdly hilarious, but given the back and forth acrimony between Heidi and Seal the picture goes the distance in describing the tension between the once inseparable couple.
Rumor has it that Seal would take Heidi back in a heartbeat but Heidi isn't having anything to do with that saying she 'has already moved on.' Ouch…
Heidi Klum had been fornicating with bodyguard for months says Seal privately.
Heidi Klum: 'Seal is after me cause he wants my money!'
Seal does an about face: Says he never 'implied' that Heidi Klum cheated with the bodyguard..
Source: Heidi Klum trusts and loves her bodyguard. Surprised by Seal's accusations.
Heidi Klum to Seal: 'I didn't cheat on you with the bodyguard!'
Heidi Klum would like to introduce her new boyfriend. Her bodyguard.
Seal would like to introduce you to his new bikini model girlfriend.