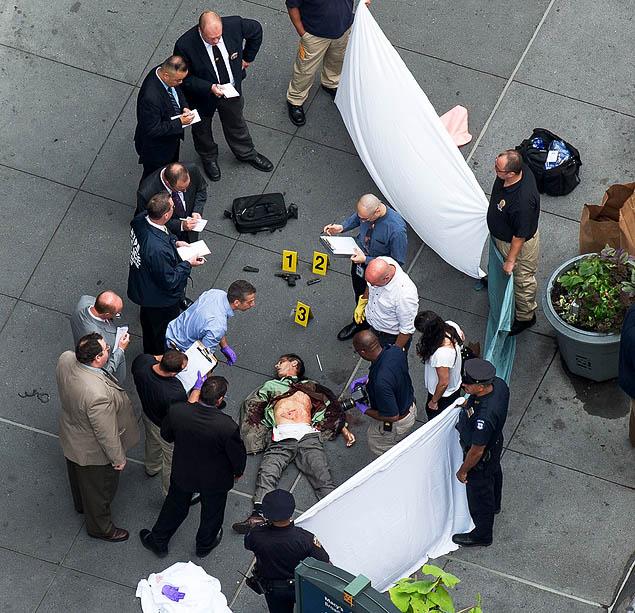 Jeffrey Johnson, Empire building shooting was an artist too. Bizarre surreal illustrations.
Jeffrey Johnson and Steven Ercolino had a history of harassment actions against each other.
Jeffrey Johnson shot Steven Ercolino once in the head and then once again as he lay dead.
Jeffrey Johnson, Empire State building shooter was a lonely man who had no visitors and wore a brown suit every day.
Jeffrey Johnson: Empire State Building shooter identified. Casually killed ex boss.
Empire State building shooting. Commentators react as gun law debate ignites.
Empire State building shoot out was the work of disgruntled fired co worker. Killed his ex boss.
Empire State Building gunman opens fire, kills 2, ten injured. Pedestrians were hunted.
The action paced last few moments of a man in search of meaning in his life….
Fantasy, reality, action shoot out, Hollywood, hell, heaven. What words can one use to describe the below scenes as Jeffrey Johnson lies dying, bullets riddled in his person?
Was this the ending he had envisioned, desired, desperately sought? Why hadn't he simply kept walking past Steven Ercolino? Why did he have to pull that trigger? What did he think he would accomplish now when he pointed his loaded gun at police? What was he after? Why did he have to take this man's life? Why did he have to destroy his own? Or was the shoot them up go to hell ending the wicked immortilization he desperately sought?
A penny to my name if this author could sometimes understand the things that motivate his fellow mankind…