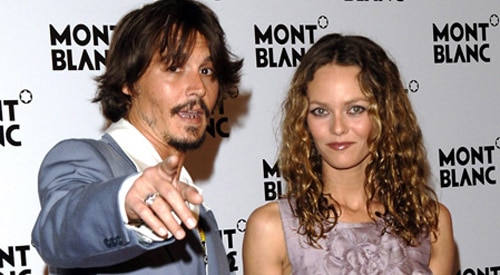 Johnny Depp to pay Vanessa Paradis $150 million bye bye money.
Vanessa Paradis said to be looking at new homes prior to split in Beverly Hills
Johnny Depp declares he is single and done with Vanessa Paradis. Rumors of affair now dog the actor….
Where did the love go? The collapse of the fairy tale relationship of Johnny Depp and Vanessa Paradis that the world was so desperate to see survive…
In a statement curiously released today to  "Entertainment Tonight," Depp's publicist said the Depp and Paradis "have amicably separated."
The official announcement comes months after rumors first started percolating that the couple were no longer seeing eye to eye, had drifted apart and no longer publicly attending events together (since June of 2010). At this stage one can speculate if the couple used this period to try and bridge back together or if more likely used the leaks to help soften the blow of their break up to a public that over the course of 14 years has come to delight in the couple.
Yet whether the leaks or rumors were true, it seems Johnny Depp held a stiff upper lip all the way:
nydailynews: Months after the reports surfaced, the notoriously private Depp addressed the rumors when reporters pressed him to comment at the London premiere of his latest film, "Dark Shadows."
"The rumors are not true. They are absolutely not true," he said in May. "No matter what I say about this, people believe the opposite. I can't say enough about it not being over."
Despite Depp's insistence otherwise rumors then began to dog that he may now have started a liaison with his 'Rum Diaries,' bisexual co star, Amber Heard.
dailymail.co.uk: A number of publications carried pictures and reports that Johnny and Heard enjoyed a trip together to Las Vegas on a private plane as he was in town promoting Dark Shadows.
But Vanessa was nowhere to be seen and didn't accompany him on any of his promotional duties for the film.
Paradis for her part remained ambiguous and non committal when recently asked about her lack of public time with her husband Depp:
"I have a problem with the term soulmates, it scares me a lot," the French singer and actress told UK's Stylist magazine. "It's such a strong statement — it's like a marriage contract. I believe in love, and I want to believe that it lasts forever.
But I'm like everyone else, you have to take things a day at a time and you can never know what comes next. All you can do is hope and love and live."
And this is what we have all done, hope and lived through the couple a fairy tale romance that so many of us applauded and wanted to believe in when finally like a blockbuster that failed to materialize the dream had suddenly come to be.
Above image via mightyblog41
Rumors allege that Johnny Depp and his girlfriend have been broken up for years.
Johnny Depp said to be dumping Vanessa Paradis.