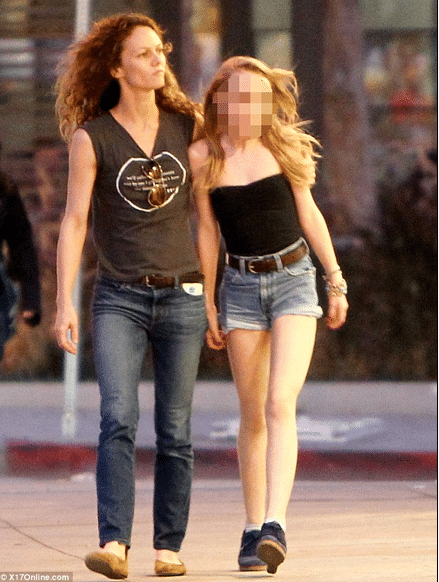 Vanessa Paradis steps out publicly visibly ashen faced. Is her 14 year relationship with the Hollywood actor Johnny Depp on the rocks?
Photos taken of Vanessa Paradis shopping with her daughter Lily Rose in Los Angeles cast a gloomy pall pursuant to rumors that things between her and her long time partner, actor Johnny Depp might be over. The axe? Their constant bickering…
dailymail.co.uk: 'People around him are worried about how Johnny is doing because he and Vanessa seem so fractured right now,' a source told the RadarOnline celebrity website. 
The unsubstantiated report appears to contradict the 48-year-old actor's claims in interviews about his enduring love for Paradis.
Said another source: 'Johnny isn't handling anything well right now.'
But now it seems legal teams are now getting involved too. Continues the source:
'Johnny has started reaching out to lawyers, probably to quietly discuss how to get out of the relationship. 
'They're not married but they've been together for years and have kids together so it isn't as easy as just breaking up.
'Johnny is so talented at acting, but he doesn't seem able to hide how badly things are going right now,' the unnamed source added.
Rumors have been rampant that there have been issues of jealousy within the relationship especially after one French magazine last April of 2011 put on its cover an image of the actor appearing to be kissing  another woman.
Reflecting on his relationship with Vanessa  the actor has this to say:
'I never found myself needing that piece of paper. Marriage is really from soul to soul, heart to heart. 
'You don't need somebody to say: "OK, you're married".
'She and I have been together for nearly 14 years, and, well, I can hardly believe it. 
'It only seems like yesterday that we met.'
Ultimately time will tell if these two manage to find their way and in so many ways their unique non traditional relationship has been a kinder of good will and adulation amongst the many fans who adore both these two accomplished artists. That said no one, not even time, sleight of hand or the heaviness of fading yearning can bring back the overwhelming feelings one once had for another person at some time. Particularly brutal in light of those who make believe for us come true until sadly now even…
Johnny Depp is still America's preferred wet dream and then some.