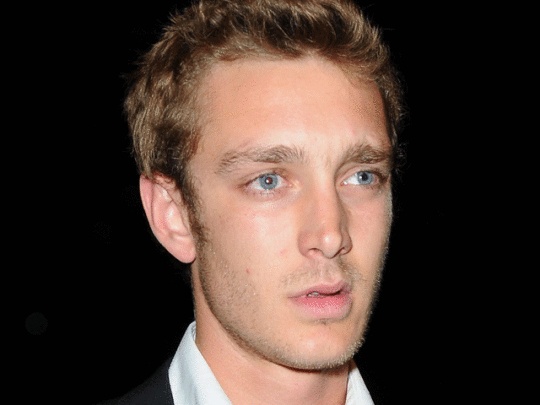 Prince Casiraghi's broken jaw is no one's business except his own….
According to the NY Post, Monaco's royal family is up in arms with the press's coverage of Prince Pierre Casiraghi's messy affair that saw him and his nouveau riche pals, Stavros Niarchos,  Vladimor Restoin Roitfield, and Diego Marroquin in some  bad physical shape courtesy of ex football goon jock Adam Hock at go to gauche nightclub, Double Seven.
nypost: We're told that lawyers for the royals are firing off legal letters to media in France and Germany who picked up The Post's exclusive story on the Feb 12 brawl at Meatpacking club Double Seven. Amazingly, they claim the fight is a "private matter" despite businessman Adam Hock's arrest and court proceedings.
A private affair? Is that just wishful thinking? What could be more public than a Prince having his jaw unceremoniously messed up in a downtown spot in a bar full of onlookers, supermodels and the patrons that play into such affairs on a Friday night? All that was missing were the bookies to help you place a bet as the punches and the bottle smashing took its toll. Of course if the German and French press are under barrage, what about the media entity who broke this story, the NY Post? Do you think Rupert Murdoch and co are facing litigations for simply serving the public's appetite for such high brow smut? What about the media here in the US, are they receiving notification? I certainly haven't received a note to keep my trap closed, but of course I would relish receiving one if it came my way.
As for the case itself:
Hock has rejected a plea deal, with lawyer Joseph Tacopina insisting his client was the victim and alleging Casiraghi and crew including Stavros Niarchos were "habitual bar brawlers." They're back in court May 23.
Habitual bar brawlers? Really is that a joke? Where did the goon Adam Hock come up with that? Let's just say the facts of the matter will come out in court and as usual the press will be there to cover the muck as it's once again being flung around the room. Oh dear, now we have to worry about lawyers who are suddenly disconcerted about their client's public image at the hands of tacky journalists….give me a break your highness.
Adam Hock, nightclub brawler to sue for bruised shoulder.
Super model Jessica Hart said to want carry on brawl with Adam Hock posse on the street.
Supermodel Jessica Hart goes on twitter declaring Adam Hock is a freaky liar.
Adam Hock vs Prince Pierre Casiraghi- who really threw the first punch?
Adam Hock: That bixch offended the honor of the supermodels sitting at the table!
Booze brawl: Supermodels, princes, shipping heirs and the fist fight from Hell.
Nur Khan's door bixch breaks down; 'You betrayed our trust!'