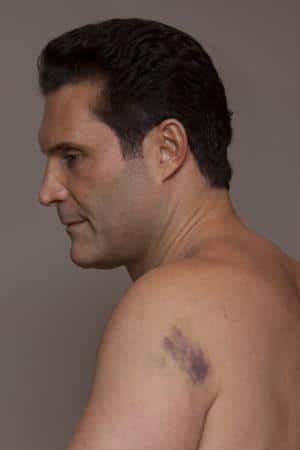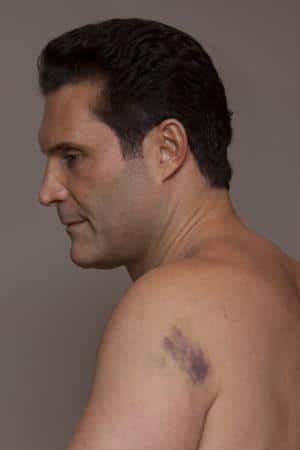 Adam is not happy with the bruise on his shoulder.
Oh dear, the sham called 'I just want to let you know who has a bigger dick at the bar,'has stepped up a notch with the revelation that hawt bixch Adam Hock will be pressing charges against the downtown poseurs who upset his mettle this past Friday night.
eater: Hock's attorney says they will be asking the D.A. to charge Monaco Prince Pierre Casiraghi, Stavros Niarchos, Diego Marroquin, and Vladimir Restoin Roitfeld for assault with a deadly weapon after Roitfeld allegedly hit Hock with a 1.5 liter bottle of vodka in the shoulder, leaving Hock with a hematoma. For those of you without medical degrees, hematoba is commonly referred to as a bruise or boo boo. Hock also plans to file civil charges against the four.
Actually I don't have a medical degree but for a moment I thought we were talking about a new swear word. Hey you hemo!
But like eater tells us, Adam might be right to press charges because apparently it's against the law to use vodka bottles (remember kids, this was Greygoose. Could you imagine: Greygoose- the preferred weapon of European poseurs and faux royals) to whack people with. Of course never mind if that vodka bottle being used was as the effete posse (don't worry Stavros, I'm also effete too if you must know…) have claimed was in self defense. Which of course raises the question, what the hell is Adam the ex jock up to?
Explains eater:
It doesn't seem to matter who started the fight, but you can assume Roitfeld and the gang will most certainly claim self defense. Hock may not be the American hero that Stephen Colbert made him out to be, but his love of fighting and willingness to sue those he beat up for money seem to make him as American as apple pie. 
Isn't it time you carried a spare bottle of grey goose in your underpants gents for those violent moments in your life? Whack responsibly, your lawyer will thank you later…
Super model Jessica Hart said to want carry on brawl with Adam Hock posse on the street.
Supermodel Jessica Hart goes on twitter declaring Adam Hock is a freaky liar.
Adam Hock vs Prince Pierre Casiraghi- who really threw the first punch?
Adam Hock: That bixch offended the honor of the supermodels sitting at the table!
Booze brawl: Supermodels, princes, shipping heirs and the fist fight from Hell.
Nur Khan's door bixch breaks down; 'You betrayed our trust!'