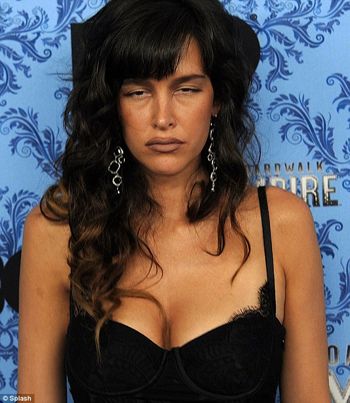 How many tequila sombreros can you stack under your lipstick liner?
Kids, the above picture is a picture of Paz moonlighting as an actress a human being. Taken at the recent premiere for the second season of Hoardwalk Boardwalk Empire, Paz gives the uncanny appearance that she's not really there, but that as you all know is just another illusion.
A close inspection of her deepest thoughts will reveal her gingerly sipping on back to back double stacked frozen margaritas with an eightball sniveling its way up the umbrella sticks to Paz's nostrils. Of course I'll be the first to admit the tequila bottle is not readily apparent, but the more you look at those droopy eyelids the sooner you will begin to make out the visage of an earthworm crawling along the backside of Paz's lipstick liner- which is really a clever device to help the earthworm shovel the coke up her nostrils, the same way a red X marks shovel the good stuff here. But then I have to confess it all becomes more apparent if you put on your 3D glasses- to get the full dimensional Paz effect.
One day when Paz accepts the Academy's Award for best unsober actress she will sliver up to the stage and smile at the Tequila Gods – 'Thank god I did not abandon you.'
Isn't it time you became your own delicious hawt mess too?  Unless of course you already are…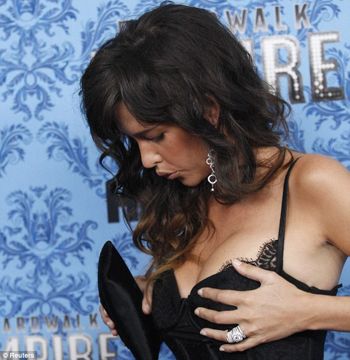 PAZ DE LA HUERTA DISROBES FOR ESQUIRE MAGAZINE.
MY HERO PAZ GOT ARRESTED LAST NIGHT FOR STARTING A DRUNKEN BRAWL.
PAZ DE LA HEURTA WOULD LIKE TO POINT OUT TO YOU HER DRESS ALWAYS MATCHES HER LIPSTICK.
DID PAZ DE LA HUERTA REALLY GET STONE DRUNK AND FLASH HER NIPPLES AT THE GOLDEN GLOBES?