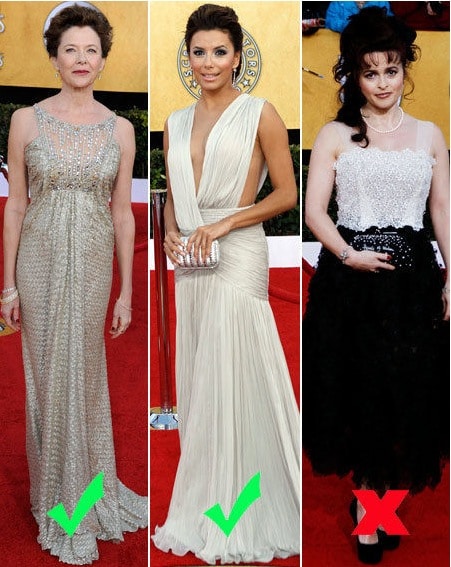 Once again it's time to sit down and regard how our ambasadors of good taste (so I have been told anyway)- the SAG nominated actors fared with their latest fashion ennui as they turned up last night to the Los Angeles SAG Awards. From a cursory reading of our resident style expert- Ms Alexa Winner (you can read about how fabulous she is here and why we think she's one of the new 'it' girls of New York City) take on the dress sense of the awards we can safely say this time unlike the recent Golden Globe awards the catastrophe's were thankfully in short order this time- well except for that of Helena Bonham Carter who it seems is intent on being the downtrodden anti- hero. Oh well, each to their own. 
So have a look, you too might learn something new, add a bit of zest to your step and your fashion wardrobe, but in the event you don't never mind- I never personally ever pay attention to what actors or actresses ever wear anyway- I'm just in it for the drama. Well aren't we all…?
Alexa's original post appears here (somegirlsarebornwinners.blogspot.com ), and our abridged version appears straight below, with a few added snide comments from yours truly.
-Scallywag.
Awards season is always a fun time of year for fashion, and the 2011 SAG Awards were no exception. Angie Harmon hands down stole the show, while I think Winona Ryder just down hands stole something by the expression of her face all night. Angie aside, there were some lovely dresses (and certainly a concerted much improved effort from the recent Golden Globes fiasco) but overall there was a general 'average-ness' to most of the ensembles. Not great, not awful, just fine, and if we put our minds to it somehow we'll all live. Albeit with a tinge of disappointment. Alas.
So kudos to those actresses who made the effort, but for those of you who just couldn't try and had to make a fashion mockery we have a pitch fork in store for you. A sharp one at that. Alas, sigh, slight groan, there will be many awards in the future, let the dresses roll out…
For our comprehensive list turn page.