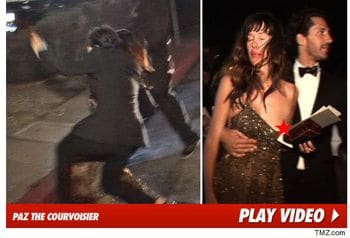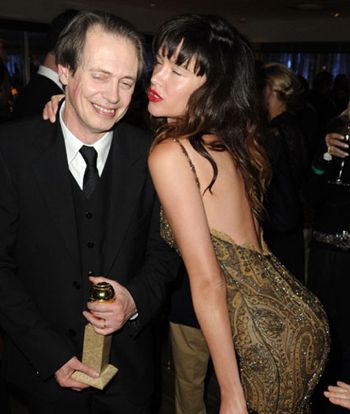 How to have a good old time when it's your turn.
Ahh to be young, beautiful and foolish. The things that are making the coconuts in your refrigerator percolate with extra excitement in the full glory that even you had to pack them away lest they be offended by Paz de la Huerta's stellar unscripted performance this past Sunday night.
dlisted: Not only are there glorious pictures of Spaz looking like she just woke up in a bathtub full of ice cubes with a sharp pain in her side and a trail of blood leading out into the hallway, but there's video too! TMZ (see video below) captured two of Spaz's most wonderful moments last night. The first came when she was denied entrance into an after-party, because she was every kind of drunk.
Refused entry? Isn't that tantamount to a slap in the face? Where was Paz expected to bounce tequila bottles off her belly button? Not the dark lonely Californian sky. Didn't them ribbon boys guarding the door realize by denying our Paz entry they weren't so much denying guests inside a rude shock to their sensibilities but in fact regaling the  sensibilities of the waiting starlet who had a predestined date with the bathroom sink and the spare carton of Jack Daniels bottles excitedly spinning by the lavatory?
But that party missed out, because a little later on Spaz nearly ate cement and then scribbled out an autograph while her titty hung out of her dress. We can all finally exhale a huge sigh of relief now that the new Tara Reid has been anointed. All hail:
Oh dear if only the ribbon boy had used a little more discretion Paz would have been spared the angst of baring her soul and her tequila soaked titty to the Californian sky.