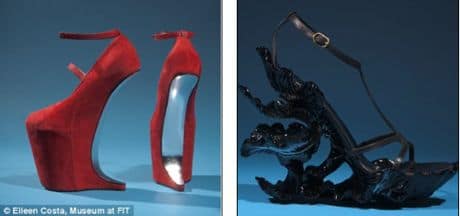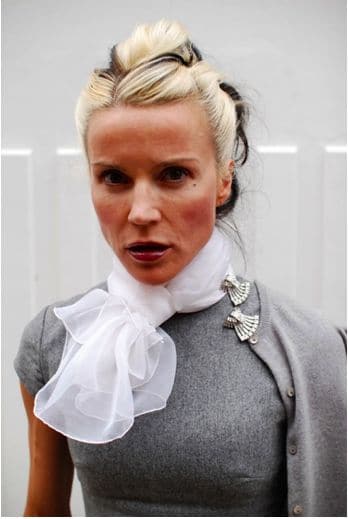 According to the uk telegraph,  the imminent exhibit of heiress and aesthete Daphne Guiness' wardrobe collection has been 2 years in the making. Set to unveil Sept 17, at NY's Fashion Institute of Technology, Dr Valerie Steele, FIT's director and chief curator has had her hands full leading into the exhibit. From restoring Ms Guiness' clothes, steaming them, documenting them and finally dressing them on mannequins.
Some of the items set to be unveiled include an Alexander McQueen jacket with silver eagle headed epaulets the size of a man's fist. Other items include a Chanel cocktail dress, a Christian Lacroix evening coat and of course a Ballenciaga blouse. But this really should be no surprise as Ms Guiness with her access to vast wealth has been reported to at times buy entire collections before they even go public. Who needs a muse, when you have Daphne Guiness giddily dropping by with wanton lust for her designer's latest creations?
But the real highlight of the exhibit is sure to be Ms Guiness' shoes. (Alexander McQueen is said to be her favorite). But for anyone who has followed Ms Guiness, her predilection towards the outrageous and ostentatious her shoes say a lot about her style. And how?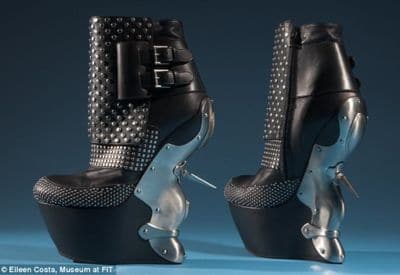 By now an adored fashion icon, Ms Guiness hardly fails to please in her role as fashion's chanteuse.
dailymail.co.uk: The fashionista has auctioned off vast swathes of her wardrobe in the past, including a 260-lot auction in 2008 that took three hours to sell and raised about $98,000 for charity.
Ms Guinness caused a stir in May by dressing for the Met Ball in the window of Barney's store in SoHo.
In an elaborate display of exhibitionism, she arrived in the shop window wearing a revealing gold bodysuit – much to the bemusement of onlookers – before dancing and changing into a duck and ostrich egg creation behind frosted glass.
But that in a sense is half the appeal of Daphne Guiness, with a knowing wink to the outrageous, the playful and the aesthetic she could be described as perhaps single handedly sustaining the fashion world. How rare that a muse, or an avid buyer and collector of clothes brings the joy of fashion, aplomb and giddy humor to our lot. To be sure, we are avid fans of Ms Guiness, withstanding the occasional faux pas. How divine….