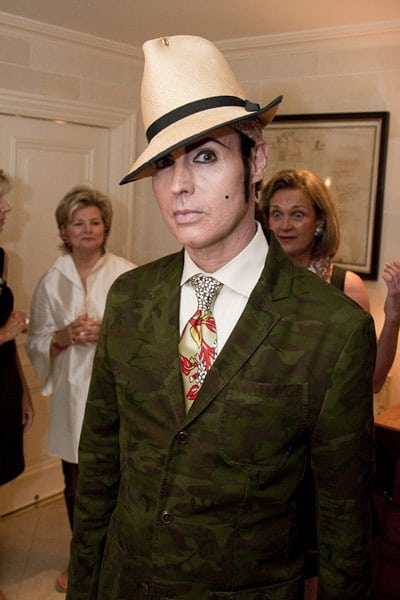 There is a saying that goes "beauty is in the eye of the beholder," in the same light one could also argue "last night evening's soiree was the beholder of beauty." Amidst a summer villa resonance courtesy of a Mrs Charlotte Moss, patrons of the fashion world flocked, or rather sauntered amongst each other and in front of the cameras in honor of this year's winner of the Couture Council Artistry Award for Fashion- Belgian designer Dries Van Noten.
Resplendent in an avalanche of well appointed signature gestures- from Patrick McDonald's signature hat and tie ensemble, Hamish Bowles stubble (yes it's true!), Mrs Valerie Steele's slit black cocktail dress (designed I hear by Dries himself…) and the handful of media darlings we see from time to Ms. Mary Rambin (who assured me there was a mix of the new set that evening …)Vanity Fair's correspondent Amy Fine Collins and even young Adrien Field in his knickerbockers…(a closer inspection later revealed short shorts, my dear!)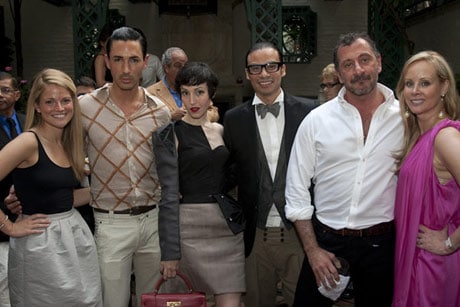 Coming across Ralph Rucci,(of whose one of designs Mrs Charlotte Moss was wearing) arguably one of America's finest fashion designers revealed to me the knowledge that from time to time Mrs Charlotte Moss likes to host salon type readings in her library while running into loveable scoundrel Arnold Scaasi had me asking whether he was managing to behave himself to which he answered –"to the best of my ability…"
A dash back downstairs had me once again running into Hamish Bowles of whom I inquired if "he was being kind to the photographers or rather were the photographers being kind to him," to which dandy Patrick Mcdonald responded "I believe one is obliged to be kind to each other…" Indeed…
Go to Scallywag's Photo Gallery.