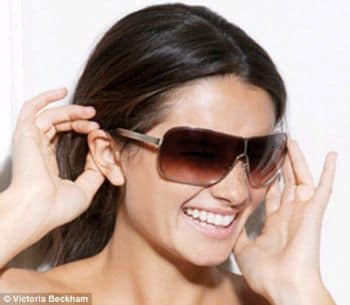 'You go to a barbecue and leave with a job from Victoria Beckham'
Talk about being at the right place at the right time, which would probably describe what happened to Alice Greczyn a fledging model and actress when she attended a barbecue being attended coincidentally by Victoria Beckham as well out in Los Angeles.
As a result of meeting 'Posh,' who was obviously taken aback by Ms Greczyn, the young soon to be starlet has now become the new face of Victoria Beckham's denim and eyewear collection.
dailymailco.uk: Mrs Beckham had been struggling to find a girl to model the lookbook for her spring/summer 2011 line when she spotted Alice lounging on the deck of the beach house in a bikini.
Struggling in Los Angeles, where one is surrounded by thousands of (under) unemployed actresses and models?
To her credit Ms Greczyn has appeared in the Dukes of Hazard remake and Road trip.
Mrs Beckham described the meeting as 'fate'.
She told the magazine: 'I'm always on the lookout for inspiring girls and I believe in fate, so meeting Alice was meant to be.
'She embodies the spirit of my denim, is naturally beautiful and a perfect fit for the collection.
She continued: 'I loved finding Alice – a young fresh talent.'
Isn't it inspiring to know that when you're not least expecting it (unless of course you make it a habit of carefully positioning yourself so the unexpectant can happen) you can find love, joy, happiness and a fashion campaign with one of the world's most recognized and frightfully ripe names?