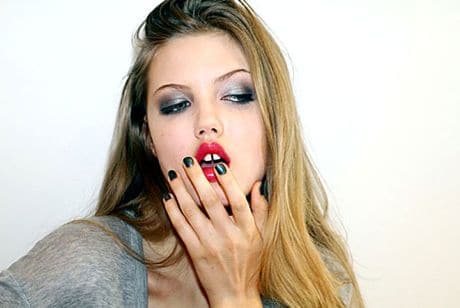 Have models with gap toothed smiles and full lips now become the rage?
For anyone who has been paying attention to the ascension of who's who in the fashion world, the visage of gap toothed beauty Lindsey Wixson should be on your radar. Following a string of prominent models with similar striking virtues- Georgia May Jagger, Lara Stone and Jessica Hart, see images below, the 16 year old Wixson who already has a number of campaigns under her wings (including Jill Stuart, Alexander McQueen, Mulberry, Marc Jacobs and Chanel, as well as Versace's Versus fragrance) has with her trademark features of full lips and gap toothed smile defined a preferred look within the ambits of couture fashion.
dailymail.co.uk : She's a favourite with Miuccia Prada, having walked the catwalk exclusively for the designer's Spring 2010 show. After that, the rest of the designers followed suit, and her distinctive face was seen on every catwalk from Yves Saint Laurent to Victoria Beckham.
Wixson, who is still a sophomore in high school, admitted that she had been 'very, very, very lucky' to land the Miu Miu campaign, and that meeting Mrs Prada was intimidating.
'You see her accomplishments and see why where she's gotten to be where she is,' she told W Magazine.
'She knows what she wants. I aspire to be like her.'
Of course that's the rub. So many of us aspire to be like and just aren't- which always adds curry to the fascination. Of course what makes this young model particularly beguiling are her distinctive features in an industry saddled with the girl next door look, the beach girl and of course let's not forget the Eastern European enterouge that have for the longest time been on the fashion foreground.