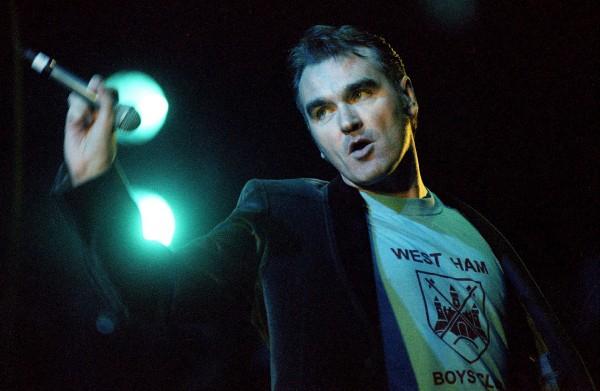 Morrissey hasn't been in a good mood lately. Frankly he's never in a good mood which suits him well to a t.
Asked to reflect on the state of Britain (does anyone really care?) the former Smith's frontman offered to British tabloid rag (the irony will soon become too palpable) Loaded that Posh and David Beckham are insufferable.
How insufferable you wonder. Take a few steps back as the blood flies over your head:
'I'd… have the Peckhams (Beckhams) dragged to the edge of the village and flogged because they are insufferable to anyone of intelligence, and they actively chase the paparazzi.'
Kids, do you wonder if for a moment if Morrissey wasn't contemplating every media whore that has ever had the gall to make it a weekly dining alley on your front lawn of your imagination?
But of course what I like best is the real contempt that our collective hero Morrissey holds for these two cunts media whores.
Instead of Beckham, Morrisey gives the pair the drivel name of Peckham which is suggestive of less than ostentatious origins and to some degrees betrays the pair's humble origins despite their all important over played importance which implies they were there during the knighting of the brotherhood during the dark ages.
Yet what really gets Morrissey's goat is the nation's unrelenting ass kissing and fascination of the 'Peckhams' which in his opinion betrays the nation's lack of intelligence and love of the celebrity lifestyle. Never mind that Morrissey is also a celebrity. Or at least an anti celebrity in the guise of a tortured soul who knows better than you and me what ought to please us.
Continued our collective tortured hero: 'We don't seem to realise that David and Victoria Peckham will soon be back and god forbid they will be bestowed with titles Sir and Lady Peckham, this is what's wrong with this country, we don't seem to care.
'Football often seems to me to have no meaning whatsoever other than just to be there. It can't be elevated any higher because so many footballers are paid £200,000 a week, yet couldn't identify a harp.'
Hmm, kids, raise your hand if you don't' reckon Victoria and David Beckham suddenly just crossed Morrissey's name off their next week afternoon 'I'm quite glad to be back in London and enjoying fluffy marmalade scones and above slightly room temperature afternoon Chamomile tea' outing with you…
Isn't it time you made Morrissey your living room icon too…?