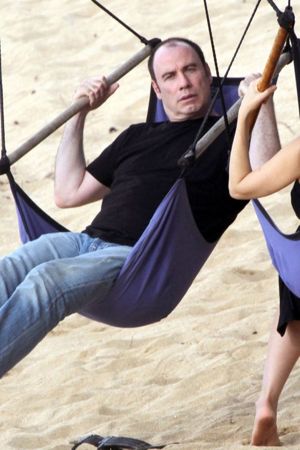 Would you still plant your tongue on Tony Manero's loose mane? Oh the woe…
Kids, I have to warn you the chipmunks have been crying all morning since they found out that Tony Manero is really bald. In fact the tears have been running so afoul, that I have had to set up rotating buckets under the bed springs.
thesuperficial: For years John Travolta has meticulously tried to hide his baldness, even going so far as demanding re-shoots of magazine spreads if his hair piece was the slightest bit obvious. Cut to this weekend where a surprisingly sloppy John (Also, his Internet handle.) actually stepped outside in Hawaii without a rug as the paparazzi waited in the bushes. You'd figure The Force, or however Scientology works, would've alerted him to their presence, so I can only assume it was a woman taking these photos.
One day when Tony Manero has finally hung up his silver pointy shoes he will suddenly catch a glimpse of himself against a corrugated rear bender and wonder what he was hiding all these years- after all there is nothing more liberating than telling the world what really made you great all these years wasn't necessarily the mane that used to flow effortlessly in a 1974 disco room but the fact that you managed to keep it a secret when we all knew all along….
THE SECRET GAY LIFE OF JOHN TRAVOLTA WILL SOON BE ON YOUR BOOKSHELF.
Where did the love go…?