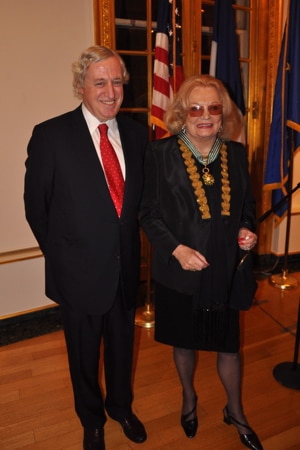 Icon in winter this way comes: Gena Rowlands.
Girls everywhere may be beautiful but in France and Hollywoood, they have what we call a TALENT FOR BEAUTY – and there's nothing you can do about it.
That's right a talent for it. Pierre Vimont, French Ambassador to Glorious United States might be the Gentleman Teddybear of your dreams as he humbly chuckles over his notes, with a champagne coupe in the other hand – but he does have a talent for what we call the "petite phrase"…
It's not everyday that one gets to meet an Icon. (As much as this term is overworked and tarnished on a daily basis, Miss Rowlands deserves it in full, thank you very much, and this is one blush and chuckle our beloved Ambassador will never have to be shameful over.
Santé to you, too.)

Antonin Baudry – our new Cultural Counselor of the French Embassy in the US opened the Award Ceremony with one of the thickest French accent in the book : "Too-dey ze hole populacion of France iz jealous of us: zey are all under ze influence". Follows a standing ovation. Not for Antonin but for Miss Gena Rowlands, most stunning amongst the stunners, poisonous muse amongst the Muses, modern archetype of what it means to have the blood of a woman running through your veins.
Let me give you some context: this recent Thursday past Miss Rowland was made Commandeur of the Order Des Arts et des Lettres. This is the highest position in the order, a recognition of significant contributions to the arts, literature, or the propagation of these fields. Oh, and did Miss Rowlands ever propagate.
A porcelain doll that knew a thing or two about passion and emotional turmoil, Gena lit a few generations of actors (and audiences) on fire as she shared the screen with what Hollywood legends are made of: Bette Davis, Rock Hudson, Charlton Heston, Kirk Douglas, Peter Falk, Julia Roberts, Mia Farrow, Sean Connery, Sean Penn, Uma Thurman, Holly Hunter, Sharon Stone, Liza Minnelli, Ben Gazzara, Seymour Cassel, Susan Sarandon, Kieffer Sutherland, Winona Ryder, John Travolta…
Searing most memorable performances into our psyches and our blood,