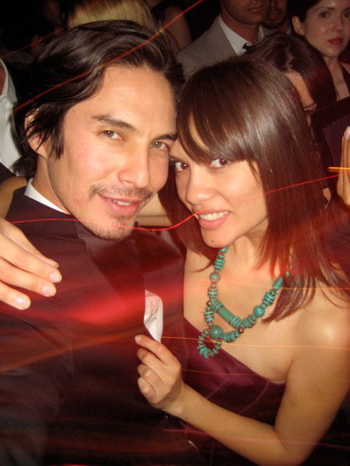 Being the conflicted hero has always appealed to me, though I've thoroughly enjoyed shooting the action sequences in various films.  I really admire the bold choices Johnny Depp has made in his career.  Ideally, I want to work on projects that touch move and inspire.  "Dead Poet's Society" is my favorite film of all time.  I'd be so proud to be a part of a production like that.
SCV: In the latest film you appear in – you play a bad guy. That said are you a bad guy or a good guy in real life?
Unfortunately, I'm mostly a good guy.  I say unfortunately because, bad guys seem to attract more girls.
SCV: Who are some of your favorite actors and why?
This may sound a little odd but my favorite actors are all super-talented women: Cate Blanchett, Meryl Streep, Judy Dench and Kate Winslet.  In terms of guys: Gene Hackman is brilliant in drama and comedies; Russell Crowe is incredibly gifted; and I really enjoy (without guilt) the work of guys like Robert Downey Jr., George Clooney, Matt Damon and Tom Cruise.
SCV: What would you prefer reading about yourself sometime in the future- 'Michael Teh bags supermodel X,' or 'Michael Teh destroys hotel room and goes on to win an academy award nomination'?
Definitely the latter.  An Academy Award nomination would be an amazing honor for any actor and one rock star hotel incident, probably forgivable and forgettable.  I'm not opposed to the first idea at all, but I don't need to read about it.
SCV: How does one prepare themselves to be an actor? And how does one separate that part of themselves that's a public figure versus their private selves?
Umm… I prepared by giving up my six-figure income and penthouse in New York and going to full-time theatre school and living in a closet.  Then continuing along a path of study, practice and hopefully growth.  And I'm not really qualified to talk about being a public figure… yet.
SCV: How would you respond sometime in the future if the paparazzi published photos of you working as a doorman say before you became a critical success.
I, like most actors, have had quite a few jobs in the hospitality industry and it's nothing to be ashamed of.  I've opened restaurant doors for former management consulting superiors, colleagues, and sub-ordinates without embarrassment.  I don't miss corporate life for a second.
Am sure I'll eat more humble pie as an actor on my way to being critical success.
SCV: Is it a good idea to be a sexy doorman to land leading roles and what would you do if a notable Hollywood producer came to your venue and acted like a jerk- would you still accommodate him or shut him out?
You'd have to ask Wass Stevens that question.  He's a successful actor and famous NYC nightlife doorman (and a former teacher of mine at Susan Batson's acting studio).  I don't know when that guy sleeps.

Michael Teh;
full resume & reel: www.michaelteh.com
set photos & headshots at http://www.imdb.me/michaelteh
view a recent 3 min film: www.vfagenda.com/bananarepublic/macite.asp
trailer for my next feature: http://www.whitewallmovie.com/video/video.htm
trailer where nominated for acting in a lead role: www.imdb.com/video/wab/vi3525706265/