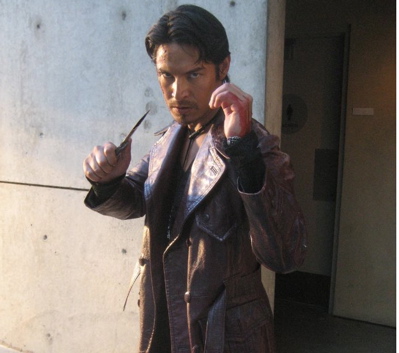 My big "break" was winning the Green card lottery (making it legal for me to work as actor) while training in New York.  That and becoming a semi-finalist and prize-winner in the last TNT Dramatic Auditions contest (out of thousands of nationwide participants) and some encouragement of some fine teachers gave me the confidence to pursue acting professionally. I only took classes with her few times, but Susan Batson (Nicole Kidman's coach) wrote me a written recommendation for a lead role in the film 'Dark Matter' playing opposite Meryl Streep.  So I'm pretty sure I can do this.

SCV: Tell us more about the film that is set to be released where you play the antagonist? How did that come around?
It's hard to categorize, but "White Wall" is a post-apocalyptic, fight film with a twist.  It was shot three and half years ago (in LA, the desert, Myanmar & Macao) and it's just been released on DVD.  I still haven't seen it yet, but for a relatively low budget indie, I think the producers and director should be proud.  It was a passion project and the crew was really talented, the story cool and original, and from the clips I've seen the cinematography was fantastic.  So many things have to go right to make a good film though.  But I like the trailer : see below )
This was one of my first feature films, and like most of my work, I got it from submitting myself on one of the casting websites that anyone can access.
SCV: We've been trying to get you on our site for a while, why did you finally accept?
Not having had a break-out role in a runaway success, I didn't feel like I had much to say, and I guess I have the Australian cultural reluctance for self-promotion.  As you would know, Down under, we value humbleness and egalitarianism more than success – outside of the sporting realm. (Yes the dreaded "Tall Poppy Syndrome"). Americans really celebrate and honor their successes, and are better at and more comfortable promoting themselves. I need to get better at that.  I'm pretty sure I've been resisting the business side of show business after my overdose of corporate life.
SCV: What do you think the public fascination for Hollywood is about? On a personal level what's the fascination for you?
I wouldn't say I have a fascination with Hollywood at all.  However, I think I, and the public, are attracted by the escapism of it all.  Hollywood's products allow people to escape from their realities for a period of time.  And I guess I'm escaping from my stressful, former corporate life too.
SCV: If you were presented with an opportunity with a role on a reality TV would you bite?
The artist and snob in me says "No!".  The entertainer and pragmatist in me says "never say never".  So I guess it would depend, but it's so not my focus.
SCV: If you could appear in the ideal film what would it be about and would you be the conflicted hero or the action hero?