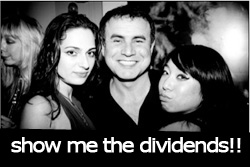 One day the world is ending and the other it's full of hot broads. Welcome to Dr. Nouriel Roubini's world.
It wasn't so long ago that Dr. Gloom, as he is affectionately known, was speculatinglike a tripped up deer that the world was about to implode, and for a few weekends in a row in 2008 it did– and we were all scared, no more than Nouriel himself, who managed to profit handsomely with his wonderful forecasting of mortgage bank armageddon.
These days, Nouriel has been serving us the good life while you continue to lick your wounds. Seen above is a picture of Nouriel having a very good time, because that's what you do when you are an economics professor who picks the market top.
In any event, we'll let Nouriel gloat in your face and if it hurts your feelings we really don't think Nouriel is that bothered by it.
Oh well…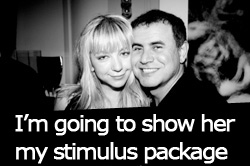 Source: Gawker