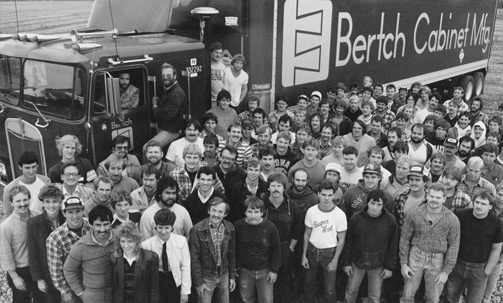 How Gary Bertch of Bertsch Cabinet Manufacturing came to find a way to challenge employees to meet company goals and in return reward the workers. 
Gary Bertch the president and co founder of Waterloo, Iowa cabinet maker, Bertch Cabinet manufacturing is taking its more than 800 employees on a company paid Caribbean cruise after achieving 'key' goals.
As a result of meeting goals and recovering from the recession, employees were told earlier this month that they were all eligible for a five day cruise.
According to Waterloo-Cedar Falls Courier, the employees are set to depart January 8 on one of four charter aircraft flying directly to Miami, where they will spend one night in a five star hotel before boarding the ship.
The Carnival cruise includes a stop at Key West and then off to Cozumel off the coast of Mexico.
Asked why Carnival, Bertsch responded: 'They're a fun ship. And if anyone knows our crowd, they like to have fun,'
'The first time we had them we ran them out of beer. We've learned they stocked extra for our trip this time so we don't run out.' 
The company, founded in a barn 1977, once employed more than 1,000 people. But with the implosion in the economy back in 2008, employment dropped to about 600 people come 2011.
Nevertheless the company has remained nimble and with orders once again rising,, Bertch Cabinet has since added circa 240 workers.
Reiterated Bertsch: 'We finally got into the black again last year after we made it through the recession.'
Adding: 'Companies are trying to get outside of the norm, trying to find something different and creative ways to engage people,'
'This has been one that has worked pretty well for us.'
The cruise comes as a reward to employees after incentivizing them a year ago to meet certain goals. 
Cruises had been reward to employees since 1989, but that hadn't happened since 2005 because of the recession. 
Bertch noted the recovery has been 'very slow' in his industry.
'We were anticipating we'd have better sales again this year,' Bertch said. 'We just tried to get all of our people pumped up a little more to achieve the various goals, both customer-oriented goals and financial goals.' 
Perhaps Bertsch's methods might serve other employers to follow suit in an economic climate where most of the productivity gains end up staying in the hands of shareholders.
Of note, the more than 800 employees had the option of taking the trip or a cash bonus.
Bertch says he encourages the employees to take the trip as it is a good time for team building.