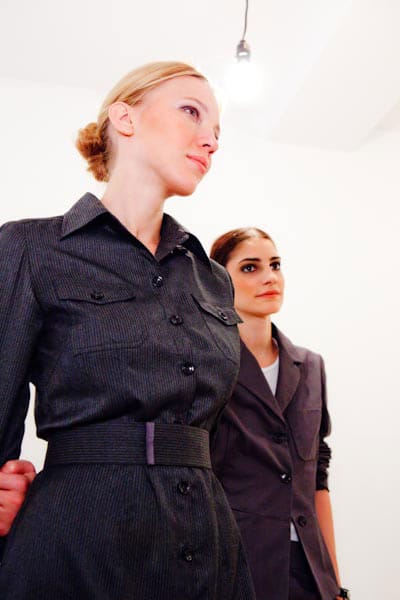 The clothes fit the building. A gallery cum warehouse in the heart of Chelsea, the Spring 2010 showing of The Vessel by Lois was similarly straight forward, with a utilitarian inspired look and a bit of a hipster vibe.  
The room is stuffy and crowded with fashionistas. The models stand on wooden boxes, positioned in two circles and they pose with varying expressions of flirtation, nonchalance, and the inevitable fatigue. The photographers and journalists walk slowly around the circle, peering into model's faces, inspecting their clothes and snapping away. One model looks as if she might cry, or perhaps keel over and faint. The heat is stifling. But the atmosphere is festive and buzzing as the crowd drinks 2 buck chuck (Trader Joe's hangover inducing wine).
Now the clothes: mostly muted colors, with menswear inspired tailoring and femininity in the details. The tailoring is preppy while the look is downtown cool. The styling is well-executed, redolent of preppy themes and the Oxford man. I imagine the prospective buyer to be a young professional who is fashion-conscious, eco-friendly, with a penchant for modern architecture and golden retrievers. She straddles the yuppie world of her Montauk parents and the hipster scene in downtown Williamsburg.  
Without trying to hard Vessel by Lois manages to effuse chic, preppy élan with a touch of hipster. Worth mentioning is that a portion of the collection will go towards childrens' homes in Jamaica. The Vessel by Lois achieves a cool vibe that will inevitably fly off the shelves.
Click here to see Scallywag's Photo Gallery.