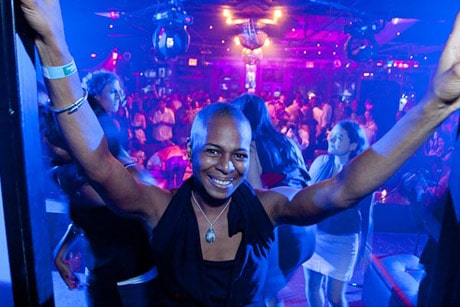 Mid-runway outfit changes and exhibits of high-quality photography and fashion illustration comprised the August 14, 2009, Art of Fashion in Webster Hall's Marlin Room. That alongside with pirouetting models and surreal depictions of vixens and heroines lent a sense of film noir as well as sublime suggestions of the collective aspirations of a nascent photographer and his next muse.
John McMullen of McMullen Reps, a photographer's representative, organizes the event with Herbert Fox, a promoter whose bona fides include the opening of Studio 54.  McMullen, who spent years working for BlackBook helping to promote photographers through that publication, aims for the Art of Fashion to become a new sourcebook for young photographers and commercial photographers.  However, instead of flipping through a book, an art director can walk among the photography and meet the photographers.  McMullen is especially keen on providing an outlet for exhibiting photographers' work that might not fit with their everyday client projects or a fine art photography book.
The Art of Fashion is certainly bucking the trend towards fast and cheap digital galleries in favor of in person meetings and high-quality photographic prints.  The majority of the exhibitors still connect with the Art of Fashion through its Craigslist listing.
Overwhelming interest from exhibitors and patrons has grown what began as a biannual Fashion Week after party into a bimonthly event.  McMullen now seeks to expand the Art of Fashion in both scale and scope, to pool the resources of the photographers who have been in the Art of Fashion over its five-year history to create a photography-based community.  For example, the Art of Fashion will be sending a number of its alumni to assist the Elaine Kaufman Foundation with the hosting of The Purple Event, a fashion show taking place September 10, 2009 and benefiting epilepsy education programs.
The Art of Fashion is planning to host its next exhibit August 26 at Webster Hall, followed by an exhibition during this fall's Fashion Week.