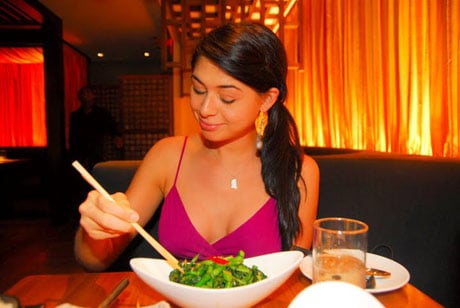 Situated on the neighborhood-y Thompson Street in Soho, KittiChai is not new. It is not the bling it once was and it holding on with steadfast perseverance for maintaining its status quo. On a beautiful sun drenched NYC day, I recently got to partake of a quiet lunch at Kittichai and talk with general manager, Robert Darcangell. Quiet meaning almost dead silence as my photographer and I were the only two dining during the afternoon hours until a cute couple stopped by in flip flops and began lunch with cod cakes. I had to wonder if this was the norm and was rather told that restaurant week had them packed every day and that "now it's August"…signaling a summer slow down. 
Food culture has changed. How and what we eat is changing as an entire society begins to relearn food and what it means to be "good." Price tags used to signal value but now gourmands are dying off and the conscious consumer is being born. Conscious in terms of food origin, sustainability and health couples with price. With the rise of food based media, celebrity chefs and everyone wanting to be a foodie, there has been in increase in what eaters demand of restaurants, noted Mr. Darcangell.
"It can no longer have corners cut or style of food minimized, though in the same breath, food hype will not survive either."
Sure, scallion foam is fun but like many food trends, that too came and went.  Although I suspected the real star wasn't just the food but who came to eat the food, sustainability and originality aside.
Some restaurants are taking different platforms to better themselves, allocating membership and being selective with clientele. Take KittiChai for example, packing the house is no longer an option, given the knowledge of who dines out has required the 'house' to be calculating in the way it serves its food. Filling the floor every night with six- top after three- top after private party of twelve (and the list goes on) could be the goal of many restaurants, though according to Robert, that compromises service, clientele satisfaction and overall regard for a venue. People want to be comfortable. People want to be valued. People want to be greeted and hosted by beauty and youth. And people want to be charmed, uplifted and thought more of than the place next door allocates them. Robert let me on the discretion taken at the door helps to protect staff and the integrity of the restaurant and bar. In other words, you get to hang out with like-minded, like-looking and like-spending individuals who might make it to the rooftop, designed to feel more like a private terrace of penthouse apartment. An apartment you wished you owned that is.  
Perhaps that it is exactly what Kittichai wishes to affect, the air of exclusivity, the visage of a panoramic vista and an equally good looking crowd. After all if the food and the chef have become stars then it only follows that the patrons have become stars too. At this Kittichai have excelled.