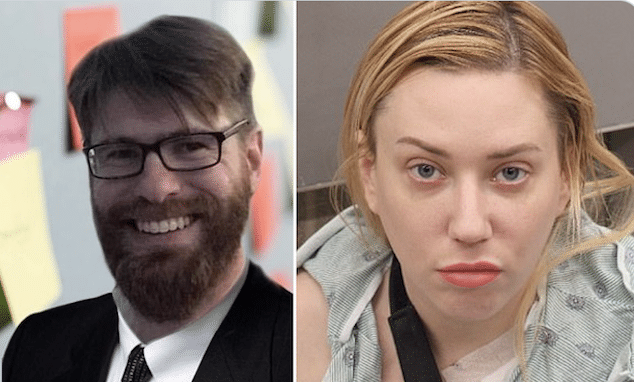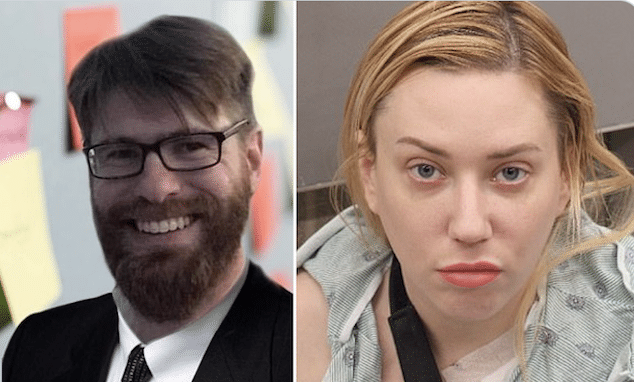 Kristina Chambers Porsche driver 4 times over legal drinking limit kills Joseph McMullin, Houston man on first date. Victim had been walking on sidewalk. 
Reflected the mother of a 33 year old Texas man killed earlier this month by a drunk driver as he walked along the street with a prospective love interest, 'Life can be hard at times –  he never gave up and always did the right things to persevere.'
The wife of a wealthy Houston trader has been accused of driving her husband's Porsche vehicle at high speeds after earlier that evening visiting a local bar and killing a man as he walked along the sidewalk with a woman while on their first date.
Kristina Chambers, 32, was driving her blue Porsche 911 Carrera at 100mph through the Montrose district of Houston on April 20 at 2:25am, with a female and male passenger.
She had been drinking heavily, and was four times over the legal limit, prosecutors alleged during a Wednesday court hearing in which she faced charges of intoxication manslaughter. 
Assistant District Attorney Kelly Marshall stated Chambers failed to negotiate a curve in the road and smashing onto the sidewalk, instantly killing Joseph McMullin, 33, who was walking along it. 
'Well it's not that far, we can walk…' 
McMullin, an audio technician and music lover, had been on a first date with Brianna Iturrino, and the pair were walking to get donuts at a late-night spot, when tragedy occurred.
'We had gone to karaoke at AvantGarden,' Iturrino told KHOU. After spending time in the bar, the pair went to get food. 
'When we got out, the taco truck was closed, but he knew Voodoo would be opened. 
'He asked if I wanted to take my car. I said, 'Well it's not that far, we can walk. Fresh air."
She said they had just left the donut shop when Iturrino said she saw the Porsche coming at them very fast. 
She told police she saw a flash and then tried to find McMullin.
Chambers drove for several feet more, before finally crashing into a post.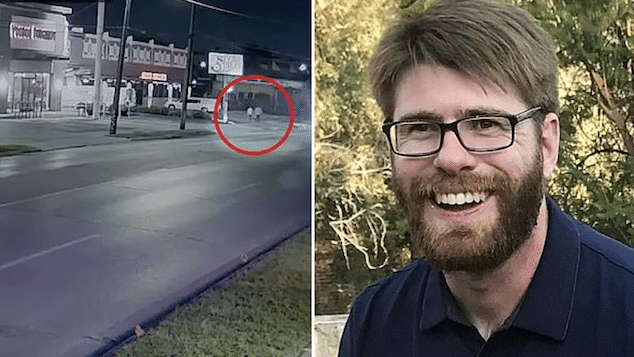 Unemployed wife married to wealthy Houston trader 
McMullin, whose body was flung about 30 feet from the wreckage, died at the scene.
'He really loved music. It was one of the things we bonded over,' said Iturrino.
'He said he wouldn't sing, but he wanted to hear me sing.'
The suspect was traveling with two other people in the Porsche, a man and a woman, neither suffered serious injuries although the male was unconscious when taken from the scene. The passengers were not publicly identified. 
Chambers was charged on Monday, and appeared in court on Wednesday, KTRK-TV reported.  
She lives in the Montrose area with her husband of six years, Xuan Si, a portfolio manager, in an expansive $1.5 million home bought with a $1 million mortgage.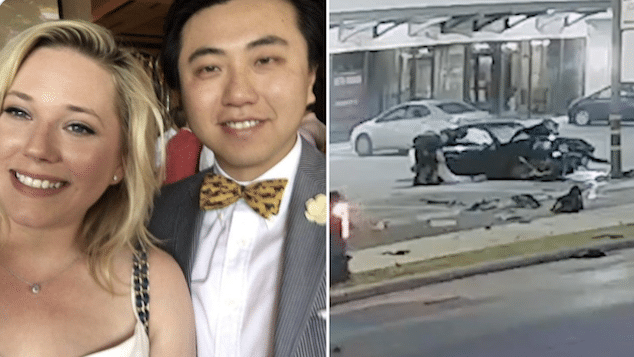 'It's not my fault!' 
Chambers entered the 339th District Court on Wednesday still visibly injured from the crash, in a wheelchair with her arm in a sling. 
Her lawyer, Mark Thiessen, said Chambers broke her leg and clavicle in the collision. 
He told the court she was not guilty, instead citing poor road conditions on Houston streets as the reason Chambers lost control of her vehicle. 
Thiessen described Chambers as unemployed and noted for the court that her husband is the sole provider. 
The assistant DA told the court Chambers' actions were criminal.
'There was a lot of alcohol in her system,' Marshall said, adding that traces of suspected drugs — possibly Adderall and cocaine — were also found in her purse.
Chambers told police that she drank a beer at 9:30pm but nothing else until the 2:30am crash.
Judge Te'iva Bell ordered Chambers held on a $50,000 bond and prohibited her from driving unless she gets a job. 
Chambers is required to install a landline at her home to show that she is abiding by those conditions.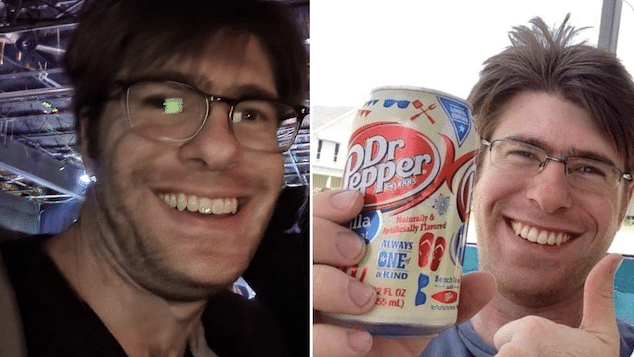 'He never gave up and always did the right things' 
McMullin's family paid tribute to a doting uncle, music lover, and whom they described as a 'kind soul.'
Born in Houston, he graduated from Stratford High School and later Houston Community College.
His mother Lynn, father Chris, younger brother Matthew and his wife Anna all recalled him as someone with a true love of life and a huge number of friends.
'Good people are drawn to good people, and Joe had nothing but great people supporting, loving, and cheering him along,' his obituary states. 
'Life can be hard at times –  he never gave up and always did the right things to persevere. 
'He ran half-marathons, paved his own path to vegetarianism, and was secure enough to attend concerts alone, often arriving way too early so he could be front of stage. He lived life so courageously.
'He was passionate about music, the arts and entertainment, movies, social justice, and most of all, people. 
'You could find Joe at a local record shop, concert event, or theater production multiple times a week. He enjoyed all genres of music and his record collection reflects it. 
'Joe enjoyed food, from trying his hand at new fun baking recipes, to cooking vegetarian dishes, to his love for Taco Bell. Joe also loved a cold Dr Pepper (or two, or three).'
'He would want us to be together and be brave,' 
His mother told The Houston Chronicle how she went with him to the Coachella music festival in 2012, for the experience.
'I didn't belong at Coachella but there we were,' she said.
He took his father to see the London group Black Midi in September, having correctly guessed he would enjoy their music.
Lynn McMullin said her son would not have wanted them to dwell on his death.
'He would want us to be together and be brave,' she said. 
Chris McMullin added: 'The rest of it will work itself out.'