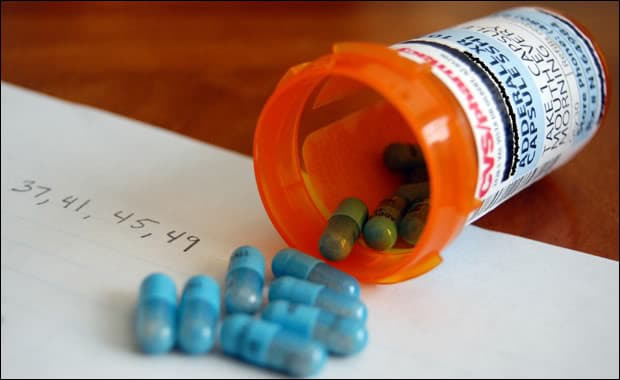 The following essay comes courtesy of Valerie Harris who decided to examine the culture of 'study drugs' as they are euphemistically known on college campuses, the most commonly and obsequious drug of choice these days being adderall, a pharmaceutically manufactured drug designed to stimulate various sections of the brain and created originally to treat those individuals diagnosed with attention deficit disorder, which just may or may not just be the pharmaceutical industry's attempt to invent a disease and a ready made cure from which of course to profit from.
That said, what may have started off as a way to combat attention deficit disorder amongst some has increasingly become the de facto drug of choice amongst many who have come to see the drug as a crutch in their navigations to better grades as well as a handy social lubricant in the same way other stimulants are used, including speed and cocaine. The only difference between a drug like cocaine and adderall is the former is a street drug where as the latter is a pharmaceutically manufactured one. Both it seems are prone to cause havoc to unsuspecting users, many who eventually become unwittingly addicted to such drugs and often abusing them to their unfortunate demise.
It's no secret that college students today are engaging in some risky and downright stupid behaviors; Scallywag & Vagabond has chronicled a number of examples over the past year or so. That said the article that follows below takes a slightly different angle on this issue by looking at the growing trend of pharmaceutical "study drug" abuse on campuses nationwide.
It might also interest readers to know Valerie Harris also curates online resources for students thinking about graduate education, as she walks us through the reasons for this growing problem and offers suggested ways out.- Scallywag.
Demands of Undergrad and Masters Programs Leading to Drug Abuse
A steadily increasing number of college students are abusing Adderall, medical experts say. The drug, which is classified as both an amphetamine and a psychostimulant, is commonly prescribed to young people diagnosed with attention deficit hyperactivity disorder (ADHD), but collegiate men and women often use it as a study aid. Today, doctors and substance abuse specialists are warning of the drug's many adverse effects  — and encouraging students to adopt study habits that are less risky to their physical well being.
Many physicians have noted the positive attributes of Adderall, particularly among young people who have trouble focusing in school. For many ADHD patients, the drug often serves as a suitable substitute for Ritalin because it tends to produce fewer negative side effects. Adderall also retains high bioavailability, meaning that its desired effects are not affected by food consumption.
However, Dr. Ronald Vicker and Dr. Venus Nicolino recently wrote in The Huffington Post that between 20 and 30 percent of college students take Adderall recreationally (and illegally) as a "study drug." In addition to Adderall and Ritalin, other study drugs include Modafinil, Dexedrine, Nootropoil and Ephedrine; none are considered "safe'" for recreational use. The abuse of these drugs – which allow college students to remain awake longer and focus on their coursework more effectively – has risen roughly 200 percent in recent years.
The authors note that the problematic trend has been compounded by "immoral doctors" who prescribe Adderall to college students who clearly do not require the drug to function. Another contributing factor is the drug's addictiveness, which has led to an increased number of individuals who use Adderall recreationally. Common illicit uses include: ingesting pills orally; crushing up the pills and snorting them; and "stuffing," or absorbing the pill through the body's largest mucous membranes (typically the anus, vagina or penis).
Vickers and Venus also note the numerous side effects of Adderall abuse, both in the short- and long-term. Overdosing on the drug can lead to cardiac arrest, permanent mental or physical defects and, in some cases, death, they say.  Other side effects include anxiety, depression, heart palpitations, increased blood pressure, seizures, stroke and psychosis. The authors also point out that sale, possession and use of Adderall without a valid prescription is considered a felony – and drug enforcement officials have begun to target illicit users in recent years to mitigate the nationwide abuse problem.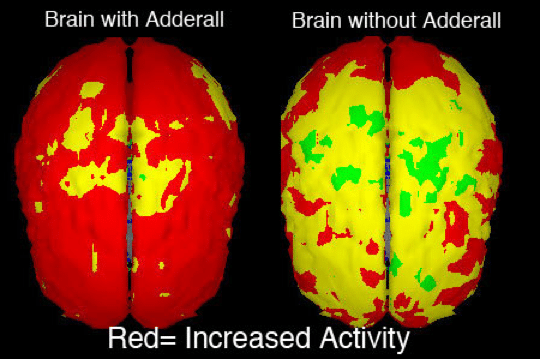 Then there are consequences that Vickers and Venus say most college students have not even considered. For instance, lying about a medical condition in order to legally acquire Adderall will lead to a diagnosis recorded on the individual's permanent chart; this can cause subsequent headaches for those who wish to apply for health insurance.
Alan Schwarz of The New York Times writes that the primary reason behind the rampant abuse of study drugs is the desire to improve academic performance. Regardless of the long-term effects, Adderall and other study drugs effectively improve concentration among students at the time they are ingested; as one student told Schwarz, "it's like [the drug] does your work for you."
As college admissions have grown increasingly more competitive in recent years, the study drug epidemic has spilled into American high schools. Doctors believe that anywhere from 15 to 40 percent of current high school students abuse study drugs – and perpetrators are often young men and women who do well in school and simply want to boost their grades. This has led school administrators across the country to reassess the demands faced by American high school students. "Straight A's and high SAT scores look great on paper, but they aren't reflective measures of a student's health and well-being," said Douglas Merrion, a Philadelphia school district spokesman. "We need to better understand the pressures and temptations, and ultimately we need to embrace new definitions of student success."
Educational experts are also encouraging students to adopt different study habits that are just as effective as Adderall and other drugs, but lack the detrimental long-term effects. A recent article by Huffington Post College urged college students to regularly meet with study groups to go over classroom notes and exchange ideas about the course content. Other strategies, such as making flash cards and continually rewriting notes, allow students to process information more effectively (and retain facts for tests). Finally, students who struggle to concentrate can take a simple (but highly effective) step: get more sleep. On average, college students who sleep more record higher GPAs.
To mitigate the widespread problem of study drug abuse, experts are warning college students to completely avoid controlled substances in order to improve academic performance. There are many other measures one can take that will not cause long-term health problems or lead to legal trouble for perpetrators.