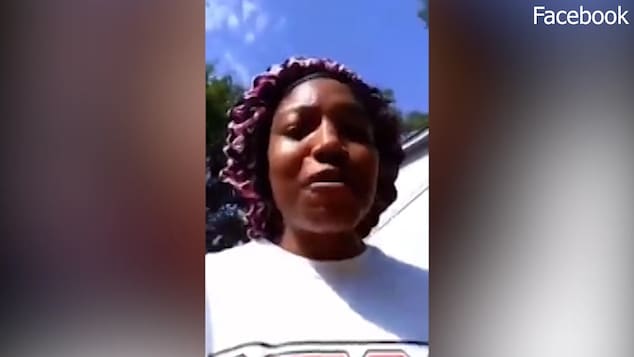 Brandi Lasiter, Americus Georgia woman being investigated after going on Facebook Live rant claiming she'd purposefully infected lovers and that she will get the last laugh.
A Georgia woman who went on a viral Facebook Live video rant claiming she was HIV-positive and intentionally infecting victims is now being investigated by police.
Americus police Major Herman Lamar during a press corps meeting on Tuesday told of having received several tips Friday following the video being shared. The woman in the video has since been identified as Brandi Yakeima Lasiter.
Mouths off Americus woman, Brandi Lasiter: 'Motherf****** play with me, I told ya, I'm a evil motherf*****," Lasiter says in the video. "I'm evil as hell. I get real nasty and evil. Yeah.'
The original Facebook post has been taken down – but the viral video still exists on Youtube (see below).
Americus HIV positive woman: 'I'm going to watch y'all die.'
The roughly 1-minute video shows Lasiter naming a list of men she allegedly already infected, along with their wives and girlfriends. She bragged about getting revenge on the men, saying she always gets the last laugh.
'I always get the last laugh,' Lasiter is heard saying in the video. 'I'm going to watch y'all die.'
Lamar says one of the men named in the video came forward and filed a communication harassment complaint. The investigation is ongoing and Lamar says police need to first prove Lasiter is HIV-positive.
'It is quite alarming to anyone in any community and we asked everyone to – if you are going to engage in risky behavior – to also practice safe sex,' 11Alive reported Lamar saying.
It is a felony in Georgia to knowingly transmit HIV. Even if Lasiter is found not to have HIV- the woman is still expected to face charged, albeit lesser charges. 
Of note the CDC lists Georgia in the top five states of individuals infected with HIV.
According to HIV.gov, one in seven people infected with HIV don't know they have it. AIDSVu reports that roughly 51,000 people in Georgia are living with HIV based on 2016. That's about 602 people per 100,000.
Why? Pensacola man gets 10 years for knowingly spreading HIV
Arkansas man willfully contracted HIV in plan to infect others.
Gulfport man knowingly spread HIV to lovers (again).
Are you game? Sex roulette parties where secret person has HIV.
Did Thomas Guerra intentionally infect 24 men with HIV
German Pop star Nadja Benaissa is on trial for knowingly spreading her HIV virus.