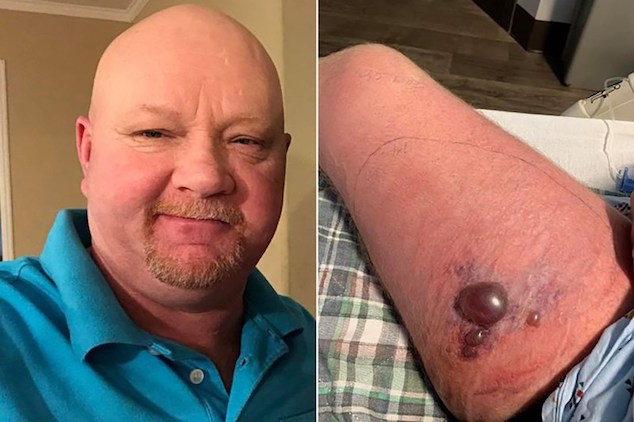 Ricky Rutherford, Alabama man contracts flesh eating bacteria as family ask how did a man with no sores or compromised immune system catch the disease? 
An Alabama man is 'fighting for his life' after contracting a flesh-eating bacteria infection during a weekend kayaking trip- in yet another incident of the potentially deadly disease which seemingly has become prevalent in warmer weather. 
The bout follows Ricky Rutherford and his wife, Cassey, of Waterloo, Lauderdale County  — along with family and friends — having recently gone kayaking at Second Creek on July 6, WAFF 48 reported.
Two days later, Ricky went to work and came home with a 103-degree temperature along with cramping in his legs. Rutherford who works in a warehouse, assumed he'd simply been feeling the effects of working on his feet in the heat.
So he returned to work the next day — but could hardly walk at all when he got home.
'When he undressed he found his leg was red and swollen,' Cassey posted to Facebook. 'We immediately went to the ER last night and they told us it was cellulitis possibly contracted from our kayaking trip Saturday and treated him with IV antibiotics and sent him home with two more. They told him if there was any change to come back.'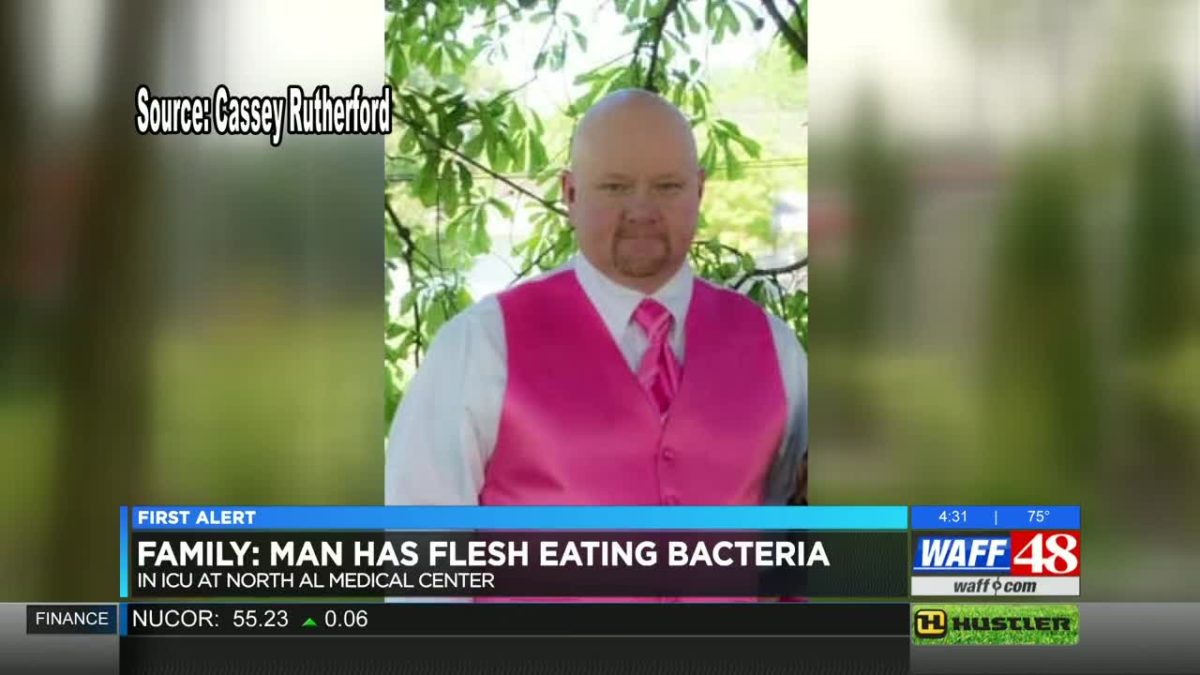 Understanding how

necrotizing fasciitis operates:
But things only got worse the next morning — with Ricky running a 105 fever. So the couple rushed back to the emergency room at the North Alabama Medical Center in Florence. That's when doctors suspected it was flesh-eating bacteria and ran some tests.
Ricky went into surgery Friday, and doctors cleaned out a 5-by-6-inch chunk of his leg, Cassey said.
By Monday, cultures confirmed that flesh-eating bacteria — or necrotizing fasciitis — was to blame.
'My husband is fighting for his life right now because of this horrible thing!' Cassey posted. 'What seemed like a normal fun activity that we enjoyed as a family has turned into a nightmare!'
Father dies of flesh eating bacteria 48 hours after contracting it during Florida beach trip
Florida woman dies after contracting flesh eating bacteria while walking along beach (two weeks ago)
Crab fishing NJ dad contracts necrotizing fasciitis to lose all four limbs as condition deteriorates
Houston daycare teacher loses foot to flesh eating bacteria (after thinking it was a blister)
Symptoms of the disease include a red or swollen area of skin that spreads quickly, severe pain — even beyond the infected area of skin — and a fever, according to the CDC. The center advocates rapid antibiotic treatment, and prompt surgery in stemming the infection. 
About 700 to 1,200 cases of the disease have occurred each year in the US since 2010 the nypost reports.
Yet perhaps most vexing, is the disease affected Rutherford not having any open sores or a compromised health or immune system- raising the question- how susceptible a seemingly healthy individual may be to the ravages of the infection.
Cassey told WAFF that her husband did not have any open cuts, scratches or wounds — but doctors told her that doesn't matter.
'There was nothing,' she said. 'But the doctors told us it could be a microscopic hole that it could come into and still spread like that. It's hard to believe that there was a group of us and my husband, being the healthiest immune system there, got this. He's never sick. He doesn't even have a doctor. To know that he got that when the rest of us didn't is insane.'
Dr. Karen Landers, Medical Officer for the Northern/Northeastern Districts with the Alabama Department of Public Health, says Necrotizing Fascitis is an uncommon disease. However, when it occurs, it can be very serious, and prompt medical attention is necessary.
'Many organisms, including the common strep germ, can cause this disease. In the summer, and in persons exposed to brackish waters, we see the organism Vibrio vulnificus,' she told WAAF.
The Rutherfords' have received an outpouring of support, with hundreds commenting on and sharing Cassey's Facebook posts about Ricky's status. Cassey has emphasized using the platform as a means to warn others to be aware of the risks at the popular recreation spot.
'I don't want anyone else to go through this,' she told WAAF. 'On Saturday, I was having to think about burying the love of my life. No one should ever have to go through that. Do not get in that water! It's not safe. Don't jeopardize your family for a day of fun. It's right here in our backyard.'
How? Texas woman dies from flesh eating bacteria after eating raw oysters
Lindsey Hubley lawsuit: Halifax mom contracts flesh eating bacteria after birth (loses all four limbs)
Did Bonita Fetterman contract flesh eating bacteria at Myrtle Beach? Authorities dispute claim
How Katie Widdowson died from necrotising fasciitis: Rare flesh eating disease after sex game
'Where's my foot?' Chey Alvarez wakes up from 2 week coma
Necrosis: Venezuelan girl's leg turns black after snake bite. May die now