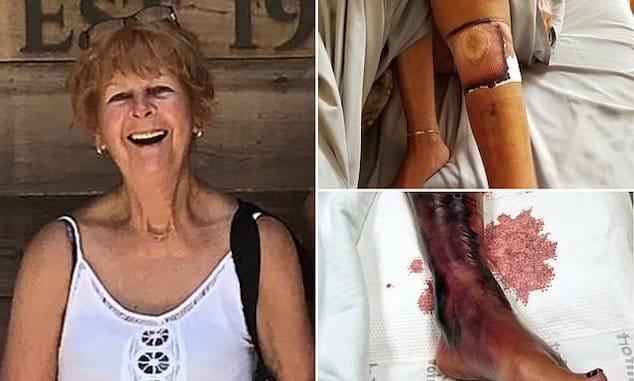 Lynn Fleming Ellenton, Florida woman dies of

necrotizing fasciitis after contracting

deadly flesh eating bacteria infection while walking along Coquina Beach.
An Ellenton, Florida woman has died two after contracting flesh eating bacteria while walking along a local beach after contracting bacteria through a cut in her leg.
Lynn Fleming was was with her son and his wife two weeks ago at Coquina Beach on Anna Maria Island, along the coast of the Gulf of Mexico when she incurred what she thought at the time to be a 'harmless cut' in her leg.
The cut occurred as Fleming walked along the beach, with the woman stepping into a small depression that she couldn't see because it was underwater.
'She fell into it, came out with a little three-quarters-of-an-inch cut, a bump on her leg,' her son, Wade, told WTVT-TV.
'It was just a small cut, didn't think much of it.
'We got the swelling down, but it just kept bleeding.'
Two days later, Fleming went to see the doctor, who gave her a tetanus shot and prescribed her antibiotics.
The next day, Fleming was found unconscious in her home. She was then rushed to hospital.
Doctors told her family that she had contracted necrotizing fasciitis, a rare but deadly bacteria.
In an effort to save her, doctors performed surgery. During the operations, however, Fleming suffered two strokes and sepsis.
She died on Thursday.
'This is the place she loved,' Fleming's daughter-in-law, Traci, said.
'She couldn't wait to get down here and retire. She loved the ocean; she loved walking on the beach.
'Unfortunately, it's the place that took her life by freak accident.'
Necrotizing fasciitis is a flesh-eating infection that can destroy muscles, skin and tissue.
It is typically managed by surgery, antibiotics and aggressive supportive care.
Different bacteria can cause necrotizing fasciitis. 
Necrotizing fasciitis destroys tissue under the skin that can be caused by a number of different bacteria, the most common being Group-A Strep and Vibrio, which are drawn to warm water such as that off the coast of Florida.
People who are susceptible to infection are those with an open wound as well as people with an underlying medical condition.
The CDC recommends those with open wounds and active infections "to avoid bodies of water, especially swimming pools and hot tubs."
Understanding how Necrotizing fasciitis (flesh eating bacteria) actually works and the incidence of death:
Notes the dailymail: Necrotizing fasciitis, more commonly known as 'flesh-eating disease', is a rare but extremely vicious bacterial infection. 'Necrotizing' refers to something that causes body tissue to die, and the infection can destroy skin, muscles and fat.
The disease develops when the bacteria enters the body, often through a minor cut or scrape. As the bacteria multiply, they release toxins that kill tissue and cut off blood flow to the area.
Because it is so virulent, the bacteria spreads rapidly throughout the body.
Symptoms include small, red lumps or bumps on the skin, rapidly-spreading bruising, sweating, chills, fever and nausea. Organ failure and shock are also common complications.
Sufferers must be treated immediately to prevent death, and are usually given powerful antibiotics and surgery to remove dead tissue. Amputation can become necessary if the disease spreads through an arm or leg.
Patients may undergo skin grafts after the infection has cleared up, to help the healing process or for aesthetic reasons.
Of note – according to The Centers for Disease Control and Prevention (CDC) there are 500 to 1,500 cases reported a year in the US, with 20 to 25 percent of victims dying.
Crab fishing NJ dad contracts necrotizing fasciitis to lose all four limbs as condition deteriorates
Houston daycare teacher loses foot to flesh eating bacteria (after thinking it was a blister)
How? Texas woman dies from flesh eating bacteria after eating raw oysters
Lindsey Hubley lawsuit: Halifax mom contracts flesh eating bacteria after birth (loses all four limbs)
Did Bonita Fetterman contract flesh eating bacteria at Myrtle Beach? Authorities dispute claim
How Katie Widdowson died from necrotising fasciitis: Rare flesh eating disease after sex game
'Where's my foot?' Chey Alvarez wakes up from 2 week coma
Necrosis: Venezuelan girl's leg turns black after snake bite. May die now