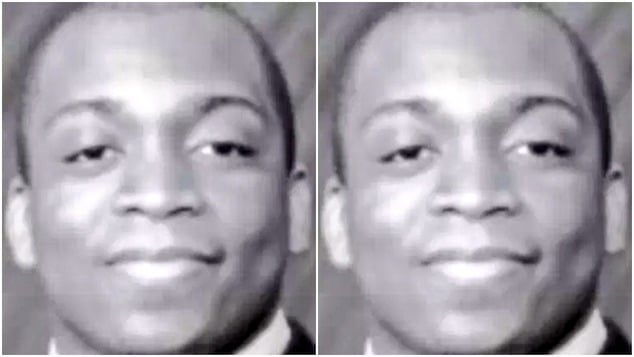 Virginia Beach shooter was loner who trained two cameras on his expensive cars. A character breakdown of a gunman who'd quietly amassed weapons over the years. 
A breakdown of the Virginia Beach shooter who massacred 12 fellow co-workers at a municipal center on Friday has revealed a man who was a loner, who preferred his own company, held no social media accounts and who resisted socializing or engaging with fellow workers or neighbors.
In a surreal bizarre twist, just moments before going on his  mass shooting spree, DeWayne Antonio Craddock, 40, was spotted brushing his teeth in the office restrooms where he exchanged pleasantries with a colleague and wished him a good weekend. 
Joseph Scott, an engineering technician with the department of public works, said: 'He was in there brushing his teeth, which he always did after he ate. I said "Hey, how you doing? What are you doing this weekend?" It was just a brief conversation.
'I'm sure I'm going to hear all kinds of things about DeWayne, but I liked him,' Scott told CNN. 'I worked with him. He was what I thought was a good person. When we were together, we would talk about family, friends, things that we were going to do, trips we were going to take and things like that.'
Scott said he worked with Craddock, whom a Virginia government source has called a 'disgruntled employee,' for several years. Scott said he doesn't want the shooter 'painted as an evil person' adding that 'something happened, but it wasn't his nature.'
'I thought it was a drill' Virginia Beach shooting survivor spared three times during massacre
Virginia Beach gunman had been violent with co-workers before mass shooting
'I quit' Virginia Beach gunman resigned hours before shooting via email
12 dead: Virginia Beach shooter disgruntled worker who sought revenge
A disgruntled US council worker has opened fire on his colleagues, killing at least 12 people. DeWayne Craddock lost his job just hours before he walked into the municipal building in Virginia Beach and began shooting indiscriminately. #7NEWS pic.twitter.com/HVxCiX9PRE

— 7NEWS Brisbane (@7NewsBrisbane) June 1, 2019
DeWayne Craddock is former military. It happens again. And I hate to point it out because people have said I'm anti-military for pointing it out, but I am not. But it's a fact. A HUGE percentage of mass shooters are former military. A HUGE percentage. And that's another issue.

— Francis (@smelllikesugar) June 1, 2019
DeWayne Craddock, the Virginia Beach mass shooter, enlisted in the Virginia National Guard in April 1996 and served for 17 years. Increasingly seems the most predictive trait for mass shooters is not race or religion, but a military/law enforcement background. (And gender: male)

— Michael Tracey (@mtracey) June 1, 2019
Virginia Beach shooter an apprentice with weapons:
Prior to going to Old Dominion University and graduating with a civil engineering degree in 2002, Craddock had enlisted in the Virginia National Guard in April 1996. He was assigned to the Norfolk-based 1st Battalion, 111th Field Artillery Regiment, 116th Infantry Brigade Combat Team as a 13B cannon crew member.
Craddock served until 2002, and was assigned to a Norfolk-based battalion as a cannon crew member.
After a few shorter-term, private sector engineering jobs, he started at the Virginia Beach Department of Public Utilities.
We're learning more about how DeWayne Craddock carried out his horrific attack.
Here's our @cbsnews report from VA Beach as memorials grow. pic.twitter.com/qRXU8UnTIJ

— errol barnett (@errolbarnett) June 1, 2019
DeWayne Antonio Craddock https://t.co/Vp7kZk6puF#DewayneCraddock pic.twitter.com/G5VLnMTOuo

— ACBN (@realACBN) June 1, 2019
Virginia Beach shooter: A loner whose wife had left him.
Craddock by the time of Friday's shooting had worked for the Virginia Beach municipal center for 15 years, with authorities saying Craddock had no prior criminal record, other than a few traffic violations — and both the firearms he used Friday were legally obtained.
By day, Craddock worked a mid-level job at the city's Department of Public Utilities, and was regularly listed on city press releases about infrastructure projects.
As for hobbies, he was also listed as a runner in a 5K race in Norfolk and as a guest speaker at a North Virginia Beach Civic League in 2016.
He was a member of his neighborhood association board, and spent a good deal of time at the gym, neighbors told reporters.
But mostly, he was a loner, preferring to wave, and keep walking, when he crossed paths with neighbors.
Several neighbors believed he had once been married, but that his wife had left him some years ago.
'I would speak to him and he would speak back, but conversation-wise, I never had a conversation with him,' said one neighbor, Angela Scarborough.
He would keep cameras trained on the two nice cars he kept parked out front of his condo, one of them a Mustang, neighbor Cassetty Howerin, 23, told ABC News.
She never saw a guest come to visit.
'He never really cracked a smile,' she said of Craddock, who she described as 'jacked' from his many hours at the gym.
I am outraged and heartbroken.

How much longer will we ignore the pain of our communities? We need to immediately confront the power of the NRA and end the epidemic of gun violence in this country. https://t.co/tjWCPtC7B2

— Ilhan Omar (@IlhanMN) June 1, 2019
Virginia Beach shooter: America's mass shooting problem (once again).
But ominously, within at least the last three years, Craddock had begun legally, amassing firearms, two of which were recovered at Craddock's condo.
One of those weapons was another legally-obtained .45-caliber, officials said. Authorities were still checking out the fourth weapon.
Equally disquieting, Craddock left no explanatory note, no online manifesto along with shunning social media as a community seeks to understand what ultimately motivated the seemingly affable but reserved colleague to go on a mass shooting spree that rocked and frustrated the nation – dealing with yet another mass murder, act of violence- challenging the notion of what America really stands for anymore….and how endemic violence has become and tolerated.
Today is the 151st day of 2019

Virginia Beach is the 150th mass shooting of 2019

GOP has passed:
•Muslim Ban
•Refugee Ban
•Asylee Ban
•Abortion Ban
•Disaster Aid Ban

But for the 5780 Americans killed by guns in 2019 YTD:
•0 gun laws
•0 gun reform
•0 accountability

— Qasim Rashid, Esq. (@QasimRashid) June 1, 2019