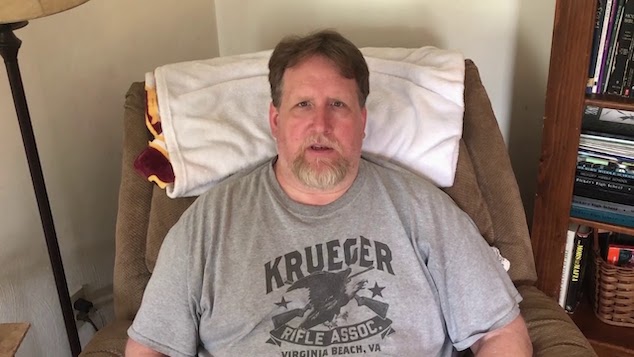 'I thought it was a drill' Virginia Beach shooting survivor, Ned Carlstrom spared during massacre after making eye contact with

DeWayne Craddock  three different times during rampage. 
A Virginia Beach shooting survivor has told of his shock of surviving Friday's massacre which saw 12 fellow co-workers gunned down after crossing the path of the shooter, no less than three times during the rampage.
According to a report via WRAL – when Ned Carlstrom, 40 of Chesapeake first heard people yelling and shots being fired in Building 2, he thought it was an active shooter drill. Little did he know it was his fellow co worker, Virginia Beach gunman DeWayne Craddock in the throes of an indiscriminate shooting mission – possibly the result of the 15 year veteran sensing he was about to be hit with severe disciplinary action following a recent violent outburst at work.
'I heard couple of people screaming that there was a shooter in the building,' Carlstrom, an account clerk in the city's utilities department, told WRAL. 'It didn't sound real, the shots were real muffled and we thought it was a drill.'
Virginia Beach shooting survivor, Ned Carlstrom: 'It looked so theatrical'.
Matters may have not sounded real because in fact,  because, Virginia Beach Police had scheduled a free community workshop on what to do during a mass shooting (yes welcome to America….) for Saturday morning. Except Satuday's morning drill was happening, Friday afternoon, just after 4pm. Maybe it wasn't a drill after all- Carlstrom may have thought as he 'followed' protocol.
As he and other employees looked for an exit, Carlstrom said he came face-to-face with Craddock. He thought Craddock was playing the part of an active shooter for a drill.
'We passed by a gentleman that was carrying a gun in his hand, but it looked so theatrical because of the extended magazine and the suppressor that was on the end of it,' Carlstrom told WRAL. 'He glanced at me, but he never raised the gun at me to shoot me.'
Adding, 'He barely gave me a glance and never broke stride,'
'I either thought he was playing the part of the bad guy or playing the part of someone pursuing a bad guy.'
But Craddock did shoot and kill 12 other people. Eleven of the victims were city employees and another was a contractor trying to get a permit.
Carlstrom only realized the full extent of the carnage when he was finally led to safety, when he had 'to step over the body of one of my co-workers in the stairwell'.
Carlstrom expressed his surprise that Craddock was responsible. 'I never would have thought it in my whole life,' Carlstrom reiterated. 'Knowing him for the time that I've known him, one, I can't picture him with a gun, and two, I can't picture him doing any acts like that.' 
Virginia Beach gunman had been violent with co-workers before mass shooting
'I quit' Virginia Beach gunman resigned hours before shooting via email
Virginia Beach shooter was loner who trained two cameras on his expensive cars
12 dead: Virginia Beach shooter disgruntled worker who sought revenge