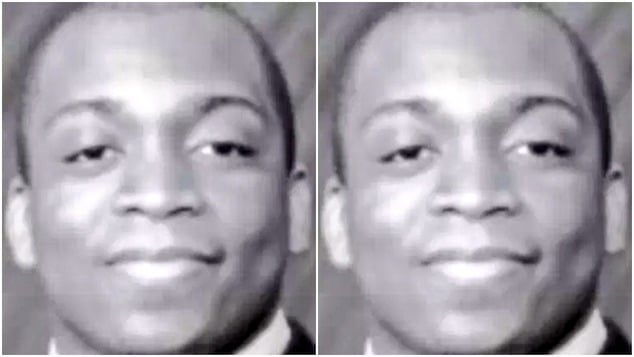 DeWayne Craddock identified as the Virginia Beach mass shooter who shot & killed 12 fellow workers at a municipal center. Disgruntled long term employee and public utilities engineer, possibly recently fired. 
Twelve people have died after a disgruntled long-time city worker went on a mass shooting spree at a Virginia Beach municipal center. The employee only stopped after responding police unleashed a hail of gunfire- where he died of his injuries following a 'prolonged' gun battle. 
The shooter identified as public utilities engineer, DeWayne Craddock, 40, had bought multiple firearms in recent weeks according to the The Wall Street Journal.
He is said to have engaged in a 'long term gun battle' with the first four officers on the scene after carrying out his massacre before being fatally shot by police, Friday afternoon, just after 4pm.  
The gunman is said to have shot one victim in his vehicle outside the building before entering his place of work and 'indiscriminately' killing people across all three floors of the offices. Four others were injured including a police officer.
Craddock is said to have used two 45 caliber handguns with multiple extended magazines along with at least one of the weapons equipped with a 'sound suppressor' device.
It remained unclear what motivated Craddock, a certified professional engineer who had worked for his current employer for 15 years. Conflicting reports indicated that the city worker/employee may have been recently fired and 'hell bent' on revenge. Follow up reports over the weekend told of the civil engineer in fact not having been fired.
CNN, cited law enforcement sources saying Craddock having legally purchased the weapons he used during Friday's mass shooting.
'I thought it was a drill' Virginia Beach shooting survivor spared three times during massacre
Virginia Beach gunman had been violent with co-workers before mass shooting
'I quit' Virginia Beach gunman resigned hours before shooting via email
Virginia Beach shooter was loner who trained two cameras on his expensive cars
A disgruntled US council worker has opened fire on his colleagues, killing at least 12 people. DeWayne Craddock lost his job just hours before he walked into the municipal building in Virginia Beach and began shooting indiscriminately. #7NEWS pic.twitter.com/HVxCiX9PRE

— 7NEWS Brisbane (@7NewsBrisbane) June 1, 2019
Our deepest condolences to their families and friends. 💔

Officials say the gunman was #DewayneCraddock:
A longtime city employee who had been fired and was seeking revenge.

That being said,
No mention of terrorism;
Means the shooter wasn't Muslim.#VirginiaBeach pic.twitter.com/5bkHRuPAjY

— Kutyso™🎈 (@kutyso21) June 1, 2019
DeWayne Craddock Virginia Beach mass shooter goes on revenge mission:
The shooting happened shortly after 4pm when the veteran employee of the Public Utilities Department entered a building in the city's Municipal Center, and 'immediately began to indiscriminately fire upon all of the victims,' Chief of Police James Cervera said during an ensuing press corps meeting. The police chief declined revealing the gunman's identity. 
Told Cervera, 'We know who the suspect is. We have not been successful in notifying certain family members.
'We're gonna mention his name once and then he will be forever referred to as the suspect because our focus now is the dignity and respect for the victims in this case and to their families.'
Cervera said police officers 'immediately engaged with the suspect', adding: 'I can tell you that it was a long gun battle between those four officers and that suspect.' 
Megan Banton, who works in the building, told the Washington Post that some of the people were crying as the attack happened, while some were absolutely silent.
'We kept hearing gunfire,' Banton said. 'We were trying to keep as quiet as possible.'
In addition to the 12 people who died, four other people were in surgery for their wounds. The wounded police officer is expected to survive and was saved by his vest, police chief Cevera confirmed. 
Sources had told WAVY the injured officer was saved by his bulletproof vest. He is reported to be a sergeant with department for more than ten years.
Another horrendous mass shooting in America.
Another moment for Americans to offer lots of thoughts & prayers – then shrug & do nothing to stop it happening again.
I love America but this complacent attitude to its gun violence culture is horrible. https://t.co/65STSbPAIp

— Piers Morgan (@piersmorgan) June 1, 2019
DeWayne Craddock neighbor: 'I heard him awake at all hours.'
Craddock, who had served in the Army National Guard as a private, opened fire in Building 2 of the municipal center, which is adjacent to City Hall.  
The building houses the city's public works, public utilities and planning departments.
Workers there are said to be in small offices with unlocked doors, open to the public, and along long hallways. 
Officers entered the building, which houses around 400 workers, and got out as many employees as they could before exchanging fire with the suspect, who was then killed, the police chief said. 
Cervera added: 'I want you to know that during this gun battle, basically the officers stopped this individual from committing more carnage in that building.'
Law enforcement had initially said the gunman shot and killed 11 people. Cervera later said one more died on the way to the hospital and that the city offices now resemble a 'war zone'. 
Virginia Beach PD had earlier tweeted: 'ACTIVE SHOOTER SITUATION-municipal center, building 2. Multiple injuries. At this time it is believed that only 1 shooter, and they have been taken into custody. More to follow.
'Please avoid the municipal center area. PAO staging area is being set up at the ECCS center reference the Active Shooter incident.'  
Administrative assistant Megan Banton was in Building 2 and said workers barricaded themselves in offices and were told 'this is not a drill'. 
She works in the building where the shooting happened and said called 911 when she heard gunshots.
The shooter's neighbor Cassetty Howerin, 23, said she heard him awake at all hours. 
She told WAVY: 'I'm petrified, because I live right under him so that could've been easily me, or my girlfriend, or my roommate. He seemed like a nice guy, he introduced himself when we first moved in, it's just crazy.'
The shooting has sent shock waves through Virginia Beach, the state's largest city and a popular vacation spot in southeastern Virginia. 
The building where the attack took place is in a suburban complex miles away from the high-rise hotels along the beach and the downtown business area. 
As information began to seep out about the shooter, it was revealed Craddock had graduated from Old Dominion University with a Bachelor of Science in civil engineering in 2002. State records show Craddock first received a professional engineer license in 2008. His criminal record appears confined to traffic tickets, according to public records.
To date it remained unclear the the nature of the Craddock's 'disagreements' with management that the long time worker sought to impart revenge on.
Of note, Craddock kept no social media profiles, no known political allegiances or neither did he leave behind a manifesto for his actions as a nation asks yet again, what provoked another 'senseless', almost 'predictable', mass shooting in America.
"This will not define us," says Virginia Beach councilman Aaron Rouse, reflecting on the shooting at a Virginia Beach municipal center. "After the massacre at Virginia Tech our community came together … that's something we have to do in Virginia Beach." https://t.co/xs1A2beiZm pic.twitter.com/mrqex5yPCc

— Cuomo Prime Time (@CuomoPrimeTime) June 1, 2019