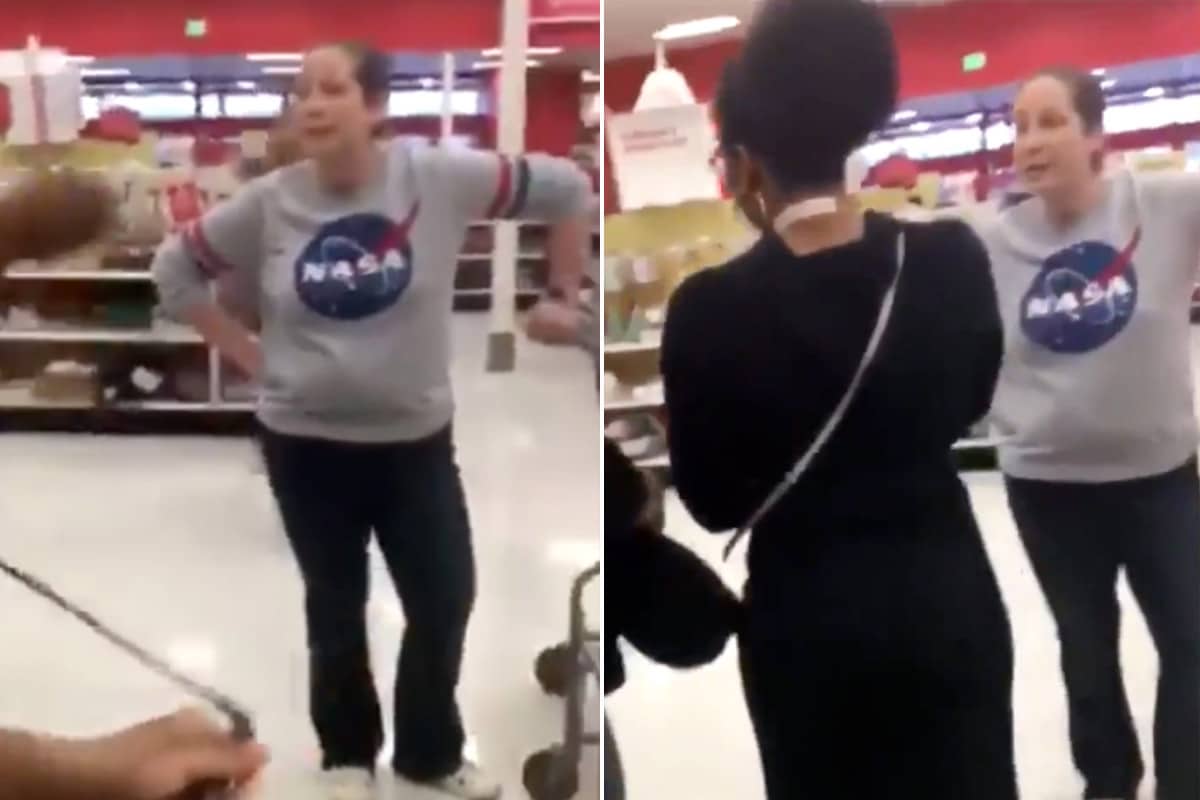 Target Tammy aka Target Teresa a white Tennessee woman is filmed harassing black shoppers at a Target store- telling them they don't belong as well as accusing them of being abusive. 
A white woman has been caught on video harassing a group of black shoppers in Tennessee, telling them they 'don't belong here' along with accusing them of inappropriately talking about sex in public.
'You were talking about sex in public. Are you having sex in public because that's what you screamed out loud,' the woman since dubbed 'Target Teresa' and 'Target Tammy' on social media — saying in since-deleted footage posted to Facebook on Friday.
The women whom Target Teresa is accosting try to explain that they were just talking about jazz legend Eartha Kitt's character in the 1992 comedy 'Boomerang' and even turn around to try to disengage.
Easier said than done.
'I didn't realize talking about sex in public was normal. I know you're trained on lying. You're perfect for the court system because you're all trained liars,' the NASA sweatshirt-wearing shopper retorts.
Vilified black shoppers: 'We are not aggressive people and we avoid conflict.'
At one point during the video- Target Tammy calls also calls the women 'abusive.'
One of the women in the group, who didn't want to be identified, told Yahoo Lifestyle she was 'confused' by the episode. 
'My cousin and I were visiting my best friend from out of state and we stopped by Target to buy a phone charger,' she said. 'I told my friend to try on a hat that looked like something Eartha Kitt's character would wear in the film and she said no because her character had sex with a younger man.'
That's when Target Teresa made her way over to the accessories display.
'She told us, ''You shouldn't be talking about sex,'' the woman told Yahoo. 'We were confused — then, she came around the corner with her shopping cart and started ranting, 'You don't belong here' and calling our conversation inappropriate.'
'I live in the South and have never experienced something like this,' the black shopper reiterated. 'You never think it could happen to you. We're educated women — we are not aggressive people and we avoid conflict.'
The incident comes as the latest in a long series of videos posted to social media showing white women — BBQ Betty, Permit Patty, Cornerstore Caroline — confronting black people, accusing them of trespassing, of being suspicious, behaving inappropriately or simply out of place. 
Cornerstone Caroline calls cops on black kid who brushed her at Brooklyn Deli
Winston-Salem man calling cops on black woman swimming at her own pool is now fired
Oregon black lawmaker campaigning (in her own district) leads to cops called
Subway employee calls cops on 'suspicious' black family.
12 year old Maple Heights 'black' boy mowing lawn has cops called by (white) neighbor
Summerville (racist) white woman arrested hitting black teen, demanding he leave pool
White Westin Pasadena Hotel guest asks black woman and daughter if they showered before using pool
Starbucks Philadelphia store arrest of two 'waiting' black men racist?