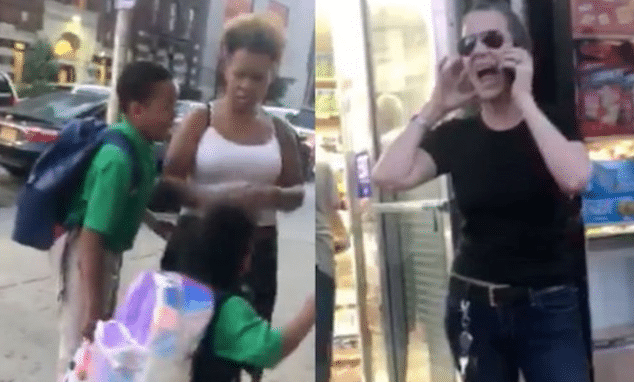 Flatbush, Brooklyn resident, Teresa Sue Klein aka Cornerstore Caroline causes commotion after falsely accusing 9 year old black boy of sexually assaulting her.
Raising questions of allegations of sexual misconduct gone awry is the episode of Cornerstone Caroline, a white woman who was caught on video calling police on a black child after the 9 year old boy was accused of 'grabbing' the woman's back side outside a Brooklyn bodega. Allegations which seemingly came out of thin air.
'I want the cops here right now!' the woman, who identified herself as a Flatbush resident-Teresa Klein, is heard demanding over the phone. 'The son grabbed my a– and she decided to yell at me.'
A crowd starts to form outside the Sahara Deli as Klein, donning sunglasses and knee-high boots, continues to yell loudly into her phone, as frustrated residents implore her to 'go home.'
The child can be seen wailing outside the bodega as the crowd tries to comfort him and come to his defense.
Here is surveillance video proving that suspected white supremacist Teresa Sue Klein aka #CornerstoreCaroline LIED about being sexually assaulted by a 9 year old Black child. Will @NYPD file charges against this woman for making a dangerously false claim? pic.twitter.com/s4EbnKQCR4

— Tariq Nasheed (@tariqnasheed) October 12, 2018
Teresa Sue Klein over- reaching: Has the #metoomovement reached hysteria levels?
'Nobody wants to touch your flat a–,' one woman announces. Another person branded the accuser 'Cornerstore Caroline,' an apparent reference to other recent viral videos of white women — 'Barbecue Becky,' 'Permit Patty' — calling the police on African-Americans over seemingly minor incidents.
At one point, Klein appears to realize she's causing a spectacle, telling the crowd: 'White lady calls the cops on black lady, I get it.'
Another white woman also walks up to confront her- only for the two to almost come to blows.
Bystander, Jason Littlejohn, who filmed and posted the now-viral video on Wednesday, claimed the boy was being falsely accused. Security camera footage from inside the bodega appears to show that the child never groped her. At worst, he brushed against her with his backpack as he walked past her with his mom.
Wednesday's incident along with putting African Americans further on guard as to the supposed complicity of egregious behavior simply on the color of the skin has also raised questions of the #metoomovement seemingly entering hysteria levels- at what cost?
Full story being posted soon.

In the meantime – watch a clip of #CornerstoreCaroline first say she hasn't watched the now-viral video and then admit she did because of @shaunking.

She said she's a "fan" 🧐🧐🧐 pic.twitter.com/TjPTrx76eB

— Andrew Ramos (@AndrewRamosTV) October 12, 2018
UPDATE: Spoke to the woman who called police on a child. Her name is Theresa (the internet has dubbed her #cornerstorecaroline )

She called the cops on me and another reporter. @PIX11News pic.twitter.com/ugmnUX3cqf

— Andrew Ramos (@AndrewRamosTV) October 12, 2018
And now the NYPD has arrived to the woman's - who the internet has dubbed #cornerstorecaroline - home after she claimed me and another reporter were harassing her and threatening her with violence. @PIX11News pic.twitter.com/9tAFA5qp8j

— Andrew Ramos (@AndrewRamosTV) October 12, 2018
#CornerstoreCaroline
White ppl y'all better snatch up your people quickly! Shit is about to get ugly. This white girl fragility is getting tiresome & annoying as hell. Pull yourselves together & represent strong woman for christ sake! Go somewhere with this act. We see you.

— Sameshitsameday (@doing2muchagain) October 12, 2018
She should be arrested for terrorizing those kids. 'Cornerstore Caroline' oughta be mortified right about now https://t.co/w2XywBvBOI via @nypmetro

— Stephanie Hamm (@StephH_78) October 12, 2018