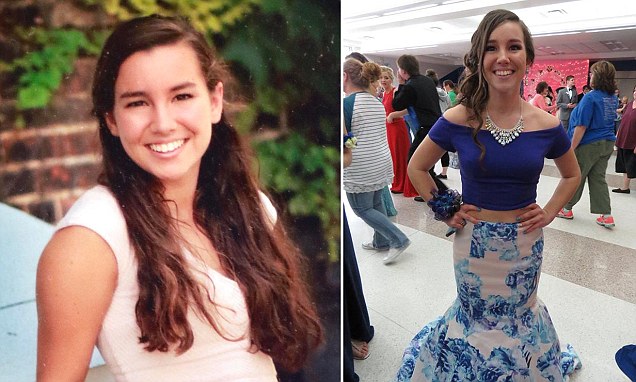 Mollie Tibbetts hostage: FBI source says missing University of Iowa student was abducted and her captor is in plain sight, even attending a recent vigil for the kidnapped freshman.
New developments in the case of missing University of Iowa student, Mollie Tibbetts has revealed investigators saying the 20 year old freshman is being held hostage by an abductor who authorities believe having attended a candlelit vigil for her.
According to an FBI source cited by Radar Online, Mollie's abductor in a bid to disguise their person along with being on the inside of unfolding developments may have even assisted in the search for the missing student.
They said the suspect was 'hiding in plain sight' and has been 'closely follow[ing] the case.'
Tibbetts was last seen going for a run in Brooklyn, Iowa, on July 18, and two weeks later, more than 200 people gathered at the RiverLoop Amphitheatre in Waterloo for a candlelit vigil in her honor. 
Now the law enforcement source has revealed that investigators believe Mollie's kidnapper may have been among family and friends at the event.
'There is reason to believe the person responsible for Mollie's disappearance attended a vigil and has continued to closely follow the case,' they said.
Authorities are tightening the net around the suspect and are looking at single, divorced, and widowed men around Brooklyn, Iowa according to the source. Investigators are also examining Tibbetts' 'digital footprint', including date from her Fitbit and cell, to track her down. 
But there was some hope for the family, as the source said that investigators believe she is still alive.
Reiterated the source: 'There is reason to believe Mollie is still being held captive and whoever this person is, agents from the FBI and local law enforcement agencies are closing in'.
The notion echoes the beliefs of Tibbetts' father, Rob Tibbetts, who in recent media interviews announced his daughter taken by someone she knows. 
'I do believe Mollie is with someone who she knows, probably someone who cares about her,' he said. 'But that relationship was misguided, misinterpreted and went wrong, and I think they're in a place with Mollie and don't know how to get themselves out of this horrible situation.'
"Brother of Mollie Tibbetts' boyfriend says no sign of struggle at home; she 'would have done something" What if they knocked on the door, she opened it then pulled her out. If their was no objects by the door, no evidence of a struggle would be seen. I guess.

— Betwixt and Between (@DRW20) August 15, 2018
Mollie Tibbetts hostage: Was she kidnapped?
Mollie's student's brother is also sure his sister is still alive.
Told Scott Tibbetts in a recent media interviews, 'I do believe that she's still alive, and the reason I think that is because I know her and know her strong she is. I know the sort of attitude she had and she would never give up,' 
Adding, 'I'm still hoping for the best.'
Scott refused to talk about who he thinks may have taken his sister and also declined to speculate about why police had searched the farm of local pig farmer, Wayne Cheney who had multiple arrests for stalking. He has already been interviewed twice by police.
Police have also declined to explain their focus on the pig farm along with giving few details of their investigation.
'They haven't told us a whole lot about that,' Scott said of the FBI and police's investigation. 'We wouldn't share too much about it, we wouldn't want to speculate a whole lot.
'I'm confident in the authorities and I'll let them bring the details to light.'
Also of disconcert is a report from a neighbor who told of seeing a black SUV circling the area that Tibbetts disappeared in.  
Tibbetts' disappearance follows her staying at the home of her boyfriend Dalton Jack, who has been ruled out as a suspect.
He appears to have been the last person to have communicated with her, receiving a Snapchat message from Tibbetts on the night she disappeared. He opened it at around 10pm on July 18, although it may have been sent earlier that evening.
Tibbetts was last seen at 7.30pm that night.   
Mollie Tibbetts reward jumps to nearly $400k pic.twitter.com/bU6yr4NAWy

— FOX & friends (@foxandfriends) August 15, 2018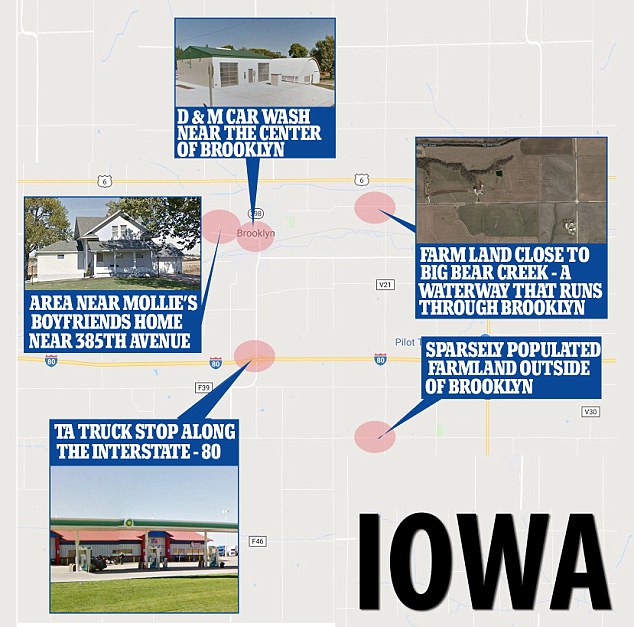 The dailymail reports the search for Tibbetts has now zeroed in on five areas, including a truck stop and car wash, in the rural Iowa town where she vanished from a month ago.
Investigators searching for the 20-year-old launched a new website on Monday to generate tips from potential witnesses who were near those specific areas in Brooklyn around the time she was last seen on July 18.  
The website, FindingMollie.Iowa.gov, includes an interactive map that pinpoints the five spots investigators are focusing on.
Among the locations that they are seeking tips from is a TA truck stop along the Interstate-80 and a car wash near the center of the city.
Other locations are two pieces of rural land on the outskirts of Brooklyn and the area near the home where she had been staying with her boyfriend Dalton Jack.
Police have not indicated why they are honing in on these locations.  
The reward fund offered for the safe return of the missing Iowa student which has since captivated the nation has grown to nearly $316,000.
Did Mollie run-away? Missing Iowa student dad reckons daughter is with something she knows
Suspect? Iowa man reckons he may have been last person to see missing college student
Mollie Tibbetts search: Iowa pig farmer with stalker arrests refuses polygraph tests.
Missing Iowa University student investigation stalled with 48 missing persons for month of July
Missing Iowa student returned for Snapchat photo at boyfriend's home after run (while pervert driving reported)
Foul play? Iowa college student missing four days after jog