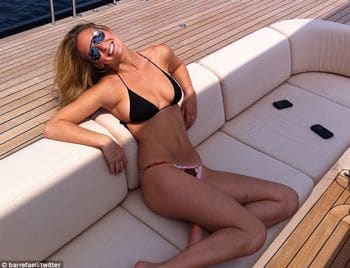 Bar Rafaeli on twitter today: 'Yup! Can't complain.'
It's been confirmed that one of the most high profile relationships of our times, that between Hollywood icon Leonardo di Caprio and Israeli supermodel Bar Rafaeli is now over. What however is not over is Ms Rafaeli's love affair with the media or is it vice versa?
dailymailco.uk: Bar Rafaeli really seems to know how to make her ex jealous – by posting a photograph of herself in a tiny string bikini on Twitter.
If her former boyfriend Leonardo DiCaprio stumbles upon this picture, he's sure to be regretting his decision.
The 25-year-old model lay back on a cream leather couch aboard a super yacht in a black triangle bikini top and string pink and black bikini bottom.
Can one really imagine all this is suppose to make Leonardo di Caprio jealous or perhaps just titillate the public at large at how a certain celebrated part of society lives. Which is another way of saying 'let's take you all out to the garden so your tongue can hang for a few extra minutes…'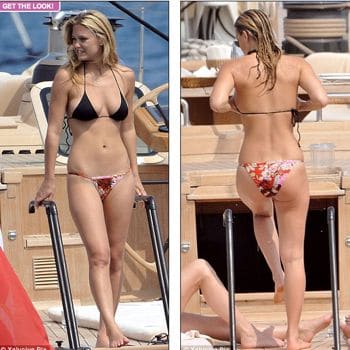 She has been spending the past week in Cannes during the film festival and last night partied at the AMFAR Gala after Roberto Cavalli's boutique opening the previous night.
Meanwhile you have been trudging it in your stellar 9-5 closet box hoping against hope for a ray of sunshine to seep through your tattered curtains. But at least Bar Rafaeli is willing to let you help her apply some sunscreen lotion…
Don't you wish you were somewhere off the coast of Cannes living this preferred lifestyle too? Nice job if you can get it…