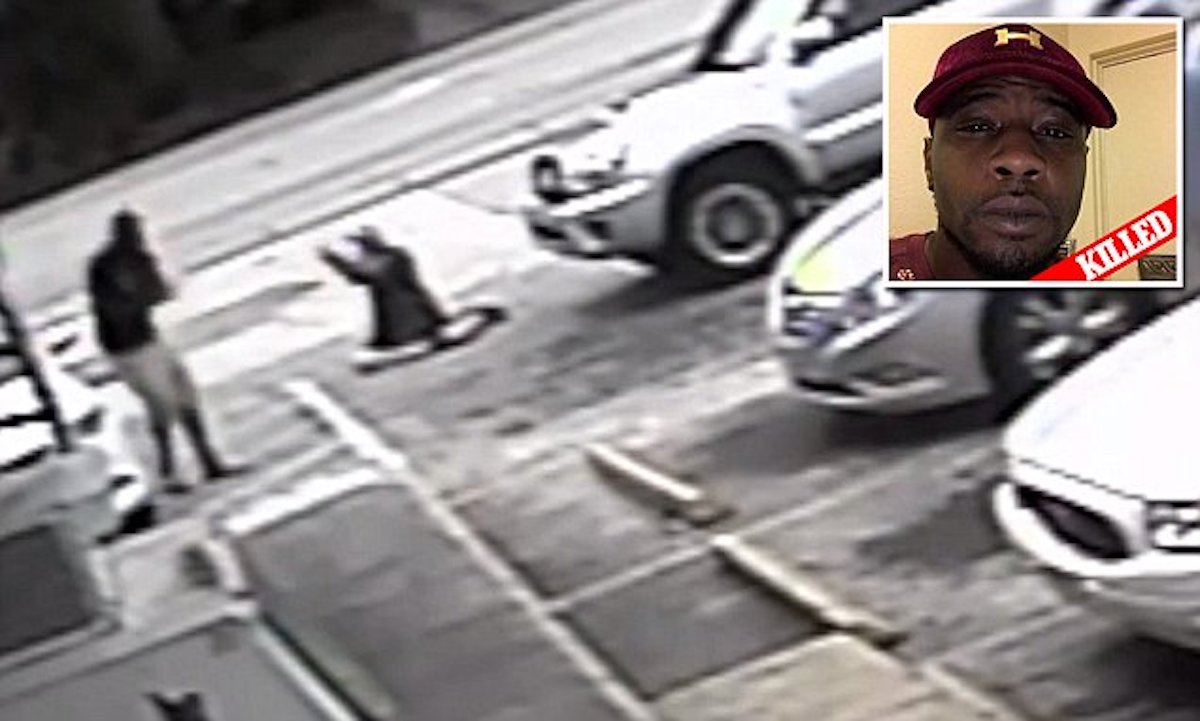 Clearwater, Florida, Stand Your Ground shooting: Was Michael Drejka justified in shooting to death 

Markeis McGlockton following an argument over a handicapped parking spot escalating? 
Florida's controversial 'stand your ground' self defense law has come under heightened scrutiny following an incident which saw a man fatally shot on Thursday after an argument over a handicapped parking spot at a convenience store.
Captured video footage showed (see below) 47 year old man, Michael Drejka arguing with an occupant inside a parked vehicle, Britany Jacobs, 24 after the woman having parked over a handicapped parking spot at the Circle A Food store on Sunset Point Road in Clearwater.
At some point, responding to the commotion, Jacobs' boyfriend, Markeis McGlockton, a black man, is observed exiting the convenience store before walking up to Drejka and forcibly pushing him with both outreached arms to the ground.
It's at this point, as Drejka, a white male after hitting the ground takes out a gun and fires a single gunshot at McGlockton, with the man taking a bullet to the chest.
Video shows the a 28-year-old father of three then stumbling back inside before falling in a heap and dying literally in front of his five year old son.
The shooting led to McGlockton's family demanding murder charges against Drejka. But it was not to be. At least not for now.
Markeis McGlockton Stand your ground shooting: Are charges pending against 

Michael Drejka?
During a Friday press conference, Pinellas County Sheriff Bob Gualtieri announced that Thursday afternoon's shooting was 'within the bookends of stand your ground and within the bookends of force being justified,' reported the Tampa Bay Times.
Of note, Gualtieri stressed the following, 'I'm not saying I agree with it, but I don't make that call'.
'Our job and our role is not to substitute our judgment for the law and what the Legislature has crafted as the framework,' he continued, 'but to enforce it equally and fairly as we're required to do.'
Gualtieri said his office had now forwarded the case to the State Attorney's Office for a final decision.
Which is to wonder will the State Attorney's Office come to the conclusion that Drejka's life was legitimately in imminent danger (or at least from the man's perspective) and or did he go too far in taking out his gun? Video did not appear to suggest that McGlockton had actively sought to cause lethal harm to Drejka, but rather put distance between the man and his girlfriend and the couple's two children sitting in the vehicle with their mother.
Was Markeis McGlockton simply protecting his family?
Detectives from the sheriff's office also announced Jacobs having parked her 2016 Chrysler 2000 in a handicapped spot without a permit, which had prompted the argument between the girlfriend and Drejka, leading to the incensed woman's boyfriend taking exception with Drejka.
'It's a wrongful death,' Jacobs told the Tampa Times earlier that Friday. 'It's messed up. Markeis is a good man … He was just protecting us, you know? And it hurts so bad.'
The certified nursing assistant who'd been with her deceased boyfriend since 2009 and with whom she shared three children with said she's parked in the handicap spot because the parking lot was packed. Surveillance video, however, showed several open parking spaces in front of the store prior to the deadly shooting.
At the time of the shooting, the couple's two other children, a 4 month old and a 3 year old were inside the illicitly parked vehicle along with their mother.
Jacobs has since announced seeking to hire a lawyer to determine her options and next move, stressing she wanted justice on McGlockton's behalf.
'He's getting out like he's a police officer or something, and he's approaching me,' she said. 'I minded my own business … I didn't do anything wrong.'
Which is to also wonder, even if she had done something wrong, does that justify the father of three children being fatally shot and the law condoning such action?
Noted the Tampa Bay Times: "Stand your ground" has been mired in controversy since the Legislature passed the law in 2005. Floridians could always defend themselves, but the law expanded that right, saying there is no longer a duty to retreat in a violent encounter before turning to self-defense.
Justified? Clearview stand your ground shooter not to face charges.
'The law went even further last year, when lawmakers shifted the burden of proof from defense attorneys to prosecutors.'
"The facts are clear." @SheriffPinellas says Markeis McGlockton walked up to Michael Drejka w/o saying anything, violently shoved the 47yo to the ground, 4 secs later Drejka fatally shot McGlockton in the chest. #StandYourGround law comes into play b/c he was in fear for his life

— Catherine Hawley FOX 13 (@CHawleyFOX13) July 20, 2018
Is Drejka a parking enforcement officer? Since when is that his job? Why doesn't Markeis McGlockton have a right to protect his family? This is murder.

— Robert Naylor Jr. (@RobertNaylorJr) July 21, 2018
Was Markeis McGlockton shooting death justified? 
And then there were these comments on the web that made this author wonder, see what you think?
'Shooting an unarmed man is murder. This law is a moral outrage.'
'You have a nearly 50 old man who is not able bodied getting attacked by someone able bodied and felt he needed more defense than he could with fists alone. However, he should have not fired the shot once the guy was in retreat.'
'Markeis McGlockton shouldn't have committed assault and battery in the first place, and "good men" don't encourage their girlfriends to unlawfully park in parking spots that are, by law, supposed to be for handicapped people.'
'The fact that he also has a conviction for drugs, and got lucky with another assault charge, pretty much shows that he was thugging again, not having learned his lesson from the past.'
'The man was shot while backing away. This is so wrong. Maybe if he were advancing again, but not when it appears he would have just given that shove and the worst was apparently over. The man who complained about the illegal parking overreacted in my opinion. Why didn't he just mind his own business?'
'This guy clearly provoked the confrontation, and now using this law as an excuse to take a life. Need to take a much closer look at who we're electing to state office in Florida and whether they care more about citizens' safety or NRA's promotion of gun sales.'
"Stand Your Ground" is a license to kill. All you have to do is start a lot of arguments and some fool will eventually put their hands on you. Then you get to kill them.'
'Is this really America?'
'This is justice taking place. Black people only know consequences. They've been coddled for way too long.'
'This is purely a case of an African American victim who was viciously gunned down by a Caucasian man that thought that he is above the law.'
'When the NRA manages to legalize a murder like this our country has ceased to be the one I grew up in. Its absolutely incredible that there is so much anger out there and that so many people resort to gun violence.'
'All he had to do was get up and walk away. No he didn't shoot to defend himself, he shot to get revenge, to get even. He should go to jail.'
'Play stupid games, win stupid prizes.'