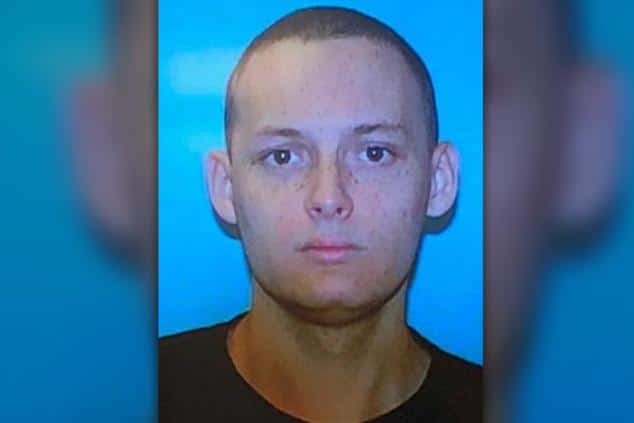 How William Atchison a former Aztec High School, New Mexico student planned a mass shooting spree. A life of disillusionment and seeking revenge against society.
William Atchison a 21 year New Mexico old man has been confirmed to be the gunman who Thursday morning left two individuals dead during a shooting at Aztec High School in the rural city of Aztec.
During a 10am Friday morning, local press release, New Mexico State Police said the two victims, since identified as Casey Jordan Marquez and Francisco 'Paco' Fernandez had been randomly shot dead.
Told NMSP Chief Kassetas, 'the victims were not specifically targeted, but in the wrong place as the wrong time.'
KRQE reported San Juan County Sheriff Ken Christiansen saying the shooting had been  a 'planned event' for the shooter.
The sheriff says that Atchinson disguised himself as a student and entered the building as kids were getting off the bus.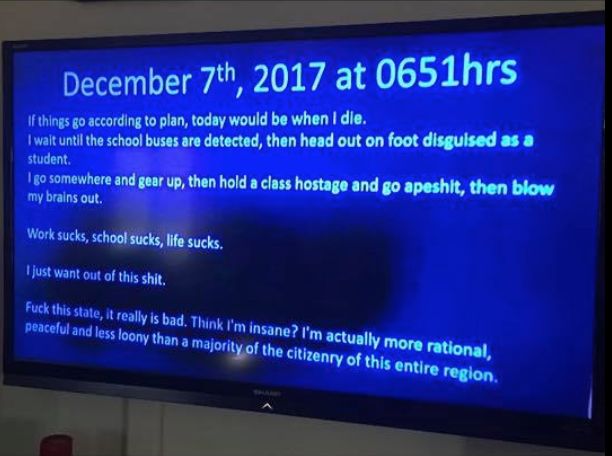 William Atchison Facebook post: '

Think I'm insane? I'm actually more rational, peaceful and less loony than a majority of the citizenry.'
Investigators say that Atchinson posted the following message on Facebook:
December 7, 2017
If things go according to plan, today would be when I die.
I wait until the school buses are detected, then head out on foot disguised as a student.
I go somewhere and gear up, then hold a class hostage and go apeshit, then blow my brains out.
Work suck, school sucks, life sucks.
I just want out of this shit.
Fuck this state, it really is bad. Think I'm insane? I'm actually more rational, peaceful and less loony than a majority of the citizenry of this entire region.
'Heroes' Aztec High School substitute teacher and custodian save 117 student lives
Why? Casey Marquez and Francisco Fernandez I'd as Aztec, New Mexico shooting victims
Why? Paco Fernandez and Casey Jordan I'd as Aztec, New Mexico shooting victims.
Why? Aztec High school shooting: three students dead, including pupil gunman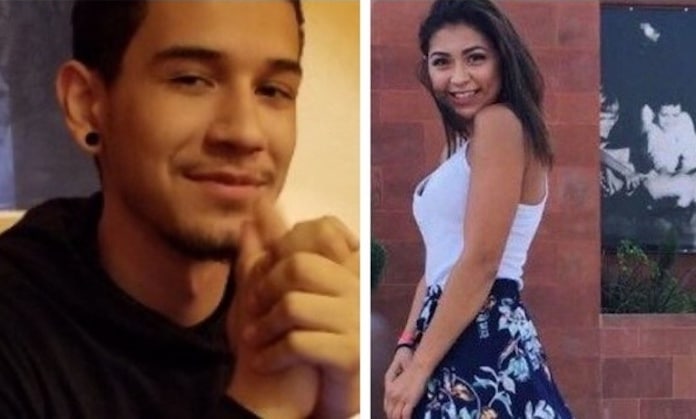 First photo shows what investigators say Atchison posted on social media before the shooting. Second photo is what investigators found in trash can at shooter's home. pic.twitter.com/qXw3Lc7P4P

— Chris McKee (@ChrisMcKeeTV) December 8, 2017
William Atchison planned to systematically kill as many as students as he could then self according to plan drive.
Investigators found another note in a trash can at the shooters home with a timeline of events. Read a paper with scratch notes, 'work, packup, prep, walk, die,'  according to KOB 4.
Sheriff Christiansen said that the swift action saved a lot of lives that day.
Abqjournal reported Sheriff Christiansen saying Atchison worked at a local gas station, lived with his parents and didn't have as much as a traffic ticket on his record. They said he had attended the school.
'This person is not only a coward, he is evil,' Christesen said. 'In my mind there are so many things wrong with this.'
Christensen went on to say Atchison purchased the gun he used, a glock, along with a 9mm legally at a local store about a month earlier. Police say Atchison had brought multiple magazines of ammunition with him.
Sheriff Christesen said that Atchison was 'determined' to hurt as many students and teachers as possible.
New Mexico State Police Chief Pete Kassetas said they believe Atchison mingled with the students going into the school and before heading off to the bathroom.
That's where Atchison encountered Fernandez as he went to a second floor bathroom to 'gear up' for his ensuing mass shooting plan.
'He had no chance to survive the encounter,' Kassetas said about Fernandez. 'He never exited the bathroom. The suspect did and went into the hallway where he encountered the second victim in the hallway.'
Kassetas said Atchison then walked up and down the hallways firing into classrooms. Teachers and students who were hiding in closets and under desks heard bullets over their heads but they were not hit.
Then, he said, Atchison killed himself.
At one point, Kassetas said Atchison had planned to hold a classroom hostage, killing students, before killing himself.
Kassetas said they don't believe Marquez and Fernandez were targets, and that Atchison planned on killing many more students. When officers found his body he had a thumb drive on him that laid out his plans to shoot up the school and then kill himself.
In the note, Atchison wrote 'Work sucks, school sucks, life sucks. I just want out of this (expletive).'
The FBI said they had previously contact Atchison in March of 2016 after he posted messages on an online gaming forum. Atchison had asked where to acquire cheap assault rifles for a mass shooting.
Responding personnel came to the man's home, conducted a search where they found no inciting weapons with the bureau determining, 'no crime had been committed.'
During questioning, Atchison told officers he was simply, 'a harmless internet troll.'