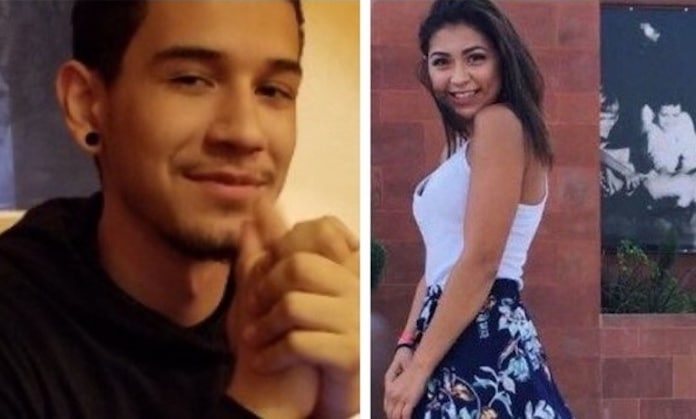 What led to 

Casey Marquez and Francisco Fernandez, two students at Aztec High school to be fatally shot down by a student gunman? 
Cheerleading captain, Casey Marquez, 17 and football player, Francisco Fernandez have been identified as the two shooting victims that were fatally gunned down by a student gunman at Aztec High School, Aztec, New Mexico, Thursday morning.
In the hours after the tragedy, which saw yet again more innocent victims felled in yet another mass school shooting (there have 266 school shootings since Sandy Hook, December, 2012 mass school shooting ), hundreds had gathered at a Thursday evening candlelight vigil to pay homage to the slain individuals.
Also killed was the male student gunman, his identity yet to be publicly released, with San Juan County Sheriff's Office declining to speculate as to the boy's motives which remained an agonizing mystery to many.
There had been initial reports of up to 15 injuries following the shooting which took place circa Tuesday, 8am. But after evacuating the school premises circa 10am, authorities said there had been no injured parties, only the three fatalities including that of the gunman's.
It wasn't immediately understood what the relation between the two victims may have been to each other and to that of the shooter? If any? Or whether they had been killed randomly?
Of note, hours after the Fernandez and Casey's deaths, social media had identified the two also as Paco Fernandez and Casey Jordan. Casey's full name has since been given as Casey Jordan Marquez. Paco was also named as Francisco 'Paco' Fernandez.
'Heroes' Aztec High School substitute teacher and custodian save 117 student lives
Why? William Atchison i'd as Aztec High School, New Mexico shooter
Why? Paco Fernandez and Casey Jordan I'd as Aztec, New Mexico shooting victims.
Why? Aztec High school shooting: three students dead, including pupil gunman
Casey Marquez and Francisco Fernandez random victims in a mass shooting plan?
Come Friday morning, Aztec High School students posted on social media that the gunman, who may have been a school student or not, had purposefully tripped fire-alarms, seeking to cause students to walk into a wide area in the hope of easy pickings in a mass shooting, with the victims now believed to have been random ….
Hours after the shooting, Marquez's grandparents wept as they gave a heartbreaking speech at Minium Park while thanking the crowds for paying tribute despite the frigid temperatures.
'I wish I could hold you and tell you I love you one more time. Not a day will go by that I don't think of you and remember your beautiful bright smile. We will miss you so much sweet baby sister,' Keana Marquez wrote on Facebook.
Her friend Jesse Smith wrote, 'My heart hurts so bad right now. Casey Jordan was one of my closest friends, how could such awful things always happen to the greatest people. We all love you and will miss you so much girl!'
Fernandez, a junior who had recently transferred to the high school, dreamed of going to college, KOB4 reported.
His father, still trying to make sense of the tragedy, said there were Christmas presents still waiting for his son at home.
Dia Reed wrote, 'Today I lost someone who truly had a piece of my heart. Your laugh made everyone laugh…. love you so much and miss you!'
Iko Coghill remembered Fernandez, writing, 'I knew Paco in the 7th grade. That man stood up for me anytime a bully got near me. No one deserved this, and he especially didn't.'
Responding to the shooting, Michael Padilla, a former Aztec School board member said the shooting was 'an absolute horror and an unknown element in their normally serene community.'
Adding, 'Tragically the horrors that visited many other communities have come to roost here in Aztec.'