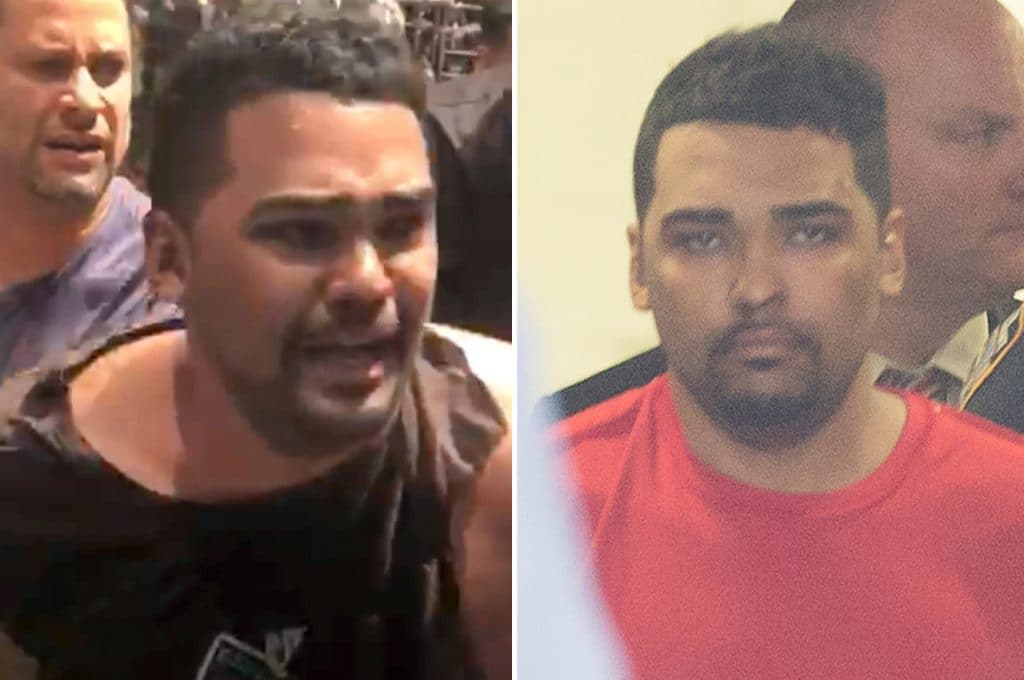 Richard Rojas charged with murder: A Bronx man has told of hearing voices that demanded he 'kill them all' in the Times Square crash.
Richard Rojas a 26 year old Bronx, NYC man has been charged with murder and 20 counts of attempted murder.
The Navy veteran with a criminal history come late Thursday, a few hours after indescribable carnage left one 18 year old Michigan girl dead and up to 22 injured in NYC's Time Square.
Appearing in court the man was charged with murder in the second degree along with also facing five counts of aggravated vehicular homicide.
The horror happened as New Yorkers were making their way through lunch hour on an unseasonably hot May day when Rojas entered their lives. Bungling through crowds of people on the sidewalk in his maroon Honda Accord, Rojas had sped recklessly along 7th avenue from West 42nd street before crashing into a stanchion at West 45th st.
Alyssa Elsman, who was standing with her 13-year-old sister between 42nd and 43rd streets, was killed.
After his rampage, Rojas told cops, 'You were supposed to shoot me! I wanted to kill them,' according to sources.
Richard Rojas suicide by cop: 'You were supposed to kill me'
Richard Rojas drunk? Times Square car crash: One dead, 22 injured
Photos: Alyssa Elsman i'd as Richard Rojas Times Square crash murder victim
Questioned by investigators after his arrest, Rojas rambled and offered different explanations for the rampage; several law enforcement officials said investigators had not yet come to any conclusions about the differing accounts.
At one point Rojas told sources saying something along the lines of, 'This was the last day on earth.'
Rojas also claimed to hear voices and suggested that he believed cops were going to kill him.
'This wasn't like a normal interview,' reiterated the source. 'He's rambling.'
It was later revealed the man high on synthetic marijuana, K2 along with having used PCP. Tests revealed that Rojas had not drunk alcohol, this despite two prior arrests for DUI.
In the three years since leaving the Navy, after having been dishonorably discharged, Rojas' mind was clouded with conspiracy theories and the belief that police and authority figures wanted to kill him.
Police take 26-year-old Richard Rojas into custody following the deadly Times Square crash. pic.twitter.com/h8z2p3h71c

— Eyewitness News (@ABC7NY) May 18, 2017
By now Rojas bore a deep hostility to the government who he believed had preempted him and blocked his progress and the dream of finally moving on from his debased Bronx upbringing and existence.
His dreams of opening his own clothing business had wilted. He lashed out at friends who challenged him; some thought his grasp of reality had slipped and that he needed psychiatric help. It never arrived nor did Rojas ever seek it.
'He was angry,' told long time friend, Hansel  Guerrero. 'It was kind of hard to talk to him because it was like, if you go against him he'd see you as an enemy.'
Rojas' anger and disillusion only continued to worsen, leading to Rojas entangled in a series of confrontations since his release from the navy, with a series of criminal charges, including harassment and menacing and criminal possession of a weapon, along with drunk driving charges.
It was a pattern of behavior that made itself too violently known come Thursday, May 18th to a city that never once cared or had heard about the man's problems, until now…
Jurors at some future point must decide whether Rojas' actions were that of a determined man intentionally seeking the death of innocent pedestrians or whether he had been deep in the throes of paranoia, a non real world where voices carried on in the back of his head and the world in front of him refused to make sense, addled and hyper accelerated by unadulterated drug use which ultimately led to the man careening tragically off-course…