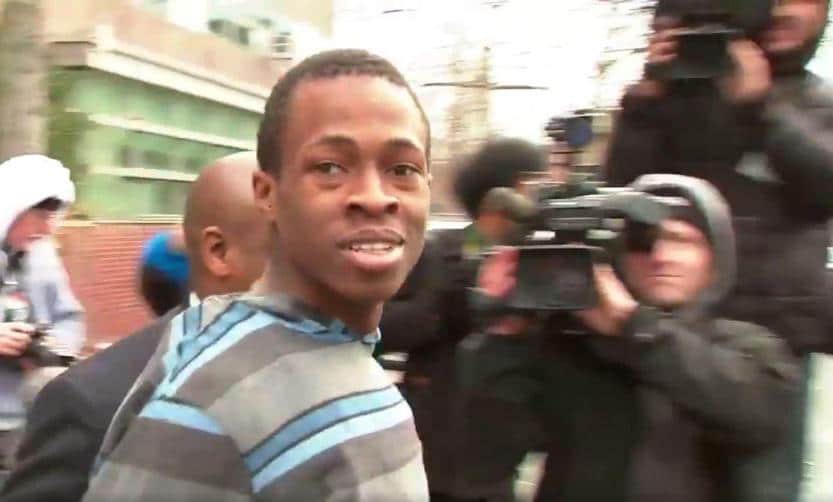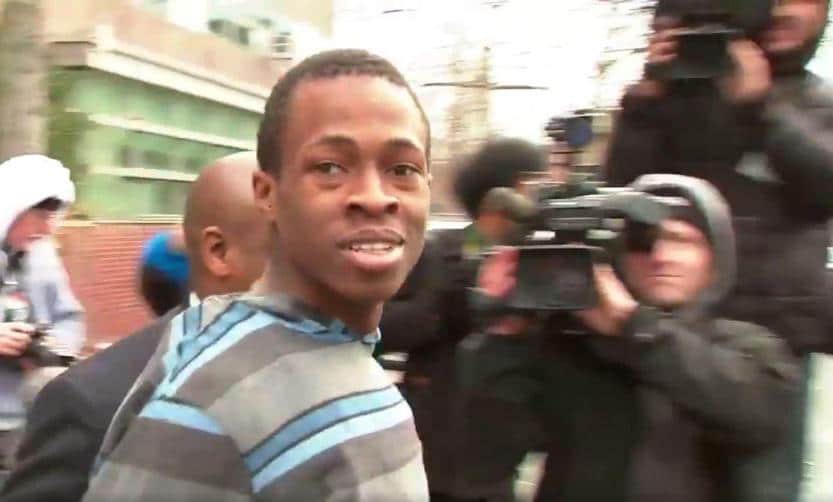 Chanel Lewis Karina Vetrano murder: How a seething rage at the world and women led to one East New York man unleashing his venom on a random female victim.
Chanel Lewis the murder suspect arrested in the violent death of Queens jogger, Karina Vetrano has told of  murdering his victim because he hates women.
The woman's sexual assault and strangling on August 2nd, came after Lewis unleash his rage told the man during confessions with the NYPD.
Lewis said he had never seen the woman before, hadn't set out to specifically target or stalk Vetrano, but had crossed paths with the jogger at the moment of rage when he pounced on the woman.
'I was angry. I had some issues at home. I just lost it', Told the 20 year old unemployed man and former high school honor graduate according to a source via the nypost.'When I saw her, I just hit her and kept hitting her. I hit her and choked her'.
The suspect, who was charged with second degree murder Sunday, told cops that he happened to cross paths with Vetrano on a path inside Spring Creek Park while walking from his Brooklyn home to get something to eat in Howard Beach.
Reiterated NYPD Chief of Detectives Robert Boyce, 'Lewis made very detailed, incriminating statements in which he described each step of the assault,' during a Sunday press conference.
Adding: 'Karina helped us identify this person.''
'She had the DNA under her nails, she had touch DNA on her back, and there was more DNA on the cellphone'.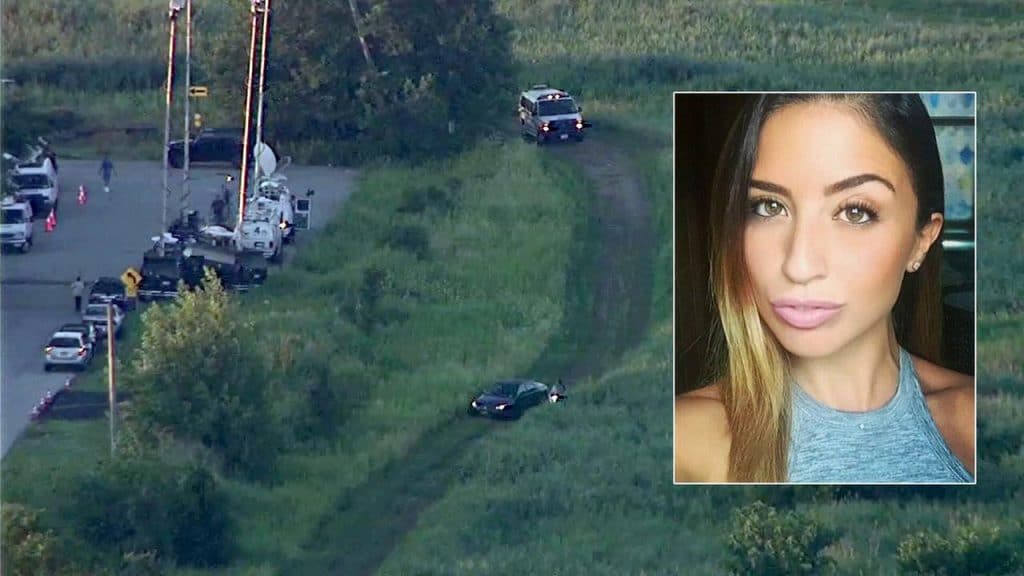 Chanel Lewis i'd as Karina Vetrano murder suspect
Karina Vetrano photos: Who strangled missing Queens jogger to death?
Chanel Lewis sister: My brother was framed because he's black
Along with having being charged with second degree murder, Lewis is also now expected to be charged with sexual assault. Putting into question whether Vetrano's murder was simply a random violent act but rather a vitriolic act that Lewis had been seeking to exact on the opposite sex for months prior to his chance run in with Vetrano.
Of note, during police interviews, Lewis conceding having strangled Vetrano while repeatedly denying he had raped his victim.
A crime report told of Vetrano told of the Queens jogger being sexually assaulted before being strangled as she fought for her life and then having her body carried along marsh area.
Vetrano's body was found with her jogging pants pulled partway down.
Revealed a source: 'The perp said he had a bad temper. He confessed on video about the assault specifically. He did not want to admit to the rape.'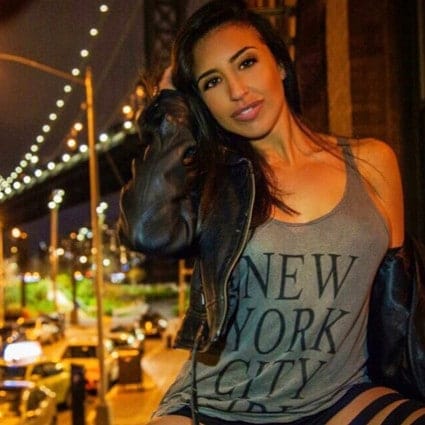 BREAKING: Chanel Lewis, suspect in death of #KarinaVetrano is led out of the @NYPD107Pct pic.twitter.com/9471fi27Zn

— Myles Miller (@MylesMill) February 5, 2017
Lending credence to the notion that the attack against Vetrano was inspired by his anger and hate towards women, a source said that the youth had been reported for brandishing a knife at school against fellow female pupils.
Notes the nydailynews: 'Administrators of Martin De Porres High School, where Lewis was a student, once called police and reported that he had said he hated women and threatened to use a knife against them, a source said.'
Also hinting at a disjointed man were police sources saying stop and frisk reports revealing Lewis having been stopped by cops as recent of May last year and another two times in what was described as strange behavior, including an episode of the man lurking a neighbor's yard with a crowbar.
Told a source via the nydailynews: 'He doesn't have a criminal record,'
'But he's had previous incidents in which he has expressed a hatred for women. He's thought of hurting women or attacking women. He's expressed a deep-seated aggression towards women. But it was nothing he's ever acted on.'
It was during the arduous period of investigations when investigators had yet to come up with a suspect or a possible DNA match with any existing criminals in databases that local policeman, Lt. John Russo, who works in the Chief of Detectives office remembered an incident involving Lewis that gave him pause.
It occurred in late May, with Russo having come across Lewis lurking around parked cars in Howard Beach. Russo called 911, as did another resident who saw Lewis holding a crowbar and skulking around someone's backyard.
When patrol officers arrived, Lewis was gone. The following day, Russo spotted Lewis again, and cops arrived to question him notes the nydailynews.
Police sources told of Lewis not having a criminal record but having received three summonses near the park, all along the stretch from Canarsie to East New York, since 2013. One was for public urination, and the other two were for violating park rules, sources said.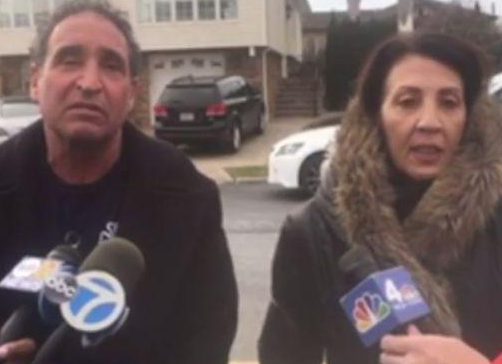 Following Lewis's formal arraignment Sunday night where the man was charged with second degree murder, where he declined to enter a plea, Karina's mother, Cathie Vetrano, surrounded by up to 20 other family members began to scream at the man who stole her daughter's life.
"A savage murderer! He f- -king murdered my daughter, my beautiful innocent daughter! Now your nightmare begins!" the woman was heard saying
"He's a demon! He should be in hell and burn in hell!"
Told Karina's father, Philip Vetrano a retired FDNY firefighter earlier in the day: 'It's a good day. We can move on now'.
Of note, the father had been observed carrying a large club moments after Brown and Boyce formally told him Lewis had been busted.
He returned about 25 minutes later, again carrying the wooden cudgel, but wouldn't say where he went or why.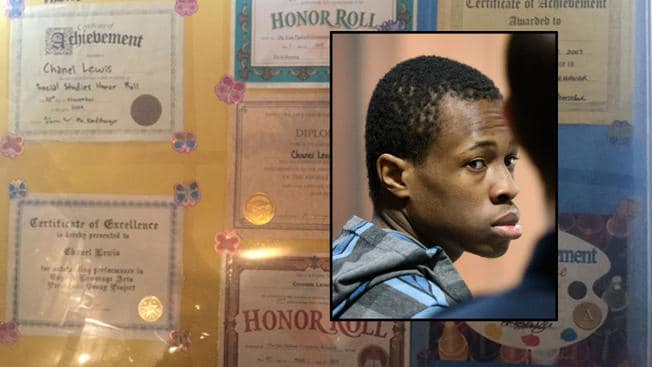 #chanellewis dad takes us to his home, shows us room where his son stayed until after the killing of #KarinaVetrano https://t.co/teiY0xJ2Ul pic.twitter.com/Lni2GOMPOc

— Todd Maisel (@ToddMaisel) February 5, 2017
And then there was Richard Lewis, the 70 year old father and school principal who continued to struggle with what his son had done.
From his modest East New York home, the father had shown off a diploma his son had earned after graduated last year from the private Martin De Porres HS in Rockaway Park, whose student body comprises 'children experiencing emotional and behavioral problems,' according to its site.
Richard Lewis also showed reporters a room in his apartment at the Tilden Houses in Brownsville where he said Chanel sometimes stayed.
One wall in the room was adorned with a poster of the Ten Commandments with a star-spangled border, and a pink sheet of paper with a handwritten check list that included notes reading, "6:20 a.m. watch TV," and "6:25 a.m. wake up richard."
'He's a humble kid. He's a very humble kid,' the father said.
The father declined to speculate on what could have elicited his son's dormant rage and how or why he came to hold such hostility against the opposite sex, in what some have begun to wonder was a purposeful vindictive act designed to momentarily ratify the suspect's deep sense of inferiority and self disgust and contempt for the larger world outside him which failed to abide according to Chanel Lewis' must-do checklist ….