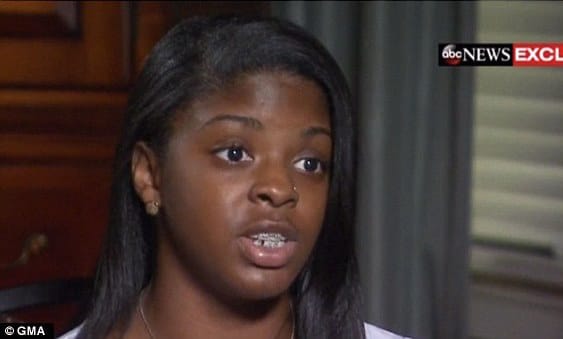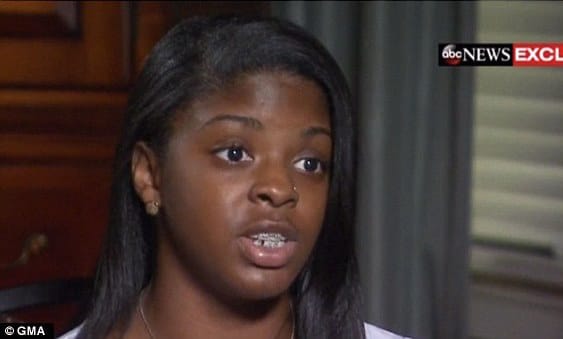 Arika Williams the half sister of Kamiyah Mobley has told of the abducted daughter first discovering her true identity & nature of abduction two years ago.
Delving into deeper intrigue, a source has revealed that abducted girl, Kamiyah Mobley of first knowing of having been kidnapped two years ago after needing a birth certificate for a job interview.
The claim comes as police say the 18 year old woman had 'an inclination' about her past before the dramatic unfolding of events last week.
In new details, Mobley's friend and half sister, Arika Williams claims that Kamiyah first found out about her true identity two years ago and having been left unsettled.
'She was upset about it,' Williams told People. 'She even stayed home from school the next day.' 
The claim corroborates authorities revealing last week Kamiyah 'had an inclination' some months ago that she may have been kidnapped, while declining to reveal how Kamiyah may have arrived at those suspicions.
That said, police in Jacksonville, Florida, where Williams was extradited and formally arraigned say they are not sure when Kamiyah who grew up as Alexis Manigo may have come to know the nature of her abduction and true identity.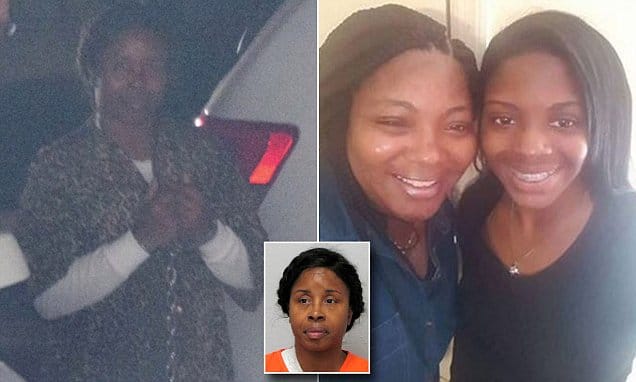 'Don't lock mom up' Kamiyah Mobley pleads for Gloria Williams
'All he did was lie' Kamiyah Mobley aka Alexis Manigo goes on Facebook rant against 'loser' dad
'She's still my child' Charles Manigo never knew he'd been duped over Kamiyah Mobley
'Tears of joy' Shanara Mobley and Craig Aiken meet missing daughter Kamiyah Mobley
'I love you mom,' Gloria Williams faces life in jail after abducted daughter defends her
'She's no felon' Alexis Manigo aka Kamiyah Mobley defends abductor mom
Why? Kamiyah Mobley missing baby turns up 18 years later. Gloria Williams fake nurse arrested
It wasn't until a tip off in prior months being received by the National Center for Missing and Exploited Children that led authorities to finding the teenager and arresting Williams after DNA tests being conclusive.
DNA tests proved that, Shanara Mobley and Craig Aiken being the Walterboro, South Carolina teen's biological parents. The announcement in turn led to Gloria Williams who had passed off Kamiyah as her own daughter being arrested on Friday.
Of question is who the tip may have came from, with some wondering if it may have even come from the abducted girl herself?
In her interview with people, Arika went on to explain that after Manigo got a job at local seafood restaurant, she ran into problems when she was unable to provide a birth certificate and social security card for her new employer. 
'Lexy didn't have that so she asked Miss Gloria for it and Miss Gloria kept brushing it off,' said Arika. 
'Lexy kept being hard on her mother, like "Momma, where is my stuff? I want to get this job." Then Miss Gloria just broke down and told her this is why right here, you can't do this. I kidnapped you.'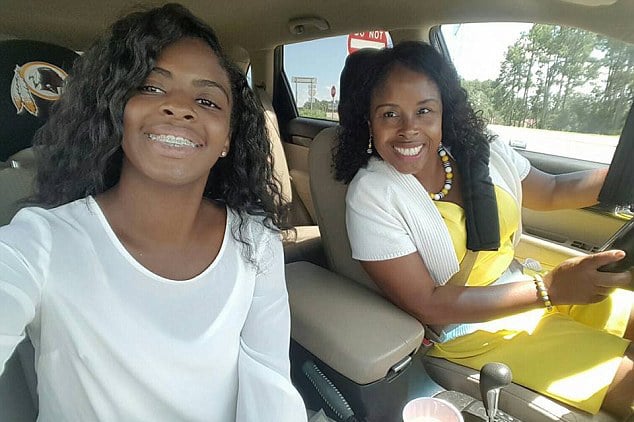 Arika claims Williams telling her daughter that she made the decision to kidnap her after suffering a miscarriage. 
'Gloria was pregnant at the baby shower and had people there bringing homemade quilts saying Alexis' name on it,' claimed Arika. 
'Alexis Kelli Manigo was going to be spoiled regardless but I guess she said she lost Alexis Kelli Manigo. She was going to find Alexis Kelli Manigo and went and got Kamiyah.'
Arika said that after this, Manigo called her birth mother, and after getting through to the woman hung up when she heard her voice.
'Gloria is all she knows. That is Momma to her,' Arika said of Manigo. 
'That is who raised her to who she is now. And no matter what that will always be momma to her.'
In the day after the revelation, Kamiyah Mobley appeared on Good Morning America, come Wednesday morning, where she pled for Gloria Williams' release.
Told Kamiyah: 'She loved me for 18 years, she cared about me for 18 years. I just want people to realize that.'
Adding: 'She made one mistake, but I was loved. From that one mistake I was given the best life.
'I had everything I ever needed, wanted, I had love especially. There is no price you can put on the love that was given to me.'
Later in the interview she said of Williams: 'I still think of her as mom, she will always be "Mom."' 
Gloria Williams has since been remanded to appear back in court on February 8 after bond was denied.