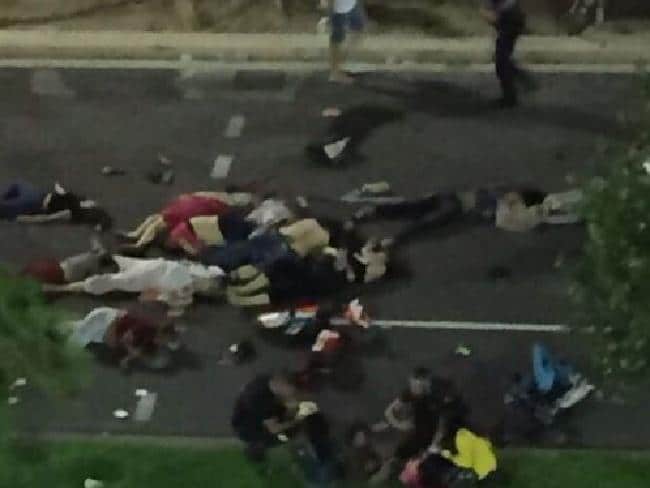 Nice truck attack suspect id as French Tunisian 31yr old man: Was he and his accomplice(s) acting on a lone mission or on behalf of ISIS, the top terrorist suspect?
Preliminary reports have identified the Nice truck attack suspect-driver of the Bastille Day attack as being a 31 year old man from Nice of Tunisian origin. With questions now leading to whether the man and his accomplice acted on a lone mission or on behalf of Islamic terroristic group ISIS?
The man was identified through an identity document found in the truck, with witnesses telling the individual shouted 'Allahu Akbar' ('God is great') before police shot him, ending the mass carnage.
Mohamed Lahouaiej Bouhlel photos: How did a petty criminal become a terrorist?
Mohamed Bouhlel Nice attack: 'I am delivering ice cream'
Why did Mohamed Lahouaiej Bouhlel attack Nice?
'Lifetime holiday' Sean Copeland Texas father and son killed in Nice terror attacks
NSFW Photos: Nice Bastille Day terror attack: 77 dead and rising
To date confirmed reports have told of at least 80 persons dead and over 100 injured as the man and a second suspect sitting with him in a huge long distance unmarked truck/lorry deliberately rammed into scores of people during Bastille Day festivities.
Police shot and killed the driver, yet to be officially identified to the media as he opened fire whilst zig-zagging into a crowd of 1000 persons who'd gathered along the Promenade des Anglais promenade.
At the time the man was observed speeding towards stunned revelers who sought to desperately get out of the way as the suspect and his accomplice fired off gunshots.
After the driver was shot, the second suspect fled into a nearby restaurant where a gunfight ensued, before police 'neutralized' the man. That said, reports have told of a possible another suspect now on the run.
Guns and grenades were found inside the truck, which mounted the pavement at approximately 40mph and steered deliberately towards hundreds of people watching a fireworks display over a 100 meter distance.
A report via Nice Matin tells of the city of Nice being populated with some 350 000 personas with a heavy preponderance of Muslim residents. Some who are alleged to have traveled to Syria to fight on behalf of Islamic terrorist group ISIS.
Reports tell of ISIS celebrating the Nice bloodbath with un-substantiated claims that the group were responsible.
Latest scenes in Nice: French media reports say local police are treating incident as attack https://t.co/WIcQIpq3QJ https://t.co/LD5kfAUNQx

— Sky News (@SkyNews) July 14, 2016
RT@France24_en#Nice Attack: truck driver got out of his vehicule and started shooting at crowd #BastilleDay https://t.co/S5jGgUDGpC

— Roberto Blizzard (@VeganYogaDude) July 15, 2016
Hey @POTUS ! If @fhollande can say it so you can you. It's ISLAMIC TERRORISM. #Niceattack #WAKEUP https://t.co/8q8XJZ46Kc

— IJC (@IJCFilm) July 15, 2016
U.S. official tells us they have no means to confirm Nice attack was ISIS, but are already listing it as top suspect https://t.co/Pn0NVx25QE

— Andrew Desiderio (@desiderioDC) July 14, 2016
UPDATE IS cheerleaders at Asawirti Media are now posting re France, etc. and cannot seem to type Allahu Akbar enough pic.twitter.com/3zqGVQ9NA9

— Michael S. Smith II (@MichaelSSmithII) July 14, 2016
How bombing the crap out of Syria and Iraq is going to stop anything? Also, has ISIS claimed the Nice attack???

— Ana Guerra (@a_guerramarin) July 15, 2016
jss dans nice y'a des mouvements de foule de mutant on sait pas pk pic.twitter.com/ByXnaig0Qk

— yannick (@yvnnick) July 14, 2016