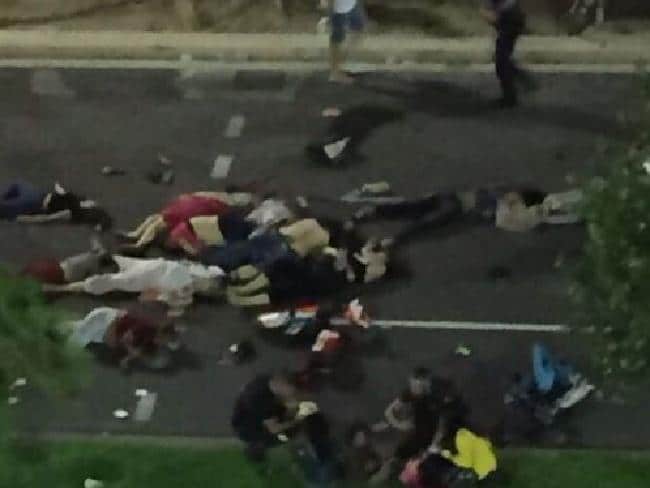 Nice Bastille Day terror attack: What led to a possible terror attack targeting revelers for France's national day of Independence. Coincidence? 
Authorities are struggling to understand what led to a truck driver plowing into a crowd of people gathered in Nice celebrating France's national day of independence, Bastille day and killing countless people.
The Nice Bastille Day terror attack which began at 9.20pm local time, Thursday evening, has date has left at least 77 dead with more than 150 persons injured. Unconfirmed reports have told of Islamic terrorist group, ISIS claiming responsibility.
A pursuant gun battle with police saw the driver eventually killed with his accomplice fleeing by foot, before that individual was later 'neutralized' by authorities.
French TV channel iTele tonight reported that a gunman believed to be one of two terrorists had 'holed up in a nice restaurant downtown' but was then 'neutralized' by police.
The second suspect is believed to have been in the long-distance delivery truck/lorry with the driver and fled on foot to a restaurant called Le Buffalo nearby, where he was killed by an officer with a handgun.
Mohamed Lahouaiej Bouhlel photos: How did a petty criminal become a terrorist?
Mohamed Bouhlel Nice attack: 'I am delivering ice cream'
Why did Mohamed Lahouaiej Bouhlel attack Nice?
'Lifetime holiday' Sean Copeland Texas father and son killed in Nice terror attacks
Nice truck attack suspect id as French Tunisian 31yr old man. ISIS?
The terrorist attack came towards the end of a fireworks display when a huge truck rammed into the crowd partaking in the revelry along the French Riviera. At the time, the as of yet unidentified driver, said to be a 31 year old man of Tunisian origin from Nice drove more than 100 meters along Nice's Palais de la Méditerranee, promenade deliberately running over people according to a report via Nice Matin.
From there the driver got out of the truck and opened fire onto the crowd. French media outlet, Le Figaro told of the gunman getting back in the driver's seat and traveling to another populated area before starting to shoot again.
Police reportedly opened fire on the truck, which local media said crushed revelers and sent people running for their lives.
After the truck came to a standstill, the driver was observed exiting the truck's cab with a gun and proceeding to start shooting. The truck's driver was shot dead, with the second terrorist fleeing into a nearby restaurant before also been fatally taken down by police.
Guns and grenades were found inside the truck, which mounted the pavement at approximately 40mph and steered deliberately towards hundreds of people watching a fireworks display.
A man who witnessed the attack said he saw the driver accelerate, zig-zagging and aiming for people as people desperately sought to get out of the way.
Stunned witnesses told of mown down bodies strewn along the streets, describing the scene as 'apocalyptic' and 'carnage on the road.'
'Everyone was calling 'run, run, run, there's an attack, run, run, run,'' an eyewitness told BFM-TV. 'We heard some shots. We thought they were fireworks because it's the 14th of July.'
Witnesses have reported people being hit by debris flying around the scene, and videos have emerged on social media showing people fleeing in panic.
Offered the manager of Le Voilier Plage restaurant: 'Just as the fireworks finished we saw a lorry drive onto the pavement. There was a massive panic there must have been somewhere between 1,000 and 1,500 people on the Promenade des Anglais. There was an awful panic, people were running everywhere. We provided a refuge for some people, mothers, children. There were people lying on the ground who were injured or worse.
'There were children in tears.'
A spokesperson for France's Interior Minister told it was 'going to be a very high toll.'
BREAKING: Video captures moments terrorist speeds up truck plowing through crowd murdering 73 in Nice, France. pic.twitter.com/RyHRXKESnd

— Israel Breaking (@IsraelBreaking) July 14, 2016
Mouvement de panique !! #Nice pic.twitter.com/RgXar3fWZs

— HARP DETECTIVES (@harp_detectives) July 14, 2016
Warned mayor Christian Estrosi on twitter: 'The driver of a van appears to have killed dozens. Stay in your homes for now. More info to follow.'
Local authorities from the Alpes-Maritimes prefecture also urged people to remain indoors following what appeared to be a deliberate attack on crowds who had been watching the annual fireworks display from the famed Promenade des Anglais.
Adding to the calamity are reports of a fire having broken out by Paris' Eiffel Tower, leading to locals there reacting with panic.
Local reports told of authorities saying the fire was not believed to be terror related. Nevertheless Parisians remained unhinged by the events of Nice as the latest of terroristic attacks have once again claimed innocent lives in France.
@le_Parisien pic.twitter.com/Kz1D3f3pBx

— GERSCHEL Frédéric (@fgerschel) July 14, 2016
The attack is the third in less than two years that has killed more than 100 people and left hundreds more wounded.
An attack on November 13 left 130 people dead. Some of the nine militants blew themselves up near the Stade de France stadium, others opened fire on downtown cafe terraces and a third group armed with guns and suicide vests killed 90 music fans at the Bataclan rock concert hall.
It followed an attack in January, 2015 where jihadists attacked the Charlie Hebdo magazine and a Jewish supermarket that left 17 dead.
Earlier this week, France's most senior security chief predicted Islamic extremists would look to increase their capacity to kill by using booby-trapped cars and bombs.
Testimony by Patrick Calvar, who heads the internal intelligence agency DGSI, and other top security officials was made public Tuesday in a 300-page report by a parliamentary commission that examined French means to fight terrorism.
Extremely GRAPHIC VIDEO
#Nice pic.twitter.com/3D8IDlayxx

— News This Second (@NewsThisSecond) July 14, 2016
Latest scenes in Nice: French media reports say local police are treating incident as attack https://t.co/WIcQIpq3QJ https://t.co/LD5kfAUNQx

— Sky News (@SkyNews) July 14, 2016