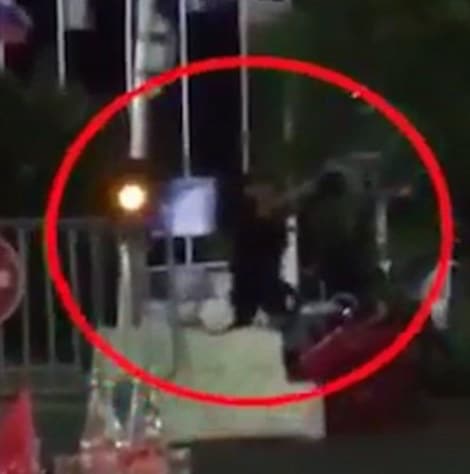 How Mohamed Bouhlel a professional truck driver was able to use his knowledge of protocol to plan and execute the Nice Bastille Day terror attack.
Authorities have told that Mohamed Bouhlel had been parked on the street for nearly nine hours prior to Thursday evening's Nice Bastille attack. Absurdly the man, otherwise known as Mohamed Lahouaiej Bouhlel had even told police that he was delivering ice cream prior to carrying out his deadly attack.
According to local media, the terrorist gunman has been identified as a 31 French Tunisian, born in Tunisia but who'd lived most of his life in France.
Further reports told of Mohamed Bouhlel being married, with three children and working as a professional delivery driver.
The man, who was previously known to police for violence and theft, is reported to have had assault rifles, a pistol and even grenades with him in the lorry – but they went undiscovered.
Despite allegedly questioning the driver, police officers did nothing to move him on as he waited to begin the attack according to a report via the dailymail.
Police allowed Mohamed Bouhlel  to stay on the Promenade des Anglais, it was claimed, because he told them he was delivering ice cream.
Although heavy duty lorries are normally banned from the roads during national holidays and Sundays, Mohamed Bouhlel was able to make passage because deliveries are often exempted. Knowledge that the man would have had in his capacity as a professional truck driver.
Mohamed Lahouaiej Bouhlel photos: How did a petty criminal become a terrorist?
Why did Mohamed Lahouaiej Bouhlel attack Nice?
'Lifetime holiday' Sean Copeland Texas father and son killed in Nice terror attacks
Nice truck attack suspect id as French Tunisian 31yr old man. ISIS?
NSFW Photos: Nice Bastille Day terror attack: 77 dead and rising
In the hours after the attack, police raided Mohamed Lahouaiej Bouhlel's home, along with bringing relatives and close friends have been taken into police custody.
Local reports also told of police conducting simultaneous  in the Abattoirs area of Nice where Bouhlel lived.
Neighbors of Bouhlel described him as a 'lonely' and 'silent' man, with one saying he never returned their greetings. 
As well as past allegations of violent behavior, Bouhlel was under probation for 15 days after he fell asleep at the wheel and crashed into four vehicles on a highway, it is claimed in Spanish press.  
The attacker was shot dead by a police officer after he opened fire into a crowd of fleeing people. 
His lorry was later found to contain a pistol, a larger weapon and a cache of other weapons and grenades that were later found to be fake.
Leading into the mayhem, surrounding streets had been closed off at 3pm for the Bastille Day celebrations, with no cars allowed in or out of the area while revelers celebrated. Revelations tell that Mohamed Bouhlel had parked his oversize truck in the vicinity hours before authorities cordoned off the area, having anticipated security patrol.
It wasn't until 10.30pm as Bastille Day fireworks were coming to an end that Bouhlel accelerated along the beachfront road and plowed through the crowds of people for more than a mile before getting out and opening fire, killing at least 84 people.
One witness said: 'I even had time to see the driver's face. He had a beard and appeared to be having fun.'  
Police are using the 1,200 surveillance cameras covering the city to track the killer's route before he began the attack. 
Bouhlel is thought to have rented the truck on Wednesday from a specialist garage at Saint Laurent du Var by Nice Airport. 
Police have discovered CCTV footage of the moment the man boarded the lorry in the hills around Nice, according to reports.   
Documents found in the cab included an ID, a mobile phone and a credit card.
#NiceAttack The scumbag's name was Mohamed Lahouaiej Bouhlel. Not a word whether he was muslim. Is it cause he was? pic.twitter.com/a1Q9fJIQNE

— John Davis (@TheFoundingSon) July 15, 2016
The moment police surround and shoot #NiceAttack driver Mohamed Lahouaiej Bouhlelhttps://t.co/VYjcvvQLtV

— The Telegraph (@Telegraph) July 15, 2016
Bouhlel was known to police before the attack for reports of domestic violence, theft and 'acts of violence and use of weapons'.  
He had also been arrested following a pub brawl on January 27. Investigating sources said his last appearance in a criminal court was as recently as March, when he was found guilty of violent contact.
Despite Mohamed Bouhlel's ongoing run ins with the law, the man had never been before been associated with any acts of terrorism, having not been under surveillance. 
Of note, no terrorist group, including Islamic militant terrorist group ISIS have laid claim for the deadly attack. Reports that a number of grenades and other weapons in the lorry turned out to be fake have raised questions about how much support he might have received from a jihadist group and whether in fact Mohamed Bouhlel may have acted as a lone wolf?