Baton Rouge police shooting ambush: Police seeking two other suspects after one suspect is shot dead, three officers killed and three more wounded.
Three Baton Rouge, Louisiana police officers have been killed and three wounded Sunday morning just outside a local gas station in what has been described as an ambush shooting specifically targeting law enforcement personnel.
At the time of the shooting, a 'suspicious suspect' who was killed during the ensuing shoot out, was observed brandishing an assault rifle and firing indiscriminately at around 9am as he walked out between a shop and a car wash, according to a report via WBRZ.
Convos with Cosmo: Gavin Eugene Long paranoia blog
Gavin Long: Cosmo Setepenra life coach who believed in violent protest
Gavin Eugene Long photos: Why did he kill 3 Baton Rouge police?
At present police believe the Baton Rouge police shooting was the result of a an ambush where up to three presumed perpetrators had sought to lure police officers in a bid to pick them off.
At the time, the deceased suspect was wearing all army fatigues and camouflage and possibly a black mask, with authorities having set up checkpoints seeking what they believe to be two other suspects dressed in similar regalia.
A witness to Sunday's shootings, Brady Vancel, told a CBS television affiliate he had seen a gunman, a second man in a red shirt lying in a parking lot and another gunman running away 'as shots were being fired back and forth from several guns.'
Of note, the shooting came as protesters had gathered over the weekend to protest claims of police brutality, with authorities telling that no protesters had gathered at the place of the shooting.
Watch footage of the shooting in Baton Rouge in which at least two police officers were killed https://t.co/hurK8Le9ih

— Sky News (@SkyNews) July 17, 2016
Attorney General Loretta Lynch issues statement on #BatonRouge shooting https://t.co/P3o0P9RXRx https://t.co/HnxgqTG8UG

— CNN (@CNN) July 17, 2016
Witness describes police shooting in #BatonRouge. #BatonRougeAttack pic.twitter.com/ao8mCKm78D

— Fox News (@FoxNews) July 17, 2016
The shooting comes twelve days after the Dallas police shooting ambush which saw up to 5 law enforcement workers killed at the hands of presumed black power militant, Micah Xavier Johnson during a Black Lives Matter protest.
The protest had come off the back of public anger after renewed claims of police brutality and unrelenting targeting of black men.
Killed at the time was Baton Rouge man, 37 year old man Alton Sterling at the hands of two white officers after a scuffle at a convenience store along with Minnesota man, Philando Castile during a traffic infraction stop. That man was killed after he sought to produce identification papers. His shooting death was captured on cellphone video and widely circulated on social media.
Latest details tell of one of what is thought to be one of three suspects being killed, with authorities believing two others might be on the run according to a statement released by Casey Rayborn Hicks of the East Baton Rouge Sheriff's Office.
The shooting, which occurred just before 9am, according to CNN took place less than a mile from police headquarters amid spiraling tensions across the city — and the country — between the black community and police. The races of the suspects and the officers were not immediately known.
The shooting took place at a gas station near a fitness center on Airline Highway, Baton Rouge Police Cpl. L'Jean Mckneely Jr. said. The slain shooter's body was next door, outside a fitness center. Police said they were using a specialized robot to check for explosives near the body.
Reacting to the shooting, Louisiana Gov. John Bel Edwards told: 'This is an unspeakable and unjustified attack on all of us at a time when we need unity and healing. Rest assured, every resource available to the State of Louisiana will be used to ensure the perpetrators are swiftly brought to justice.'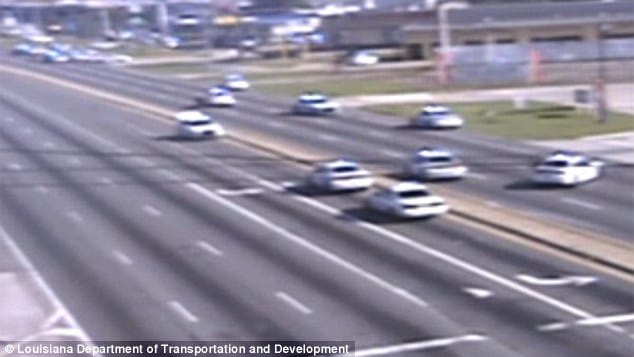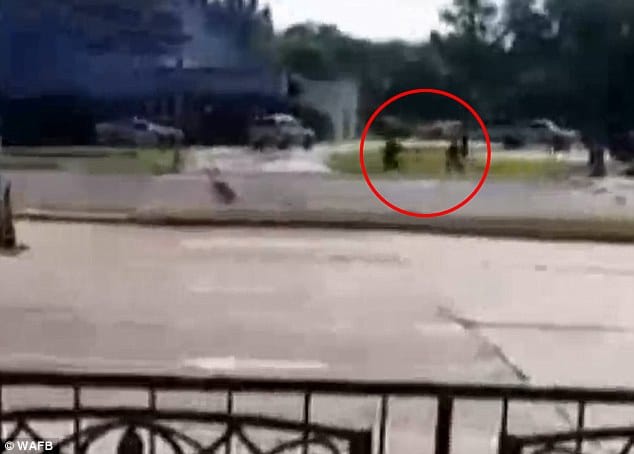 Sunday's shootings come as thousands of people took to the streets in Baton Rouge this weekend to condemn Alton Sterling's death,  including hundreds of demonstrators who congregated outside the police station. Authorities arrested about 200 people over the three-day weekend.
Earlier this week, Baton Rouge officers foiled four would-be gunmen's plan to kill cops after nine guns were swiped from a pawn shop.
Cops around Baton Rouge have been warning of a 'substantial, credible threat' to police since the Dallas attack amid frequent protests against police.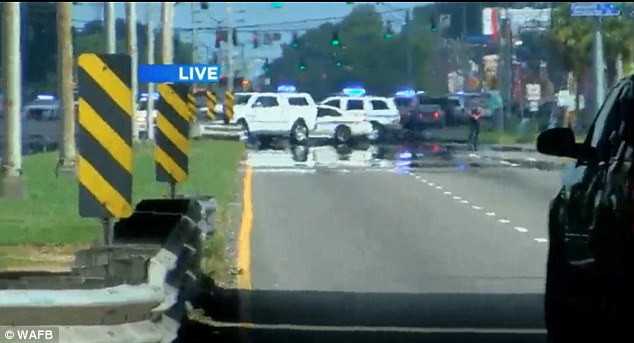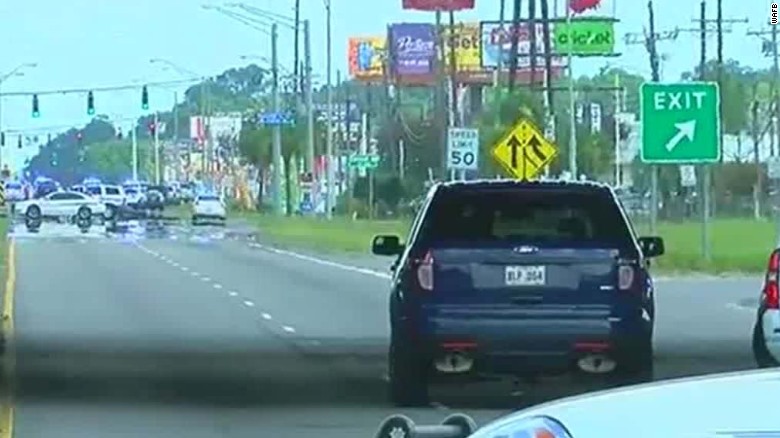 "They said around 30 shots rang out" – local resident James Ikerd on #BatonRouge shootingshttps://t.co/q4tQxhPmz6 https://t.co/0872YG1W0q

— BBC Breaking News (@BBCBreaking) July 17, 2016
Those who follow and have interest might want to download before DOJ finds this again. Baton Rouge shooting –> https://t.co/NyfOEbn2XV

— TheLastRefuge (@TheLastRefuge2) July 17, 2016
What we know (and don't know) about the Baton Rouge police shooting https://t.co/zfmeENEXdO pic.twitter.com/R4BGoDUHsM

— The Atlantic (@TheAtlantic) July 17, 2016