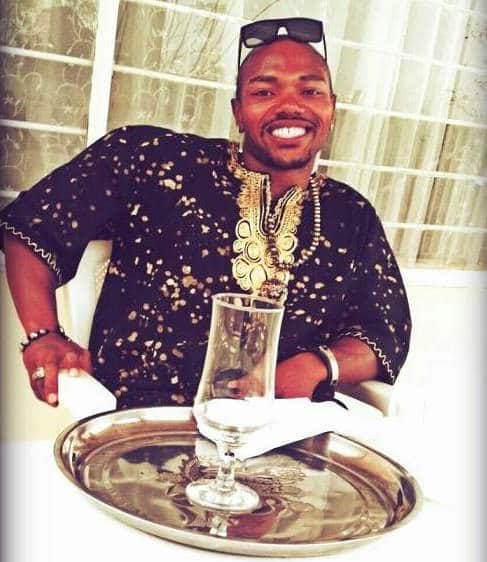 Convos with Cosmo:  Gavin Eugene Long blog in which the Baton Rouge shooter waxes philosophy, spiritual guidance, dating advice and how to be an Alpha male.
A disturbing portrait of the Baton Rouge gunman has since revealed itself in the online musings of Gavin Eugene Long who prior to Sunday's deadly ambush shooting which claimed the lives of three police officers and wounded three others, had kept an incoherent dossier of his beliefs, thoughts, commercial wares along with betraying signs of deep paranoia, mental illness and grandeur.
In a self described blog, Convos with cosmo (convoswithcosmo), Gavin Long used the platform where he made the theme of reconstitution of injustices against African Americans along with retaining one's alpha male disposition as the prevailing dogma with readers.
Along with his blog, Long also maintained an avid social media presence, both on facebook, instagram, twitter and youtube, describing himself 'freedom strategist, mental game coach, nutritionist, author and spiritual advisor.'
Along with his political musings and calling for arms against (white) oppressors, Long's blog linked to a portal where he also promoted the commercial side of his eco system, where he advertised his services as a life coach, nutritional guidance along with three self published 'help- spiritual guidance' books under the brand, 'the Cosmo way.'
A regard of the Convos with Cosmo posts finds the shooter dedicating much of his ideas as to what it means to be an 'alpha male.'
Gavin Long: Cosmo Setepenra life coach who believed in violent protest
Gavin Eugene Long photos: Why did he kill 3 Baton Rouge police?
Why? Baton Rouge police shooting ambush: 3 dead, 3 hurt, suspect dead
Read one post under the sex category: 'Women know what attracts men. But guys typically don't know what women find attractive. There's something about Alpha Males that women find very attractive. And that is traits. And genuine alpha male traits have nothing to do with looks, or money…'
Another post also linked to his musings on health where Long posted, 'If you want to put some fire back into your sex life, or simply take it to another level, the right foods can help you do just that. Candles and a Barry White album are fine for the moment,If you want to put some fire back into your sex life, or simply take it to another level, the right foods can help you do just that. Candles and a Barry White album are fine for the moment….'
Read one post under the sub-category, Alpha Preneurism: 'This is what I know: A successful life doesn't simply pop up overnight like mushrooms on your front lawn. They're designed. Built. I know how painful it is to feel like you're not living your highest purpose…'
When not offering advice on love, dating and diet, the Conversations with Cosmo blog also espoused on his self perceived affinity to previous black leaders and the plight of black affirmation.
Wrote Long in one incoherent post: 'And I think the Gods sit and watch and say 'will he go left, or will he go right.' Im a Malcom X Man myself, but I did like when MLK said 'The ultimate measure of a man is not where he stands in moments of comfort and convenience, but where he stands at times of challenge and controversy.'
The Shooter was NOT WHITE, He was one of us!
# My religion is Justice @tariqnasheed @ZoWilliams @thecoreyholcomb pic.twitter.com/OnA3dGamNq

— Convos With Cosmo (@ConvosWithCosmo) July 8, 2016
Just bc you wake up every morning doesn't mean that you're living. And just bc you shed your physical body doesn't mean that you're dead.

— Convos With Cosmo (@ConvosWithCosmo) July 17, 2016
Yet while the temptation to call Long a madman runs paramount, Long had exemplified himself in academic studies after spending a semester at the University of Alabama, making the Dean's List according to the school's website.
Reports also told of Long exemplifying himself during his five years as a US marine, winning many accolades, including: Marine Corps Good Conduct Medal, Iraq Campaign Medal, Sea Service Deployment Ribbon (3rd Award), Global War on Terrorism Service Medal, National Defense Service Medal, Navy Unit Commendation Medal.

That said, the hodge podge dialectic and musings (interspersed with Long's incongruent peddling of his commercial wares) also betrayed an individual suffering degrees of mental health issues, paranoia and bouts of self grandeur not necessarily realized in his day to day life outside the marines.
One complaint under under the pseudonym, Cosmo Setepenra, saw Long expressing on a message board he was a long-term victim of 'gang-stalking', a term referencing a presupposed form of government and corporate surveillance.
Claiming to be a round-the-clock 'TI' – targeted individual, Long urged followers to wear body cameras to monitor such surveillance and to warn companies involved in harassment 'that we are going to expose your involvement and rate your poor performances & games on the internet'.
In a video separately posted to YouTube on 10 July, Long said he was in Dallas. In that post, the self described freedom fighter compared the fighting of oppression by black people today to the efforts of American revolutionaries.
'But when an African fights back, it's wrong,'
'You gotta fight back – that's the only way a bully knows to quit,' told the man in what appears to be in a series of incoherent musings.
In another video, Long embarked on racially charged rants against white and Asian people, accusing 'Arabs and Indians' of exploiting black Americans for money. Never mind Long's very own aspirations in selling his own services, be it in sex, love, health, spiritual guidance, nutrition while at the same time espousing the re affirmation of black Alpha power.