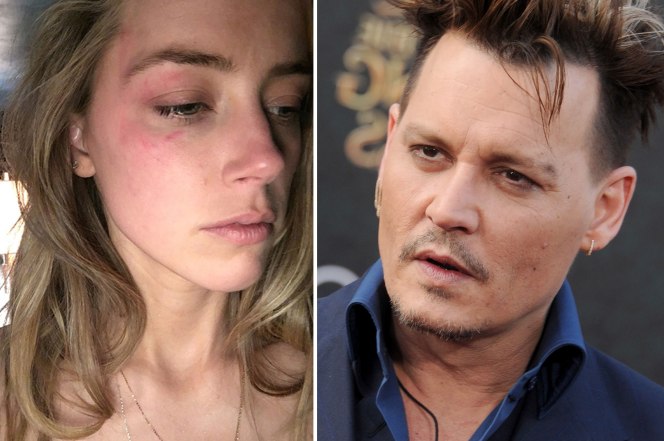 Amber Heard finances: An expose of the actresses monthly income and expenses leads to controversy on the web. 
Filed court documents have revealed a dire picture for actress/model Amber Heard, 30 who has sought to claim monthly expenses be paid by her estranged husband Johnny Depp, 52, despite a major shortfall in her revenues and expenses.
The disclosure comes after Heard filed divorce from Depp last week, with the actress demanding the icon pay her spousal support to the tune of $50 000 a month plus legal costs. An amount the actor contested.
The split comes after the actress cited 'irreconcilable differences,' with the couple's impending divorce leading to a possible epic battle over Johnny Depp's estimated $400 million fortune.
Yet what's most raising eyebrows are minute details since publicly disclosed in Amber Heard finances filing where the actress tells of having a monthly income of $10 000 despite spending $44 000 a month on what the actress describes as 'basic expenses.'
Define basic?
Notes a report via the dailymail: This includes $10,000 (£6,900) a month on rent, another $10,000 a month on 'entertainment, gifts and vacations', $2,000 (£1,380) a month on clothes, $2,000 a month on eating out and even $300 (£207) a month on laundry and dry cleaning.
The actress also spent $2,000 on auto expenses and transport and her red Dodge charger is still parked outside Depp's palatial Los Angeles home.  
In addition she also spends another $10,000 a month on miscellaneous costs such as pet supplies, and paying for her publicist and agent.
Yes kids, I'm dizzy like you. Then again let's admit to ourselves we're not illustrious notables (yet) who should come to expect to maintain a particular lifestyle.
Doug Stanhope pathetic Wrap essay: Is Johnny Depp being blackmailed?
Johnny Depp beating: 'Amber Heard is lying, she just wants my money'
Is Amber Heard lying for money? Cops saw no black eye marks
'He offered to pay me hush money' Johnny Depp domestic abuse. Amber Heard files restraining order
Amber Heard Johnny Depp divorce: 'What am I doing with this fat old man?'
Johnny Depp divorce: Why did Amber Heard want out?
Additional expenses also include the actress pain her attorney Samantha Spector $550 an hour (who knew celebrity lawyers were paid so well?) to represent her.
While the actress tells of having made just on $250 000 from her film work and promotions (never mind all you starving actors…) in 2015, Heard told of only being with a small profit after 'forced' to contend with $209 000 in expenditures.
That said, 2016 isn't looking particularly bright for the actress (or is it?) with Amber Heard financials showing her to date only earning $26 000 while having spending $55 000 on professional expenses related to her production company.
Presumably the actress has been able to live off her estranged husband's largesse who in 2015 alone banked just on $30 million.
Amber Heard financials also disclose the actress having $25 000 in savings in the bank while still making residuals from her roles in The Rum Diaries and Magic Mike XXL.
#financial #update Amber Heard's dire financial situation revealed in Johnny Depp divorce documents – Daily Mai… https://t.co/7y0tS1lqek

— Gary Jenner (@GaryJenner11) June 1, 2016
$27k income so far in 2016, $47k a month in expenses. I think she needs a simple budgeting app.https://t.co/wDTNnot0rs

— Uniquely Twisted (@rage_chaos) June 1, 2016
The finances of Amber Heard make the whole divorce thing so much more obvious. #spendingbeyondyourmeans

— Jude Pember (@j_pemb01) June 1, 2016
The couple are getting divorced in California, a state which divides marital assets using the 'community property' method.
This means a judge will simply divide a couple's joint assets equally while allowing the individuals to retain inherited and premarital assets.
It has been suggested that Heard would be in line for a minimum $15million payout.
The documents come as Heard's lawyers issued a lengthy statement yesterday insisting she was a victim of domestic violence and her actions in divorcing Depp were not motivated by money.
She alleges that she 'lived in fear' of her husband (not the other way round?) of 15 months and that Depp had been abusive. Which raises the awkward question whose really being abusive…?
Amber Heard's lawyers say it's too common for the victim to be miscast as the the villain https://t.co/0s7V5WWU8j pic.twitter.com/cU7vZBDllg

— Huffington Post (@HuffingtonPost) May 31, 2016
It says a lot when there's a picture of a bruised woman, and the Internet speculates over her finances and nail polish first #AmberHeard

— Vonny Moyes (@vonny_bravo) May 27, 2016